Today is Free Shipping Day – and we are having a SALE (17 Dec 09)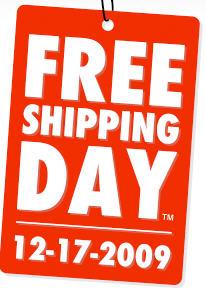 In honor of the 2nd Annual Free Shipping Day,…

for the next 24 hours ONLY we have put up our most popular Success Education CD's on sale from the OSI Success Library, AND they all include Free Shipping in the US (which means you save money and they will arrive by Christmas!)

But hurry, these are very limited quantities (and when I say limited, I mean only 7 or 8 of each…one only has a quantity of 2!) – these 50% off prices are only for the fastest money-saver holiday shoppers out there…We didn't even change the prices on the website because these will go so quickly. Just use the coupon codes below to grab your incredible savings. And yes, you can use both coupon codes together in the same purchase!

These items are 50% off, have FREE SHIPPING, and you will have them by Christmas!

Use CODE 50free during checkout at www.osiLibrary.com

ur most popular Success CD's from the OSI Library (Click the images to purchase your item):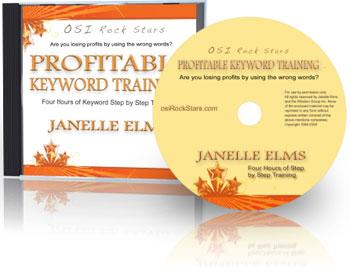 Profitable Keyword CD – 4 hours of step-by-step training on HOW your buyers are finding you. Are you speaking your buyer's language?
$97 – TODAY ONLY: $48.50 & Free Shipping
"I have learned SO much! Thank you – thank you! I never comprehended just how valuable the correct keywords would be to drive traffic. WOW – I've definitely got some work to do on my store. I listened to this twice to be sure that I fully understood, and, by George, I think I've got it. This is such valuable information."
Jackie Oh – Brighten Your Day Products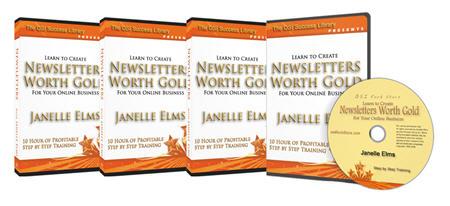 Profitable Newsletters – In the "Newsletters are Worth Gold" 4-part CD set we include over 15 hours of training on setting up a successful eBay newsletter as well as your 'outside of eBay' newsletter. Everyone who purchases/owns this CD series will get to participate in a special newsletter training we have coming up in 2010.
$197 – TODAY ONLY: $98.50 & Free Shipping
"Wow. This was great and just what I'm looking for. This is why I signed up for OSI! Super content, lots of information backed up with examples that show me – not tell me – what works and what doesn't. Thanks!"
Kathy – Cat Lady Kate's Glass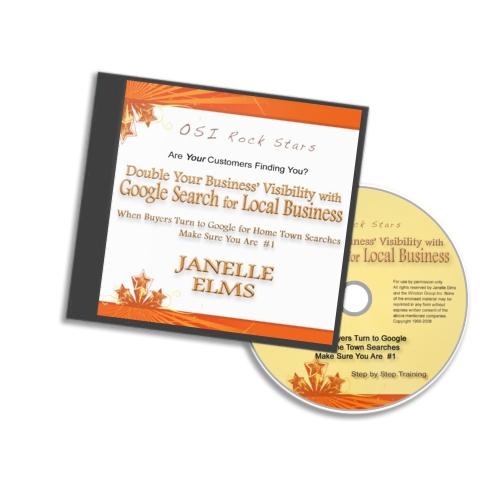 Get Found Locally on Google – I have made my clients SO much money by utilizing this training found on this CD. My latest client was up on Google, first page, #1 spot for 'faux painting' in the Seattle area in less than 3 hours! Another client was receiving calls from customers by that evening!
$97 – TODAY ONLY: $48.50 & Free Shipping
"I already made a quick $100!" (And two new customers too) Janelle, Just wanted to share – since you taught the Google Class a week ago, I am so excited to let you know that I am getting results and getting RECOGNIZED like you promised – it was so easy to set up (even for a crazy redhead LOL)"
- Maryann of SellItBeforeYouMoveIt.com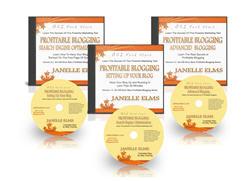 Profitable Blogging – Over 3 hours of training on using one of the most powerful marketing tools online. If your 2010 goals include a blog, this step-by-step training is a must.
$97 – TODAY ONLY: $48.50 & Free Shipping
"Janelle is an amazing teacher. No matter how long (or short) a time you've been blogging, you are guaranteed to learn something from these classes. Her focus on promoting your business stays laser sharp, so you won't find yourself buried under technical trivia. But you will learn the right words to use as links in your posts (as always – think like a customer!), the right destination for your links, and the secret way to keep eBay links fresh even after auctions close and listings expire. Like her previous series on Profitable Keywords, this blogging series is a gold mine for anyone who owns an online business."
Dany Byrne – owner of Ghost Leg TV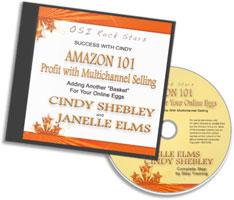 Amazon 101 – Increase your Profits with Multi-Channel Selling – This is the class that has launched many of the Rock Stars into a successful selling channel on Amazon. This 2 hour step-by-step training will guide you through the various opportunities that your business could utilize on Amazon.
$59 – TODAY ONLY: $29.99 & Free Shipping
"Amazon 101 Class WAS truly amazing! Took more pages of notes on this fabulous and informative subject than any we've listened to previously. We learned SO many truly EXCITING reasons to try Amazon!
Jim & Barbara Nelson – Grandpa's Trading Company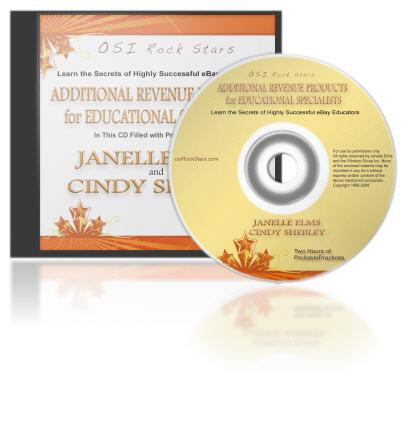 Success with Cindy – Additional Revenue Products for ESP's
Learn the secrets of highly successful eBay Educators in this CD filled with profitable practices.
$97 – TODAY ONLY: $48.50 & Free Shipping
"What an informational and motivational class! Janelle and Cindy take us all from the first of eBay and their first experiences teaching as ESP's up to today and the 'new kids on the block' like myself just starting out.
They share revenue opportunities in 'back of the room' sales. What type items to tie in to the classes, where and how to get them. A great tip is using vendor giveaways. As Janelle puts it, 'the larger vendors have the budget for giveaways and marketing'. Love it!"
Mary Evans – Drei Katzen Media
These items are 25% off, have FREE SHIPPING, and you will have them by Christmas!
Use CODE 25free during checkout at www.osiLibrary.com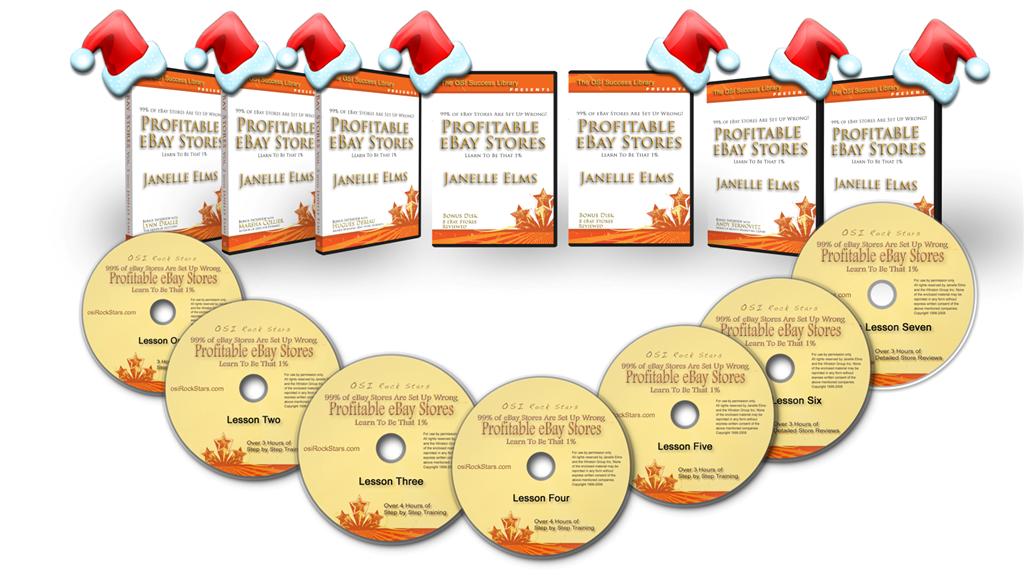 99% of eBay Stores are set up wrong – Learn to be that One Percent! – Our extremely popular eBay Stores 7-CD set filled with over 25 hours of step-by-step training.
$297 – TODAY $222.75 & Free Shipping
"Hey Janelle,I've been meaning to send you a BIG THANK YOU for the last several weeks. Your class was awesome! And now I know why only "1%" of eBay Stores are set up right! Thanks to you mine is in the 1%! Your class covered what the buyers see and even more importantly what they don't see but you need to drive traffic to you eBay Store and website. My head is still spinning from all the content and possibilities that opened up
"…Plus this months profits are
quadruple my profits last year at this time!"
to me from this one class. I loved that this was a Hands On class with Homework. Each step was a progression building upon the previous week's information and the change in the way I actually thought about my customers, my store, and eBay were amazing. You suggested and informed every step of the way in such a warm positive way that I left each class feeling totally inspired. Plus this months profits are quadruple my profits last year at this time!"
Ellie Lipetz
mzellieb
refoundObject
The second annual Free Shipping Day is today, Thursday, December 17th. Take advantage of the momentum that other retailers (over 600 at this point) are creating by joining forces that day to offer Free Shipping to your customers. You can learn more at the Free Shipping Day website, and you can register to be a merchant on the site as well. FSD has incredible promotion tools, but you can also use Markdown Manager to put items on sale and/or add free shipping. Don't forget to send out your eBay Store Newsletter with information about Free Shipping Day to help your customers make the decision to shop with you.
Tagged with: