eBay Life Events (20 Jun 09)
Las Vegas Baby – a MUST READ for all the info you need if you are going to eBay Radio Party with us
If you aren't going to Vegas – we will miss you. But there are a couple of things in this newsletter for you too…
1. "What do you want to know?" - we will have a pretty captive audience of major players in the eBay world. This includes eBay solution companies like Auctiva and it also includes many of the top eBay head honchos. If you have questions, we will get the answers for you. Simply email your question to info@janelleelms.com – please include your name, eBay User ID and specific details if needed and we'll make sure to get your question asked.
2. We start shooting this coming Wednesday on our next BIG project. Has nothing to do with eBay, but you can read about it below and how you can participate.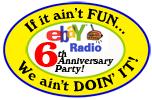 If you are going, then I know you are super busy getting ready to leave in the next few days. Feel free to print out this newsletter and just bring it with you.
The OSI Rock Stars are doing the eBay Radio Goodie Bags you will receive at registration! I know there will be all sorts of fabulous items and great deals in that bag (PLUS, it includes a 'taste' of my newest business!). I have the honor of kicking off the eBay Radio Party first thing Wednesday morning. During my class there will be a few fabulous surprises – HINT…we are giving away over $1000 in prizes during my session!! Bring your coffee, we'll talk eBay Stores and start the party right!
A very special thank you to Lee and eBetsy for working so tirelessly on this event. Only because I toured with eBay University and worked all of the eBay Live shows do I realize how exhaustive these events are. Please take a moment and let them know how much we appreciate their hard work and dedication to this event. YOU two rock!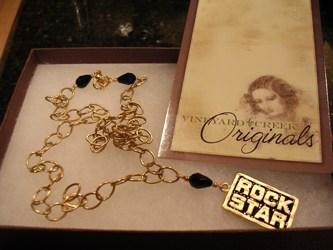 I also want to thank the amazing Rock Stars of OSI. They, whether attending the event or not, have been SO supportive and helpful with all of the processes including getting 'goodies' for the registration bags, promoting the event online and even helping each other with their marketing ideas. Our incredible Rock Star Lynn of Vineyard Creek Originals made me this fabulous Rock Star necklace for the event. LOVE it!
And Captain Mike sent some amazing doubloons that are hand-painted! These should bring me luck at the craps tables! I am truly blessed to know such incredible human beings!
Can't wait to see you all,
Blessings,
j
In this special edition Success Newsletter, we will cover:
General Info –

Twitter, eBay Radio, etc

Important Info for the OSI Rock Stars

– details on exclusive events, some cool surprises and volunteer opportunities.

Speaker Schedule

– who's on at what time and when do you have time to hit the pool

eBay's giving $$$ away at the party

– we have the details

Tips on getting the most out of this conference, oops, I mean party

Getting around Vegas

– these are my top tips for Vegas (and we have some great tips from local Jason too!)

My next BIG project

– get a sneak peak at what I'll be working on
General Info – Twitter, eBay Radio, etc
Here is some important information to have handy:
Wednesday at 10:45 am: exclusive Ask Janelle class – grab some coffee and come join us with all of your questions.

Will twitter/text location
Important Info for the OSI Rock Stars – details on exclusive events, some cool surprises and volunteer opportunities.
Bag stuffing party: 5pm on Tuesday – my room (details when I get there) . There will be 250 bags to stuff with your marketing materials. I realize that there may not be 250 people at Live, but if we have any extra bags they will go home with you for additional marketing!!
– if you have not RSVP'd for the bag stuffing party, I need you to stop what you are doing right now and shoot me an email. Food and peppershots have to be pre-ordered!!
Photos and Videos - Ok, now don't be disappointed by the next bit of news, but Jeremy is not coming. However, I do have a couple of my guys coming – Josh and Pablo. They are taking over my room at the Rio and will be using it as a studio to shoot video testimonials for Rock Stars (as well as our new project – see the last article). PLUS, Pablo is bringing his camera so if you would like new photos taken of you for your ESP page, your blog, etc, just let us know!
Both of these guys are awesome, funny and tad too charming for their own good. Besides shooting video and photos I also made them promise to be our 'peeled frozen grapes while fanning us' guys too.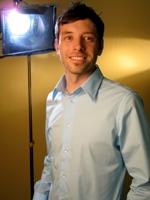 This is Josh – he owns The Spencer Agency in Flint, MI where they do commercial advertising for clients.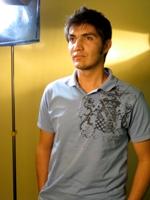 This is Pablo – he is a genius photographer and is working with Josh at the agency as well as on the new project we are starting.
Volunteers – I need volunteers please. Here are the areas that we can use your amazing organizational, Rock Star level skills in (please email me asap if you would like to raise your hand for any of these):
Wednesday at 7am – ALL of the bags we stuffed from the night before need to brought down to the registration room.

Wednesday at 9am – I need two volunteers to help with my class (during).

Wednesday at 9:45am – I need two more volunteers (different than the two above) to help with the end of my class.

During the event – I need two or three people to be 'rounder uppers' – kind of know where people are, are able to find people, give info out on Twitter etc.
Your Info – If you have not already sent in your information to Grannie Annie GRANNIEANNIEHAWAII@GMAIL.COM, please take a moment to do so right now. That way it will be easy to contact everyone about events and parties etc.
Speaker Schedule – who's on at what time and when do you have time to hit the pool
WEDNESDAY, JUNE 24
8:00-9:00 – Registration
9:00-9:45 – Janelle Elms – How to set up an eBay Store
9:45-10:00 – Networking Break
10:00-10:45 – Cindy Shebley, Photography for eBay


Wednesday at 10:45 am: exclusive Ask Janelle class – grab some coffee and come join us with all of your questions. Will twitter/text location
10:45-11:00 – Networking Break
11:00 -1:00 – eBay Radio Show Live Broadcast
1:00-2:00 – LUNCH
2:00-2:45 – Debbie Levitt – Growing your eBay Business with Marketing, Strategy and Software
2:45-3:00 – Networking Break
3:00-4:30 – eBay Town Hall
4:30-5:00 – Networking, Q&A
THURSDAY, JUNE 25
9:00-9:30 – Speed eBaying
9:30-9:45 – Networking Break
9:45-10:30 – Lynn Dralle – Product Sourcing at Garage Sales
10:30-11:00 – Break – CONTEST RESULTS
11:00-11:45 – Carolyn CJ Jacinto – Packing & Shipping
11:45-1:00 – LUNCH
1:00-1:45 – Melinda Jackson – How to start eBay Seller's Group
1:45-2pm – Networking Break
2:00-2:45 – Marsha Collier – eBay Sales Tips and Strategy
2:45-3:00 – Networking Break
3:00-5:00 – eBay Radio Show Live Broadcast
eBay's giving $$$ away at the party – we have the details
HOT NEWS FROM EBAY!!!
eBay will be filming at the eBay Radio Party, both party events and individual eBayers. Here's the 411, in their own words: "The goal is to capture seller and uniquely eBay stories on camera. There will be a question set we'll ask participants to answer in their own, unique way." This is a contest, with the top 5 videos to be put on a web site and judged after the event. The grand prize winner will receive $1,000 with the four runners-up each receiving $250. I've heard the working theme is "I am eBay", so be ready to tell the cameras why YOU are eBay!
(LOL..I am laying odds on the Rock Stars winning a few of these! They are fabulous eBayers.)
Tips on getting the most out of this conference, oops, I mean party
Yes, we are going to have blast hanging out with friends – new ones and ones we haven't seen in a while. But keep in mind that you are also there for your business. The Rock Stars already went through this training last year, but here are some ideas that should help prep you to get the most out of this upcoming event:
1. Make a goal sheet – I do this for every event I am going to whether it is 2 hours long or a huge conference. With this goal sheet I remain focused on what I came there for and not get sidetracked with other sparkly things (which will be SO easy to do in Vegas).
2. Networking – since some top players will be there both from eBay itself and the eBay world, who do you want to make a connection to? Now I'm not talking about the 'OMG, I can't believe I just shook so and so's hand! Eeks!' type of connection. But who at this event can take your business to the next level. (and don't just put everyone on your goal sheet – be specific and focused).
Auctiva, Moneybookers, ShipRush and Vendio are definitely going to be there. They will be easy to track down since they are sponsors of the event. What questions do you have for them? Are you prepared to tell them the processes in your business and ask how they can help you? Are you currently using their products, but want to know how to use it more efficiently. Put all that down on your goal sheet.
Now, I also happen to know that a few other companies are heading to the party too. Big hint…follow us on Twitter hashtag #ebay09 to get the latest updates on the whos who that are hitting the events.
eBay is bringing:
Brian Burke – Director, Seller Performance & Policy
Steve Corral – Senior Manager, Marketing Operations
Mark Dooley, Senior Manager, Product Marketing
Jim "Griff" Griffith, Senior Manager, Selling Advocacy & Host of eBay Radio
Rich Matsuura – Senior Manager, Seller Experience – Shipping
Jason Miner – Community Education Specialist & Host of PayPal Radio
Garnor Morantes – Senior Manager, Seller Development
They will be at the Town Hall Wednesday at 3pm and also walking around the event. Do you need to be in front of one of these people? Can any of these people help you create a more successful business?
AND, don't forget the speakers (on stage and on the radio). Who is coming that could help you move to the next level of Success?
3. Marketing – On my goal sheet is always a section for marketing. Choose one focus (to get people to sign up for your newsletter or go to your eBay Store or follow you on Twitter) and make sure your marketing materials generate the results you are wanting. The reason for the one focus is so you don't dilute or confuse the readers with your messages. This one is HUGE people. You are going to an event that potentially has 200 people who could either be buyers or some of your best 'talkers' about your products (not to mention ALL the people . What a great opportunity. Make sure you are prepared.
4. HAVE FUN! Most important of all tips.
Getting around Vegas – these are my top tips for Vegas (and we have some great tips from local Jason too!)
Jason, a Vegas local, deserves a HUGE round of thanks. He is working very hard for us in Vegas to make sure everything is getting coordinated on that end – he rocks! He has even taken time to create a great 'what to do and not do while in Vegas' page! Here you go http://www.wsradio.com/radiogroupjune/THINGS%20TO%20DO%20PAGE.htm (Hey Jason, where is the 'here are the Apple stores in Vegas so you can get your iPhone this Friday' section? LOL)
What to Bring to eBay Live
Here are some of my ideas on what to bring to the conference.
backpack/wheeled one

very comfortable shoes

tad nicer outfit for the evening

clothes with your name ALL over them for marketing purposes

calendar of events

camera

sunscreen – it will be around 100 degrees

bottled water (you can buy when you get to Las Vegas, but they are a bit expensive)

business cards & other marketing items

empty suitcase

laptop – but leave in room
Networking is a critical component of every trade show – get out there and talk to people!
Here are ideas on how to market your eBay business while you are there.
Business cards

apparel

postcards

your product

presentation folders

pins
Getting Around Las Vegas
When you get to baggage claim at the airport, look up for the signs directing you to various doorways. Through these doorways you will be able to take a shuttle, a taxi, and even a limo to your hotel for eBay Live.
Note: If you are staying at Ballys, Flamingo, the Hilton, Caesars Palace, New York NY, Paris, Rio or MGM Grand, you can check into your hotel in the baggage claim area. These hotel check-in locations are located around the perimeter of the baggage area.
Airport Shuttles:
There are approximately six shuttle companies that can get you from the airport to your hotel. They average between $5-7 per person depending upon how far you are going (or $8-10 for a round trip ticket). My recommendation…here is one place you should splurge. The shuttles wait until they are mostly full before they leave, and then they have various stops along the way. This can mean waiting up to an hour before you get to your hotel. No matter where you are going, it always seems like your stop is last.
Taxi
Instead, head to the taxi line, which will look long, but it moves quick. (Tip: there is a smoking line and a non-smoking line, pick appropriately.) A taxi cab ride will run you around $15 to $20. This does not include a tip. Since they handle all 6 of my bags (hey, I am a girl) and give me hot tips on the best places to eat, I usually tip 15-20 percent.
Limo
My favorite trick in Vegas is to arrive at my hotel in a limo. The limo is $38 before tip (cash only, they do not take credit cards any longer). However, there is never a line to get a limo, the drivers are wealth of knowledge about what do (& not to do) in Vegas, they usually have cold water waiting inside, and (here is the best part), it is not $38 per person. Round up a couple of your new eBay Live friends you met on the plane, or while waiting for your luggage and share a limo. With six of you, that is only $9 per person with tip!! Make sure you get their business card for one of your nights out on the town.
Tram:
There are 3 trams on the Vegas strip. The tram at the end of the strip where eBay Live is being held is called the Mandalay Bay – Excalibur Tram. Heading south-bound, it starts at Excalibur and doesn't stop until Mandalay Bay. However, heading northbound, it includes a middle stop for the Luxor. The tram operates 24 hours a day and leaves the station every 3-7 minutes.
Everything You've Wanted to Know about Tipping in Las Vegas
Pretty much, if someone does anything for you in Vegas, they are expecting a tip…this is how they make their living. Your level of service throughout your trip will depend upon your tipping abilities. Here are some tips (no pun intended) to make your trip a smooth one.
Cocktail Waitresses: Drinks are free while you're gambling – even in the penny slot area. I usually give the cocktail waitress a $1 each time she brings me a drink. If you want her to come around more often, tip bigger. Tip: You don't have to order a cocktail from them…they will bring you almost anything; bottled water, ice tea, lemonade, etc.

Shuttle bus drivers: If you are taking the shuttle from the airport, typically you would tip $1-2 per bag. If you are just taking a shuttle between hotels, then I would recommend handing $1-2. to the driver.

Bellman: $1 to $2 a bag is the norm. However, I usually also make sure I ask them all the questions I can think of…where's the thermostat, can you get me a bucket of ice, where is the room service menu (is it any good?), who should I ask for to get the best seats for the show…because they know! If you capitalize on your bellman's vast knowledge of all things Vegas, then give them a few bucks extra.

Hotel maid: I leave a daily tip, usually $5 or so. (perhaps a bit more if you hosted an eBay party the night before in your room!) Since you will have many different people cleaning your room, don't leave one big tip at the end.

Room Service: This is a tricky one. Some hotels include gratuity into your bill already, but still have a line for an additional tip. Make sure you aren't double tipping. I commonly tip around 15-20% for room service – just as I would in a restaurant. You can either add this onto your room charges or give them cash or chips directly.

Buffet waiters/waitresses: Although the buffets do not have typical waiter and waitresses like the restaurants, I still tip them. Their job is to refill your drinks and remove dirty plates. Commonly $2-3 per person at the table is good.

Cab Drivers: The traditional 15% will work for a cab ride, but many of these drivers are a wealth of knowledge. They know what is going on in Vegas, best places to shop, the restaurants the locals eat at, and even how to get tickets to a sold-out show. Tip them a few dollars more for the additional 411. If you are using a cab to get from one location to another in Vegas, use the taxi lines in front of the casino/hotel. They move pretty quickly. Don't forget to tip your doorman a couple of dollars for working hard on keeping that continuous line of taxi's coming.
My next BIG project – get a sneak peak at what I'll be working on
Josh and Pablo are my video crew for this event and will be taking over my room this coming week as a studio. We will be shooting testimonials for OSI Rock Stars AND also starting the video shoots for a VERY exciting new project that Josh and I are involved in. I mentioned it at the end of the Ask Janelle class last week. It's pretty huge news and I would love anyone who wants to participate to shoot me an email so we can get you 'booked' for video time!! If you haven't heard about the message I received a couple of weeks ago, check out this short video that is the beginning of this very incredible project we will start on the 24th (eeks, I get goose bumps just typing it!!). http://www.youtube.com/watch?v=cObV5Sl1LaY
Tagged with: