Grab your customized Facebook URL tonight (12 Jun 09)

In your Success Newsletter this week:
BIG Facebook News

– customized URL's available in just a few hours

99% of eBay Stores are set up wrong

– Join us for the BONUS class on being that 1% (limited time offer)

eBay Updates

– don't forget these important dates that are coming up soon.
Quick newsletter tonight – there are three very important time-sensitive announcements…
blessings,
Janelle
BIG Facebook News

TONIGHT at 9pm pst/midnight eastern time Facebook is giving you the opportunity to own a customized Facebook URL.  Why is everyone going to be sitting by their computers in just a few hours to grab theirs?  Glad you asked:
Customized URL's provide your buyers security and confidence with a familiar name that they can relate to.

 

Wouldn't your customers rather be directed to a page that said Facebook.com/YOURNAME instead of where you currently have to send our customers which is http://www.facebook.com/home.php?#/profile.php?id=757659047&ref=profile

Customized URL's rock for branding purposes

Customized URL's fit on a business card!!

Customized URL's are good for seo

Facebook has hinted that whatever name you pick will be used for 'other things' down the road…yum – all promotions are good promotions.

And probably the most important reason that you want to grab yours is so your competitor doesn't!

 

eeks!

Oh, and BIG hint…Facebook will recommend you use your real name, but…isn't there another name you would like to promote?
Ok, so PC World has written awesome step-by-step instructions on how to do this.  http://www.pcworld.com/article/166611/personalized_facebook_urls_10_important_points.html
Make sure you read the details (especially for Facebook pages) and then be there to grab your customized URL tonight!
99% of eBay Stores are set up wrong – isn't it time you became part of that 1%?
This is THE powerful class series you have been hearing about:
From eBay PowerSellers – who are raving that it has increased their sales by 400%

From the OSI Rock Stars – who can't believe how much traffic you could get OUTSIDE of eBay AND they are getting ranked on the first page of Google

On Twitter, blogs and facebook – who are thrilled to not have to rely on eBay alone in their business

On eBay Radio & featured on the NEW eBay Store Radio show – whose responses were elated when they found out that eBay PAID you to have an eBay Store
In fact I recently was asked by marketing genius Eben Pagan (of Altitude, Guru Mastermind and Ignition fame) to present this valuable information to his exclusive high-powered entrepreneurs on his site.
This step-by-step series of 25+ hours of Success training is THE ONLY eBay Stores training out there that can teach you to take advantage of the true power of an eBay Store.  If you are ready to quit paying money each month to use your eBay Store as a holding place for your inventory and finally turn it into the powerful profitable website it was meant to be, then join us at the 1% Club today.
We have added a BONUS class that is ONLY for members of the 1%.  But you must join by July 8th to receive your BONUS success education training.
The MOST requested training we do is, 'Can you look at my Store?'  This class will take a look at your completed eBay Stores and offer Live Coaching from me.  As soon as you purchase the eBay Stores Success Series, you will be immediately upgraded to free Priority shipping AND will receive an email with your exclusive BONUS class link!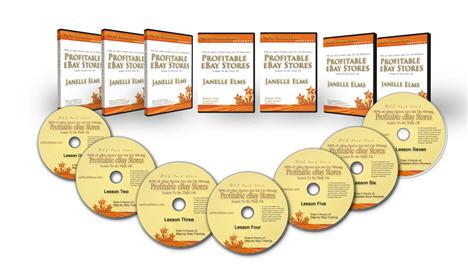 Hey Janelle,
I've been meaning to send you a BIG THANK YOU for the last several weeks. Your class was awesome! And now I know why only "1%" of eBay Stores are set up right! Thanks to you mine is in the 1%! Your class covered what the buyers see and even more importantly what they don't see but you need to drive traffic to you eBay Store and website. My head is still spinning from all the content and possibilities that opened up
"…Plus this months profits are
quadruple my profits last year at this time!"
to me from this one class. I loved that this was a Hands On class with Homework. Each step was a progression building upon the previous week's information and the change in the way I actually thought about my customers, my store, and eBay were amazing. You suggested and informed every step of the way in such a warm positive way that I left each class feeling totally inspired. Plus this months profits are quadruple my profits last year at this time!
Ellie Lipetz
mzellieb
Are you crazy Janelle – this will be a ton of work for you to put together and WHY aren't you charging more for it?"
That's an easy question:
Usually mentor programs (sometimes called inner-circle groups) are exhorbantly expensive. I think it's about time you quit paying for programs and started making money.

I've bought a ton of products that might help my business (and I am sure many of them could if I actually opened the darn CD's)…but the programs that have benefited me the most are the ones where the actual guru mentored and walked me through the process.

And I know if there is structure with actual training and homework, amazingly I actually follow through with the training – and I am hoping you will too!

Plus I wanted you to have your eBay Stores in top shape for 2009
What are you waiting for – a long sales letter?
While you are READING this, the others are making money DOING it!
Take advantage of this exclusive coaching event NOW.
Hi,
I am part of the 1% and I do not know where to start with what an amazing change in my sales. I am selling to many new customers and my sales have increased from a low…low…low to over $1000 in just three weeks – Hurrah for my newly optimized eBay Store…and my Hero Janelle!
Part of my story is emotional and part of it is just the plain money facts after the Success Steps taught by Janelle. My emotional part has to do with all of my struggling in increasing my sales, and fighting a battle that I would never have won without first getting my store in order in the set up process. I had
"…my sales have increased from a low…low…low
to over $1000 in just three weeks "
almost given up on having a successful ebay store, when I decided to give it one last shot. Janelle came on line with this great opportunity to Join the 1% Club and how I could be more knowledgeable about my store optimizing. I jumped on it, thinking "Thank God for Janelle" and a gut feeling that now is the time, and the place to be is in the 1% Club.
I already knew Janelle is an amazing teacher, and now with these results and the increase in my sales, I am even more convinced…I could not have done it without her and her incredible knowledge base!
Ellen Russel
1% Club Member
OSI Rock Star
eBay BIG announcements – a complete run-down of all of the updates, changes and important info that eBay has released
NOTE:  Don't forget to evaluate your use of subtitles in your business.  Are they profitable to you?  Do they bring customers in?  If so, you are good to go…if not make sure you remove them before July 1st or eBay will charge you.  http://www2.ebay.com/aw/core/200906.shtml#2009-06-09102528
Are you guys on top of ALL the new changes that were just announced at eBay?  Some pretty important ones with specific dates that we need things done (or our pictures and listings go bye-bye – eeks!)  Well, good news is that there were no fee changes!!  WooHoo.  I have created a special gift for you (took me two days to finish it!)…a special guide to ALL of the changes & updates that eBay is making.  You can find the link to get yours below.  Being on top of these changes will only make you more successful – and your Success is very important to me.
Now, I hope I don't have to remind anyone about getting caught up in the details of what eBay is doing and flip flopping their business because of these or any other announcements.  You are all professional business owners who dictate how their business is going to run.  For instance, no one should have any major issues with the new 'dispute policy' since your own customer service/return policies should be exemplary in making your customers delighted.  Sellers who are going to take issue with this new policy are the ones who allow eBay to dictate the minimum level of customer service that their business should have to stay afloat.  I want you to take a look at the new updates and see how they apply to your own individual business.  For the Rock Stars, this will include checking your RoadMap to Success and seeing if it needs to be updated at this point.
So the announcements were about 3 main areas on eBay:
Easier, more visual shopping and buyer incentives to drive more sales

Key information to set buyer expectations and reduce your costs

More updates to make selling on eBay more efficient
These 3 areas and their specifics will make a lot more sense once you take a look at the special guide we created for you.  There are however, some points that came up in the Town Hall that I would like to mention:
eBay acknowledged that they have not done the best job in the past with getting information out to the sellers in a timely fashion.

 

Starting with this announcement, all sellers will be given at least 60 days to make any changes to their business before eBay takes action.

Multiple Item Listings – more categories are coming later this year

Picture Manager will be phasing out after August

eBay is merging the About Me page with the My World page

If you are a Basic eBay Store owner, you will be given the opportunity to upgrade to Selling Manager Pro at a discount in June.

Also, on your new preview pages there is a link that says 'Send us your comments' – feel free to let eBay know what you like and don't like.

Some of the bigger changes are happening to the jewelry/watch sellers on eBay

Keep in mind, many of these decisions are done to make customers HAPPY.

 

Happy customers=more sales=more profits for you!
To help make all of these changes a bit easier to understand, we have created a free guide just for you.  This poster of all the new changes includes what the policies/changes/additions are and how they might affect you.  If you are a Rock Star, your Bonus poster includes additional Success tips to help maneuver you through the upcoming changes.
Simply go to OSI Rock Stars
Click on Newsletter Archive
And it is a few newsletters down on the page, called, "Free 29 page e-book for the eBay Announcements"
Note: As with all of these announcements, some things can be done now…however, some of the processes aren't in eBay yet and will need to be done at a later date.
For our Canadian readers, here is a link to your updates (although very similar to eBay.com): http://pages.ebay.ca/sell/April2009Update/Overview/index.html
Tagged with: