99 cent domains at GoDaddy! (23 Apr 09)
It drives me crazy when newsletter lists that I am on send me more email than they normally do – don't you? But hopefully you will forgive me for this one AND I'll make it super short.
GoDaddy (for an undetermined amount of time) is having a sale on their domains – .99 CENTS!!
Yep, this is a walk, don't run. The steps are easy:
1. Log into GoDaddy
2. Buy a domain of your choosing (this can't be a renewal)
3. At checkout enter the code 99BUYCOM
4. Your $7.49 rate will be changed to .99 with a .20 cents CANN fee – woohoo!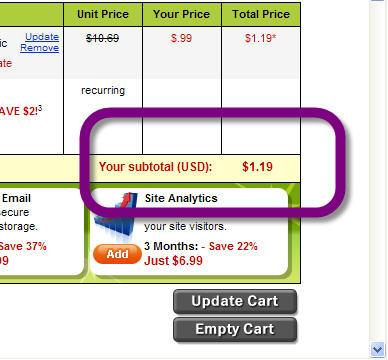 Pay and it's all yours!
This will be awesome to use as a redirect for your eBay Stores 75% referral credit OR
As the beginning of finally selling outside of eBay!!
Fine Print:
SPECIAL OFFER! $0.99 DOMAIN NAMES! Register or transfer any available .COM, .US, .MOBI, .BIZ, .NET or .ORG domain for just $0.99!*
Applies to the first year only of new or transfer registrations. This offer may not be used for renewals, bulk registrations, premium domains or Sunrise/Landrush domain registrations. Limited to one order per customer, expiring after 5,000 redemptions or on May 1st, 2009.
Discount will be reflected in your shopping cart; cannot be used in conjunction with any other offer or promotion. Customers may not use gift cards or PayPal® to redeem this offer.
Your discount will be applied in your shopping cart.
Share the Success with friends – forward this newsletter onto them or let them know they can get their own copy at www.osiNewsletter.com (includes the Free 5 page report, "99% of eBay Stores are set up wrong, Learn how to be that 1%")
Remember, you can read previous Success newsletters in the OSI Rock Star newsletter archives at http://osirockstars.com/?cat=5 (The archive for the OSI Rock Star Exclusive Newsletters can be found at http://osirockstars.com/?page_id=818)
For secret deals only….come TaTango with us!! Register your phone HERE
For spur of the moment info, ideas, reminders or anything else I feel like Twittering about, follow us at http://twitter.com/osirockstars (and Matty & her fabulous deals can be found at www.twitter.com/moremoola!!)
Tagged with: