BIG April Fools Announcement (01 Apr 09)
Creative people must entertain lots of silly ideas in order to receive the occasional strokes of genius
~ Marshall Cook
Happy April Fools!
Did you short-sheet the bed? Salt in the sugar bowl? Unplug the car's battery? Yeah, these were just a few of the things my parents LOVED doing to each other on this day. As kids it was more fun watching the two of them 'get' each other for 24 hours than come up with our own. But I think I have come up with two great gifts, instead of gotchas, for YOU today…
Since today is a celebration, here are two very special gifts JUST FOR YOU!!
Safety first

– let's get you protected from this computer worm that is causing panic

24 hour savings

– today only!

A special & RARE coupon to use at the OSI Success Library.

How does 41% off sound to you?
Conficker computer worm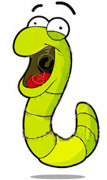 Boy has this worm got people in a panic, and it rightly should. This one can really cause a lot of damage to not only your computer, but those on your network, via your USB thumb drive, thru open sharing of computer files – eeks!
Well let's get you all set up so you can feel safe that your computer is protected and you can then go have fun acting like a fool today!
Step 1: Make sure your current security software is up to date. If you don't have any on your computer, don't wait another second. I use AVG. Here is a free download of them: http://free.avg.com/
Step 2: Do a full service scan of your computer to double check for any infections. I used this one: http://onecare.live.com/site/en-us/default.htm?s_cid=sah
Step 3: If you locate this infection or any others, your security/virus software should be able to assist you.
If you find that you have contracted the Conficker computer worm (why did you open that email that said, "I am worried about you, my pics are enclosed"? – lol), here is what you need to do:
1. The One Care from Microsoft you just ran should be able to help you, but if not…
2. Download the Malicious Software Removal Tool here: http://www.microsoft.com/security/malwareremove/default.mspx Depending upon what has happened to your computer, you may need to use an uninfected computer (yours or a friends) to download this information and email it to the infected computer.
3. Running Microsoft update – http://update.microsoft.com/microsoftupdate/v6/default.aspx?ln=en-us – should also help you eradicate this worm.
WooHoo! You are now clean and fresh and ready to go…how about April Fool's Surprise Gift #2 now…
By now, most of you know we don't run any huge discounts on our products – mainly because they aren't the 'get rich quick overnight' products where the 'gurus' have to make a lot of money up front because you aren't going to buy from them again.
Our products at the OSI Library are legitimate step-by-step videos on how to achieve Success in your world. Titles include:
eBay Stores Success 7-CD video set

Profitable Keyword CD

Profitable Newsletters 4-CD set

Get found Locally on Google CD

Profitable Blogging

Amazon 101- Increase your Profits with multi-channel selling

And more…
Today, for no other reason that the fact that it is snowing outside my window on April 1st (no joking), I am going to be a 'wild and crazy fool' for 24 hours. How does 41% off ANY of our powerful Success products sound? After today – April 1st – the 41% is GONE, done, finished – not making ANY exceptions.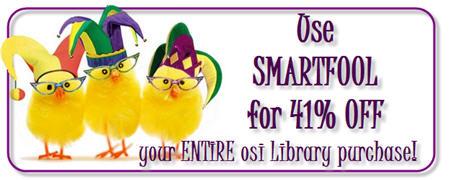 Simply enter SMARTFOOL into the coupon box during checkout, hit apply, and we will automatically deduct 41% off your TOTAL purchase!
(Special Note for my OSI Rock Stars: hhmm, could it be that by using this special code today on a secret one-week only website we sent you on Sunday that spectacular savings could abound?)
Doesn't get much easier than that!
Enjoy your foolish day – enjoy life,
Blessings,
j
Tagged with: