Move your eBay sales OFF of eBay (27 Feb 09)
In this Success Newsletter:
Turn your newsletter readers into buyers & bigger profits

– Newsletters are free marketing (and who doesn't love free right now?), but do you know how to turn readers into buyers?

We do and we're sharing.
I was on Griff's show the other day talking about the power of eBay Store Newsletters – you can listen to this quick interview on WSRadio/eBay Radio (click on #8). The most important things about eBay Store Newsletters are:
They are free

They are powerful

They can make you MONEY

BUT, they can only do this if you know what you are doing…(and based upon the eBay Store Newsletters I receive, I would say that most Store owners have no idea how to use this profitable tool)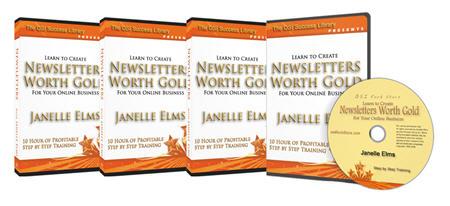 I can't stress how vitally important newsletters are to making you $$$, especially right now when buyers are being very choosy as to where their money is being spent. A recent newsletter I sent out returned in 24 hours over $3200 in sales. Another newsletter generated sales equaling over $6000 in a one week period. I also have newsletters that have made me WAY more money than that, but they almost start to sound unbelievable to people who may not know the legitimate education we teach at the Online Success Institute. Without my newsletters – in this economy – I wouldn't have made it. You can either keep sending out newsletters like you are…OR you can send out Profitable Newsletters and have the work you are putting into them pay off in CASH.
The step-by-step Profitable Newsletters training 4-CD set money-saving promotion is ending tomorrow. You have one day left to save $50, get upgraded to free Priority Shipping and LEARN how to make your Newsletters Worth Gold!
This OSI class has opened my mind to new and intriguing title ideas; no more "See what's on sale" for us!!
"This information is so easy to follow…"
It's was a perfect way to present the information, getting to learn with our peers. This information is so easy to follow, so well presented, and just fun to listen to. I feel like a sponge, absorbing it all up!
Excellent idea Janelle–I'm off to listen to part 2!
Kelli – Dream-Adventures – PowerSeller and Shooting Star
I want ALL of you to have the opportunity to learn:
The ONE thing that determines whether or not 60% of people are going to read your newsletter

The ONE thing that will determine whether another 30% read it or not

The ONE thing you can do to your eBay Stores newsletter that will make it stand out from the rest (actually there are two…and we'll share both)

Over 14 places you can utilize to increase your subscriber sign-ups

My eBay super secret legal trick I use that has increased my subscriber sign-ups by another 15%

How to profitably set up your eBay Store Newsletter – did you know that eBay will send out a newsletter automatically to all your new sign-ups? Even at 3am!!

Questions to ask before you choose a Newsletter Marketing company

Understanding newsletter analytics for eBay Stores and outside newsletters

Creating a 'squeeze page' to send your potential subscribers

How to take advantage of this free powerful tool that is already part of your eBay business

AND, even how to

take your eBay subscribers and move them OUTSIDE of eBay

(this is powerful information – once they are on your own email list, you are able to promote ANY products you have – on Amazon, Etsy, your own website, a brick & mortar, etc)
It's yet another indispensable set of tools from Janelle Elms! I was so glad I participated in this newsletter training. My businesses have been sending eBay newsletters for awhile and have been steadily building up the newsletter lists. But, I was unsure how to start making those customers "my own", as the businesses shift toward stand-alone ecommerce websites. Janelle provides lots of specific information about creating newsletter sign-up "Squeeze Pages", about email management companies, and about sending emails legally and in compliance. The course work about writing email subject lines, so that emails actually get opened, is super valuable. This is just the information I needed to move the businesses forward toward bigger profits.
"This is just the information I needed to
move the businesses forward toward bigger profits."
What I really appreciate about this class is reviewing others' newsletters. The concrete examples, with class discussion of pros and cons, really helped me to understand approaches I can take to make my own newsletters more profitable! Janelle's "hot list" of email management companies to consider is certainly going to save me some time. Choosing a company that is a good match for my business needs is an important decision. Janelle's input is really going to help me move forward on this front.
This newsletter series is SO full of content and my To-Do list has grown substantially. I really appreciate having a clear direction to head in now. I know just the steps I need to take to improve the effectiveness of newsletters for both my businesses. I look forward to reviewing the material repeatedly so that all of this rich content gets applied to help grow both Twirl Planet and Bombay Bongo!


Cindy Hamilton
This training includes:
Over a dozen hours of step-by-step training on profitably setting up your newsletter – both on eBay and outside

Ways to increase your subscriber base

Best practices for a successful newsletter
"Never in a million years would I have thought that newsletters are so powerful"
Part one of this newsletter series is but a taste of what this series is all about!! Man! I can't tell you how revved up I am to get started on making eBay work for my business! Never in a million years would I have thought that newsletters are so powerful! See examples of what to do and what not to do in advertising your newsletters. Get the most out of your newsletters within eBay and beyond just by listening to this lesson 1!
Very Truly Yours,
Greta
http://www.insatiablegeisha.com
An article just came out about permission-based email marketing. Here is a short excerpt from it:
Why Retail Loves E-Mail
FEBRUARY 23, 2009
Is e-mail marketing recession-ready?
Many retailers seem to think so. During this past holiday shopping season, e-mail marketers were out in full force.
According to the "Retail E-Mail Year-End Trends for 2008" report, from Smith-Harmon, promotional e-mail volume accelerated in October and reached a peak in December when retailers sent consumers a monthly average of 14.6 e-mails. "Retailers ratcheted up their e-mail marketing campaigns to aggressively compete for consumers' dwindling spending dollars," says Jeff Grau, eMarketer senior analyst and author of the new report, Retail E-Mail: Online Marketing Strategies. "That was due largely to the fact that e-mail is cheap to administer and delivers an ROI far superior to paid search, catalogs and other marketing media."
The thing about this article though, is BIG DEAL…to a consumer it just means more junk newsletters in my inbox. But the Profitable Newsletter training can help YOU, Your Business and your newsletters not only get noticed BUT turn readers into buyers.
Are your newsletters going directly to the 'delete' pile or are they making you money? There are HUGE differences between the two. We can teach you what they are. www.NewslettersWorthGold.com
Great teaching! Very informative and an AWESOME beginning to this exciting and MUCH APPRECIATED series! It really demonstrates the need for a Newsletter for any online business! So crucial for our success! Thank you OSI!
Christine & Debbie
www.shopcrownhouse.com
Janelle's profitable newsletter training has allowed me to systematically develop an e-mail marketing program. Instead of flying blind, I now have a marketing plan in place and am using eBay newsletters, my personal newsletter and Sales in a Click newsletters to their best advantage. This training is a must for those who want to expand their customer base and learn the best practices to use to develop their own newsletter marketing plan.
Charlene
Charlene Anderson
Anderson-Shea, Inc.
char@andersonshea.com
Web site: http://www.andersonshea.com
eBay Store: http://stores.ebay.com/Purveyor-of-All-Things-Creative_?refid=store
eBay Guides: http://search.reviews.ebay.com/members/purveyorallthingscreative
Blog: http://charleneanderson.typepad.com/unravelings/
Sign up for the Purveyor of All Things Creative Newsletter: http://visitor.constantcontact.com/email.jsp?m=1101493581722&p=oi
Tagged with: