Amazon overtakes eBay (26 Dec 08)
In this Newsletter
Would like a $300 tax deduction?

New Service Helps Grow eBay Stores – Effortlessly

Free trial for Terapeak's powerful research service

Amazon finally overtakes eBay in online numbers

Classes coming up:

New eBay Store marketing tool, and Success With Cindy
I apologize in advance for my abruptness…
I was SO ready for Christmas this year – was singing Christmas songs in July, had my shopping done before Thanksgiving and spent Christmas Eve attending all 3 services at our Church! But I have to tell you that I awoke this morning SO ready to be done with 2008 – I have already cleaned up my Christmas decorations, written my thank you notes, and have begun to organize my resolutions for 2009! I am definitely ready for 2008 to be completed and for a new, fresh exciting year to start. Are you? I love the beginning of things – a chance for all possibilities to happen, a clean slate, without any prior encumbrances. I Choose for 2009 to be absolutely incredible and am getting a running start to head into the New Year.

Here is a great site to start creating your New Year's resolutions – includes my favorite tip of 'writing it down' so you can check in throughout the year to see your progress (one of the most important things for an entrepreneur to do since we don't have access to raises and promotions as a way to track our progress). http://www.mygoals.com/about/NewYearsTips.html
and of course the free tools to manage your resolutions and goals:
http://lifehacker.com/336991/free-tools-to-manage-new-years-resolutions – my favorite is the team over at DIY Planner – tons of free templates to keep you on track, organized, and moving forward to making your dreams a reality.
In the time honored tradition of TOP lists of 2008…here are a few from OSI. It's pretty easy to see the trends for online sellers – They want to know what vocabulary their buyers are using and how to sell on the sites where their buyers are using that vocabulary – LOL:
Top 3 Best-selling CDs from the OSI Success Library: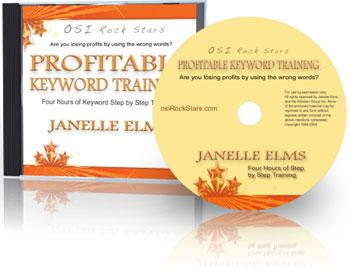 1. Profitable Keyword Training
2. Profitable eBay Stores Success Training 7-CD set
3. Amazon 101
And a very close runner up was "Getting Found Locally with Google"
Top 3 highest attended single classes taught at OSI/OSI Rock Stars for 2008:
2. Amazon 101 – Increase your Profits with multi-channel selling – Part 1
3. Seth Godin – And Your Clicks For Free: Promoting Yourself
And runners up include:
10 simple tips that make a big difference when running a small business with Laura Leist
And
Web 2.0 – Discover The Top Ten Online Strategies To Market Your Store, Yourself & Your Company – with Jay Berkowitz
Top 3 series of classes taught at OSI/OSI Rock Stars for 2008:
1. The Profitable eBay Stores Success Training – 7 part series
2. Profitable Blogging – 3 part series
3. The Ask Janelle series – monthly, exclusive to Rock Stars only
And the runners up were:
The Profitable Keyword series – 2 parts
The Amazon 101 series – 2 parts
The new MINI series is gaining is popularity, but was just introduced in November – look for it to hit the top of the 2009 charts though!
Plus, I can't forget to mention the 'fee series' we did. Very well attended and with January coming up we will probably be having a few more of those soon.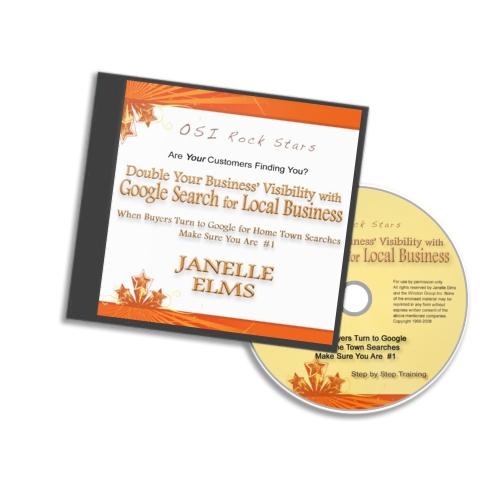 And, probably more important than any other lists…the Top Products that made the most money for the people who purchased them:
1. By far…the Profitable eBay Stores Success Training – 7 Cd set – has blown away everyone who has taken the training and applied it to their business. We are seeing numbers coming in of over 400% increases in profits!!
2. (and this is my favorite and the one I use almost daily) – the Profitable Keyword training CD. Without this information, a business would be at a standstill to move forward in today's online environment.
3. Getting Found Locally on Google – just ask Maryann of www.GoodBuysAllTheTime.com how fast the money came in after she applied this information to her business!! Plus, the clients I have think I am the most amazing thing since sliced bread when I do this simple process to their online presence.
_______________________________________________
I also wanted to thank Michelle for taking the time to send this wonderful note – I'm glad that many of you were able to get in on the 'Quickbooks' deal.
I just wanted to thank you for the heads up on Quickbooks. Like many places, our family is having a lean season financially. You made it possible for my Mother to give me a Christmas present that will cost her nothing and hopefully allow me to spend more time listing on eBay and updating my store than on accounting:-)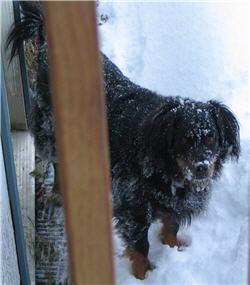 Here in Mead, WA we have over 30″ of snow and it is still coming down. We have met a lot of neighbors trying to dig each other out or give a push when people get stuck.
This is a picture Lassiter, he got "trapped" between the garage and the wall of snow! (Patches, his sister is helping in the store)
May you have a healthy and love filled Christmas!
Michelle
Share the Success with friends – forward this newsletter onto them or let them know they can get their own copy at www.osiNewsletter.com (includes the Free 5 page report, "99% of eBay Stores are set up wrong, Learn how to be that 1%")
Remember, you can read previous Success newsletters in the OSI Rock Star newsletter archives at http://osirockstars.com/?cat=5
For secret deals only….come TaTango with us!! Register your phone HERE
For spur of the moment info, ideas, reminders or anything else I feel like Twittering about, follow us at http://twitter.com/osirockstars

Would you like a $300 tax deduction for this year?
The release of the Profitable eBay Store 7-CD set (and your exclusive limited time pricing) Price goes up this weekend



Do you want 7-CD's packed with step-by-step video training that will turn your eBay Store into a profitable marketing tool for your entire online business?




Do you want in before the price goes UP?




Do you want a $300 business tax deduction for 2008?




Do you want to increase your sales by over 400%?




Do you want 3 easy payments?
HURRY – price goes up in 24 hours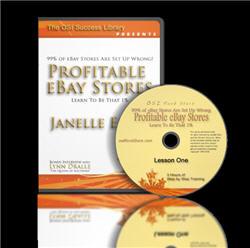 I really worked hard with my financial team to make this CD set affordable considering the current economic situation. This includes an easy 3-payment option. Ask anyone who has taken this training and they will tell you this is easily worth way more than it is priced – not to mention you will make back the amount of the videos in no time with the increase in your sales and profits. But there is a bit of a twist…the price goes UP each week it is for sale in December!! So, I would recommend acting quickly to save the most money.
Wow…the demand for this 7-CD set on Profitable eBay Stores is incredible. I am so thrilled for all of who are Choosing Success and are going to have an amazing and profitable eBay Store for 2009 – what a great New Year's resolution!!
I know how this training has dramatically changed the lives of SO many people who have already gone through the 25+hours (check out Ellen's story below where her sales have already increased by almost $1000!! – can you imagine how much they would have increased if we weren't in a 'recession'? WOW!)
…and I am thrilled that it will now be able to change SO many more businesses and lives!
We received SO many phenomenal stories from the seller's who took this class, it is going to take me a few weeks to share them all with you. But I want to show off what they have accomplished, and also offer you the security of knowing that you are purchasing a product that actually works.
I am part of the 1% and I do not know where to start with what an amazing change in my sales. I am selling to many new customers and my sales have increased from a low…low…low to over $1000 in just three weeks – Hurrah for my newly optimized eBay Store…and my Hero Janelle!
Part of my story is emotional and part of it is just the plain money facts after the Success Steps taught by Janelle. My emotional part has to do with all of my struggling in increasing my sales, and fighting a battle that I would never have won without first getting my store in order in the set up process. I had almost
"I am selling to many new customers and my sales have increased from a low…low…low to over $1000 in just three weeks"
given up on having a successful ebay store, when I decided to give it one last shot. Janelle came on line with this great opportunity to Join the 1% Club and how I could be more knowledgeable about my store optimizing. I jumped on it, thinking "Thank God for Janelle" and a gut feeling that now is the time, and the place to be is in the 1% Club.
I already knew Janelle is an amazing teacher, and now with these results and the increase in my sales, I am even more convinced…I could not have done it without her and her incredible knowledge base!
Ellen Russel
1% Club Member
OSI Rock Star
Order now at www.OnePercentCoach.com
And you will receive…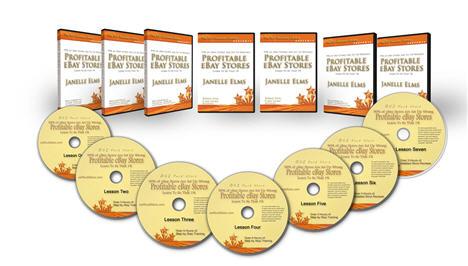 The 5-part CD set which includes:



Almost 20 hours of step-by-step video instructions on correctly setting up your eBay Store for profit




Lessons that take you from 'what to do BEFORE you set up your eBay Store' all the way to 'marketing outside of eBay'…and everything in between




5 exclusive Interviews with leading experts in the online success field – learn even more about online selling from: Lynn Dralle, Marsha Collier, Hugues Deriau, Andy Sernovitz and Jay Berkowitz




"Success Steps" offered at the end of each 'week' – these checklists will help you stay on track and achieve success.



Clickable links that are included with each lesson so you can easily locate the products, stores, and companies that we refer to during the training.

No scrambling for a piece of paper to catch the URL website that was mentioned.
Order now and receive a BONUS – 2 additional CD's
· Over 7 hours of eBay Store reviews – learn how to apply these processes to your own Store by watching these powerful reviews
· 16 eBay Store reviews – see the fine tuning Janelle does with these eBay Stores to fully-optimize them for profit
New Service Helps Grow eBay Stores – Effortlessly
Just met some fabulous people from the new Sales in a Click™ tool for eBay Stores. One of them, Greg, will be on the show next week (see class schedule below) to fill you in on this great new marketing opportunity for eBay Store owners. It is a simple, affordable email marketing service that drives customers to your store every month – automatically.



Keep getting sales from your valuable customers & prospects




We upload their email addresses for you – or you can add lists



You don't have to write a thing; we write it and send it for you
You'll be ready to send in minutes. Try it RISK FREE!
We are testing out the product as we speak and love what we see so far. It really fills the gap (legally) in our eBay business of contacting previous customers and asking them to be on a newsletter list. Can't wait to learn more from Greg.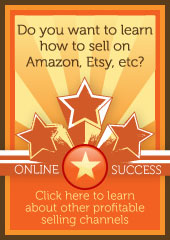 Free trial for Terapeak's powerful research service
Just received this email right before Christmas from our favorite elf in Victoria, BC…
Hi Janelle!
Hope you're enjoying this crazy weather!!! I spent the morning shoveling my poor car out. Looked so sad half covered in ice and snow!
Just a quick note since I'm still putting the finishing touches on the whole thing, but this afternoon we're launching a 12 day free start for Terapeak!
It's our Christmas present to anyone who has been thinking about market research but hasn't made the plunge.
I was trying to think of a song, but all I've had time to think of is….
"On the first day of Christmas my true love researched me…an ipod! "
Maybe I'll have time later to add more
Anyway, any new subscriber can visit www.terapeak.com/signup and get the 12 days of Terapeak to start for free.
We'll have it blogged and stuff in a bit, wanted to get the update to you right away!!
Hope you're staying warm and all ready for the holidays!!
All the best,
Denise
Amazon overtakes eBay as most-visited retail site, Nielsen says
Culminating a long stretch in which the two companies' traffic numbers have been heading in opposite directions, Amazon.com passed eBay.com in November as the most popular retail destination on the Internet, according to Nielsen Online.
Amazon.com, No. 1 in the Internet Retailer Top 500 Guide, attracted 57.7 million unique visitors last month, up 8% from last year, while eBay's audience of 55.4 million was 6% lower than during November 2007.
Here are the top 15 retail web sites in November, with unique visitors in millions this year and last and the percentage change.



Amazon, 57,682, 53,630, 8%




eBay, 55,438, 59,041, -6%




Wal-Mart, 39,420, 35,003, 13%




Target, 35,902, 34,611, 4%




Best Buy, 22,138, 22,736, -3%




Sears, 19,541, 17,805, 10%




Dell, 17,058, 18,918, -10%




JCPenney, 16,933, 15,929, 6%




Circuit

City

, 16,609, 19,135, -13%




Netflix, 13,538, 11,954, 13%




Kohl's, 13,257, 10,516, 26%




ToysRUs, 13,041, 13,726, -5%




The Home Depot, 12,169, 10,608, 15%




Overstock.com, 11,812, 18,419, -36%




Kmart, 11,713, 8,693, 35%
You can read the rest at http://www.internetretailer.com/dailyNews.asp?id=28825
New Classes coming up…
Hey…get registered ASAP for these classes. All OSI Live classes are fr-ee to attend and instructions are included during the registration process for both the podcasts and the webinars. When the class says, OSI RS Exclusive, only OSI Rock Stars are allowed to attend.
Remember, you can either ask a question for our special guest or simply put "I Choose Success" in the question box.
12/17/08, Wednesday at Noon pst/3pm est – OSI Rock Star Exclusive
MINI – iGoogle –
I use iGoogle as one of the main tools in my business. It provides blog/newsletter ideas, keeps me up to date on the info I need, and allows me to be organized.
You can watch this class at: http://osirockstars.com/?p=723
12/19/08/08, Friday at Noon pst/3pm est – OSI Rock Star Exclusive
MINI – Google Docs
Google Docs is a favorite of mine and I use it for online organization of some of my most important documents including excel, powerpoints and word docs.
You can watch this class at: http://osirockstars.com/?p=724
12/23/08, Tuesday at Noon pst/3pm est – OSI Rock Star Exclusive
MINI – The GoTo Products
I use many of the GoTo products in my business including GoToMeeting, GoToWebinar and GoToMyPc. I will show you an overview of how these tools fit into my business and then we can have additional classes on them if you would like.
You can watch this class at: http://osirockstars.com/?p=728
12/30/08, Tuesday at Noon pst/3pm est – Sales in a Click – Marketing for your eBay Store
Greg Bala from Sales in a Click will share an overview of this new powerful tool that you should be using in your eBay business.
Check out the product at Sales in a Click
Save your seat on this audio interview at www.Ask-The-Entrepreneurs.com
1/7/09, Wednesday at Noon pst/3pm est – Success With Cindy – Promote Your Online Business and Build SEO Using Press Releases
This month's topic on Success With Cindy is press releases. You don't need to be a 'techie' to get maximum effectiveness from a press release. Anyone who can email or cut and paste can improve their business using a press release.
Get registered for your spot at www.SuccessWithCindy.com
Blessings,
j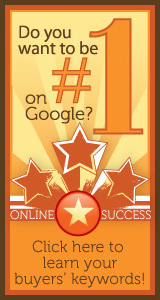 Tagged with: