Quickbooks Pro is FREE tomorrow only (21 Dec 08)
In this newsletter:
Super easy last minute gifts that WILL be there in time for Christmas & Hanukah

(including my favoritest new site I just found that I LOVE)

Free Quickbooks Pro 2009 –

one day only

Final Day for free Holiday Priority Upgrade –

Profitable eBay Stores CD set

Classes coming up:

MINI the 'GoTo' Products, a new eBay Store marketing tool, and Success With Cindy
Hi,
I just got this great email from Charles of Replica Coins:
Hi Janelle,

I thought that you may get a laugh from this. I have been digging out from snow the last two days in New York. It has given me some time to look at your profitable blogging CD's and at the same time I have the Jets and Seattle Seahawks game on and was surprise to see it snowing in Seattle too.
I also wanted to take the time to thank you for what you are doing. I cannot believe how much I have learned from your training.

I just didn't know how much I didn't know.

Have a great holiday.
LOL…it was sweetest of Charles to take the time to write this great note (plus check out his Store for awesome and unique stocking stuffers!). I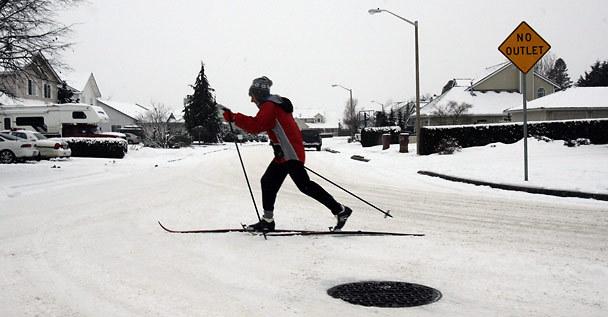 am not sure whose weather we are getting here in the Seattle/Portland areas, but can you please take it back? I totally realize it's colder in other parts of the country, but we in the NW are baffled at this weather and the city has come to a slow crawl the past few days (except for those people who donned their skis and are getting around that way). We had a wind chill of MINUS 14 degrees yesterday. Seattlites don't even know what a wind chill factor is. We usually get snow once in a blue moon and then 3 hours later it is gone. I count my blessings that when the 40-65 mph winds hit last night that we didn't lose power here in this area. I pray that the people who are stranded at the Seattle airport take this time to meet new friends and perhaps even do some great networking. Heck, when I have been stranded at airports I have even done some sourcing at the great boutique shops (PDX is my favorite to do that in) – LOL. You might want to take a moment and send out a Stores Newsletter to your customers just reminding them about these weather conditions around the country and for people to have an extra ounce of patience with their buyers/sellers.
Sometimes I am a bit hard on the USPS…raising rates, long lines, rude clerks. But this week they have greatly changed my view of them and I want to apologize for generalizing about them…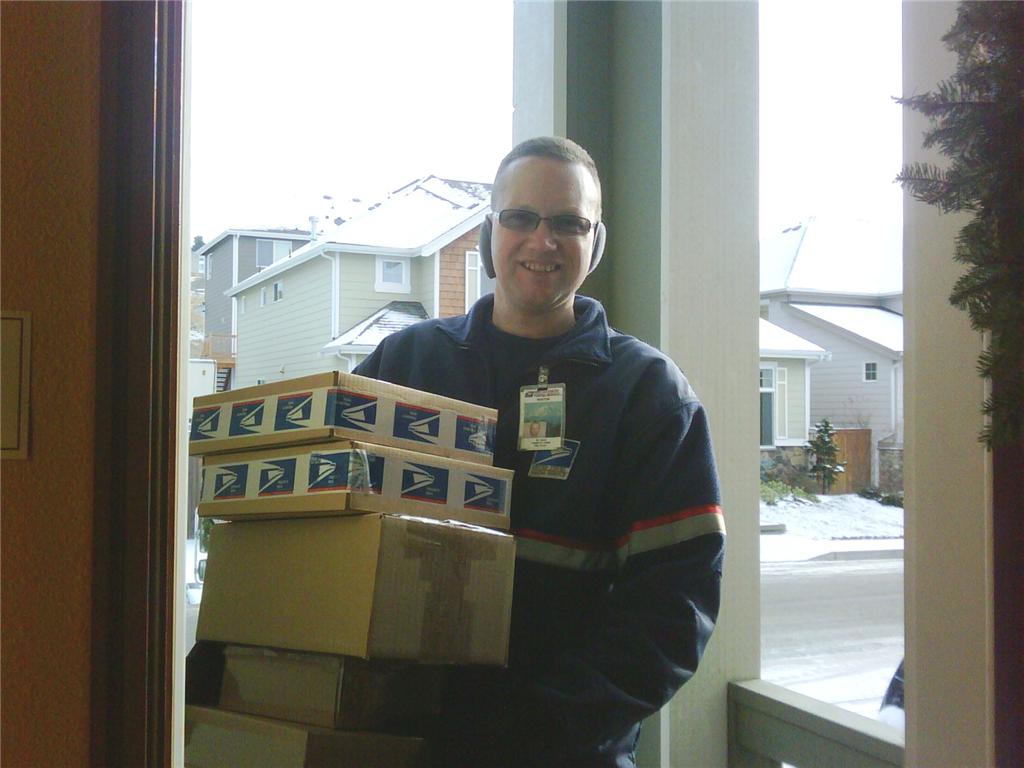 I want to introduce you to my USPS guy. His name is Jim and he is fabulous. With no hope of me making it to the Post Office this week since our streets are sheets of ice, Jim has driven his chained up vehicle almost daily to my house to pick up my multiple outgoing packages. He is always cheerful, helpful and never appears in a hurry while he loads up his truck with all of these boxes (or patiently waits for me to finish filling out custom forms). Now I totally get that they get paid a bit extra to do this service (which is free for us to use – woohoo)…but he doesn't get paid to be so nice and generous with his time. Plus without this service I would have had a few very unhappy customers this week.
Now get this…I received a call late one night last week from the Post Office. Jim's supervisor Ray was calling me to 'see if all of my packages were getting picked up ok.' Ok, WOW. This is their busiest time of the year and they are just calling to make sure I am happy? Blew me away. Scattered reports are coming in from other Post Offices too that these holiday miracles are actually happening across the US!! Whatever 'nice' training they just went through is truly working. So thank you USPS for hiring Jim and Ray and the other Post Office people who are making our lives and businesses a much happier process.
On a side note, I rarely ship with UPS and had to print a label this week with them. eGads…took me 12 minutes to get one label done. Heads up UPS…make this process a bit easier for us once in awhile user please. Too bad you can't use Endicia with UPS – that would be a fabulous thing.
Yummy info in the newsletter below including some great last minute gift ideas for you (especially those of you who may be snowed in!).
I wish you a week of fabulous Holiday sales and wonderful surprises,
j
Share the Success with friends – forward this newsletter onto them or let them know they can get their own copy at www.osiNewsletter.com (includes the Free 5 page report, "99% of eBay Stores are set up wrong, Learn how to be that 1%")
Remember, you can read previous Success newsletters in the OSI Rock Star newsletter archives at http://osirockstars.com/?cat=5
For secret deals only….come TaTango with us!! Register your phone HERE
For spur of the moment info, ideas, reminders or anything else I feel like Twittering about, follow us at http://twitter.com/osirockstars
and Matty the More Moola cow now has her own groupie following at www.twitter.com/moremoola and BOY is she finding the hot deals!

Super easy last minute gifts that WILL be there in time for Christmas & Hanukah (including my favoritest new site I just found that I LOVE)
So I made many of my Christmas gifts this year. Homemade gifts don't necessarily save you money, nor do they save you time – lol…but everyone seems to really appreciate the thought that goes into them. Here is a great site with some brilliant ideas on making a Holiday gift:
http://www.getrichslowly.org/blog/2008/11/13/a-do-it-yourself-christmas-34-great-gifts-you-can-make-yourself/
One of the problems I always encounter at the holidays are two types of people – the ones that you have no clue what to get them and then the person who shows up with a gift for you and they never even crossed your mind to make it to your gift list. (Oh, and there is that last minute, 'shoot we forgot to get so and so a gift'.)
I always turn to GiftCertificates for these situations. They have an awesome thing called a SuperCertificate that can be emailed instantly to your gift recipient (so easy to then use the excuse when you are caught empty handed…'Look for yours later this afternoon, it's on it's way').
Simply go to Ebates first so you get 4% cash-back from your purchase. Then type in GiftCertificates into the search box. Purchase a SuperCertificate (you can get one for as little as $5) from this site for your Aunt, Nephew, Boss, Secret Elf, neighbor, that very nice USPS guy, Matty, or anyone else on your gift list. Easy!
If you scroll to the bottom of the webpage you will find the option for an e-SuperCertificate. I LOVE these.
They are automatically sent to your gift recipient's email immediately (or when you choose to have it sent)

The email is beautifully formatted with a design of your choice

And your gift recipient than gets to choose from over 100 different stores to spend it in including: Crate & Barrel, Drugstore.com, Fandango, Gap, J Jill, Jack in the Box, Old Navy, Petco, Pottery Barn, Sephora, Spa Finder, Sports Authority, Staples, Travelocity, Williams Sonoma, and MUCH more.
But here is my favoritest new site – DailyLit. Not only is this a brilliant idea for a business model, but they also have wonderful e-gift options too. I found DailyLit a couple weeks ago and am still truly in awe of this brilliant site (which includes useful Web 2.0 bells and whistles too!). Basically you choose a book that is then delivered to your email inbox in installments (I am currently reading Pride & Prejudice in 146 easy to read sections – perfect for a quick break from work daily).
You choose:
The book (& many are free)

You choose how long or short you want the installments

You choose the days of the week you want them

And even what time of the day!

You can also receive your installments via RSS feed or via iPhone/Blackberry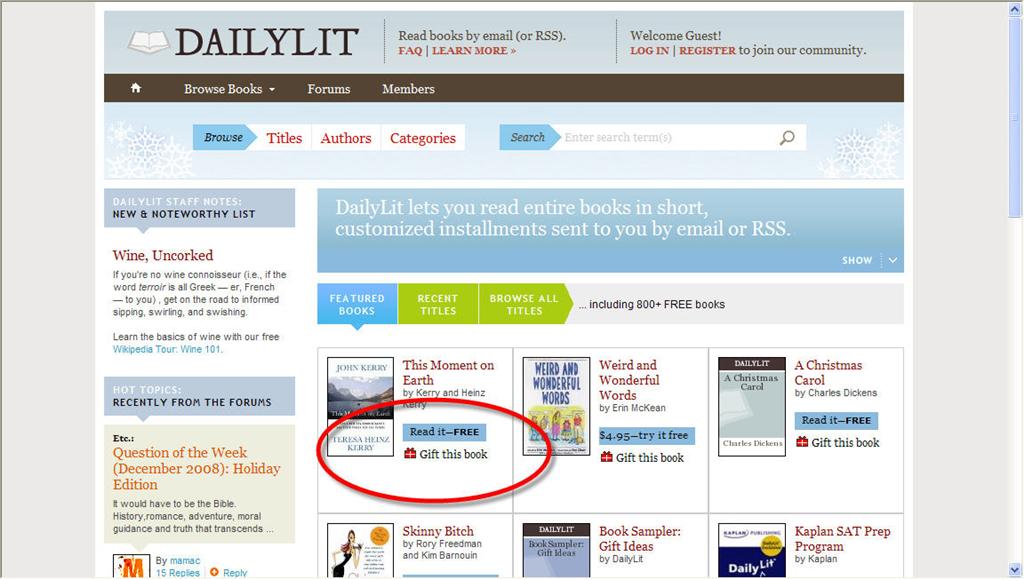 You can gift any of these books – simply click the 'Gift this Book' link next to each book. Your gift recipient will receive a short personalized message from you in each installment (perfect way to remind Mom that you are thinking of her daily)
Some other cool things about DailyLit:
They take PayPal

They are on Twitter (and are about to launch a group Holiday Read)
Just launched 25 new free Wikipedia Tours – learn about

Masterpieces of Western Art, witness Historic Battles, find some fine Cheese (to go with your Wine), or time travel to the 1960s. They're here for the taking—and all free!

And I think the founder, Susan Danziger, is a pretty cool chick!
This site is also an easy way to fulfill the often made New Year's resolution "I'm going to read the Bible in a year'. Simply click to have daily installments sent to your email!
Free Quickbooks Pro 2009 – one day only
Just posted on the RS forums:
Cathi from Allegro Accounting sent this in for you guys:
Quickbooks Pro 2009 (Windows version only) will be "FREE" at Staples on Monday, December 22, 2009
One Day Only! http://tinyurl.com/8pu9l3
This is the version we recommend for eBay/E-Commerce accounting
Some conditions apply:
The regular price at Staples is $199.99
The customer will receive $40 in instant savings
The customer at the store will receive a $159.99 mail-in rebate form.
When the customer mails in the rebate form they will receive, some weeks later, a rebate for $159.99
Once the customer obtains the rebate, their base costs are zero: $199.99 – $40.00 – $159.99 = $0.
The buyer may still be responsible for sales tax at the time of purchase; sales tax is not free.
Yes! This offer also applies to orders from the Staples.com website so you don't even have to leave the comfort of your home or office.
Thanks Cathi!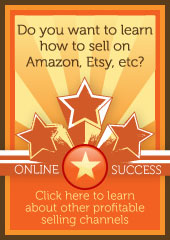 Final Day for free Holiday Priority Upgrade – Profitable eBay Stores CD set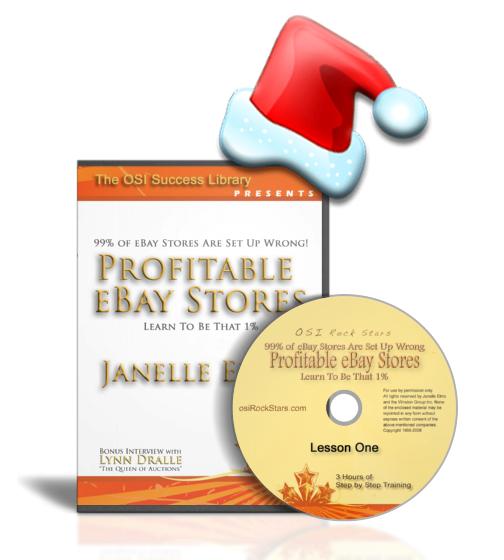 WOW…I am SO excited for 2009. I think I will have to change my saying of '99% of eBay Stores are set up wrong' to a lot lower number considering the amount of people joining the 1% Club!! Order today and get the Profitable eBay Stores 7-Cd set AND an upgrade to free Priority Shipping. Jim the fabulous USPS dude comes first thing in the morning to pick them up.
Plus, the feedback we are getting back is overwhelming…check out Jan of Gosinta's inspiring email below:
How to begin…..
It all started with joining OSI in the fall of 2007. Then came the decision to take my business seriously and become an OSI Rock Star on November 7, 2007. From that point on, my business life has been a whirlwind of activity – education, practice, education, education, education.
Wrapped up in the original plan of joining OSI Rock Stars was the decision to so a store makeover and add a second revenue stream.
Okay, now, here comes the biggie… I hired a designer who read my vision completely, but (you knew that was coming didn't you?). My store wasn't nearly ready to be overhauled because the structure of the set-up was completely wrong!
"My sales have almost doubled since opening the new store. Traffic has doubled; average sale price has doubled. "
Enter the 1% Club and the live classes with Janelle. I was honestly completely blown away by the amazing opportunity we have as store owners on eBay. There is no wonder Janelle truly believes that 99% of all eBay stores are set up incorrectly.
I still have hours and hours of structural work to do on my store, but the result has been overwhelming! The best – before the makeover, I had tried to land the largest and most well-know record cleaning company. They said it "didn't look like 'I' was a good fit for them. Another email went to them 2 days after the new store launch. They answered back with a "Wow! We want you!!" Since then I had my largest single sale: $645.05 for a Nitty Gritty 2.5Fi Record Cleaning System. My sales have almost double since opening the new store. Traffic has doubled; average sale price has doubled. The best thing that is happening is that the vendors are calling me!!! I have a lunch booked on December 3 with a huge manufacturer of stereo/turntable equipment. The rep loves the site and especially my 'This Day in Rock & Roll History' daily blog spots!
A simple thank you, Janelle doesn't seem like enough. Your eBay Stores classes are the best thing that ever happened to me. I will be listening to them over and over again because each time through, there is something I haven't heard before.
Thank you,
Jan Nissen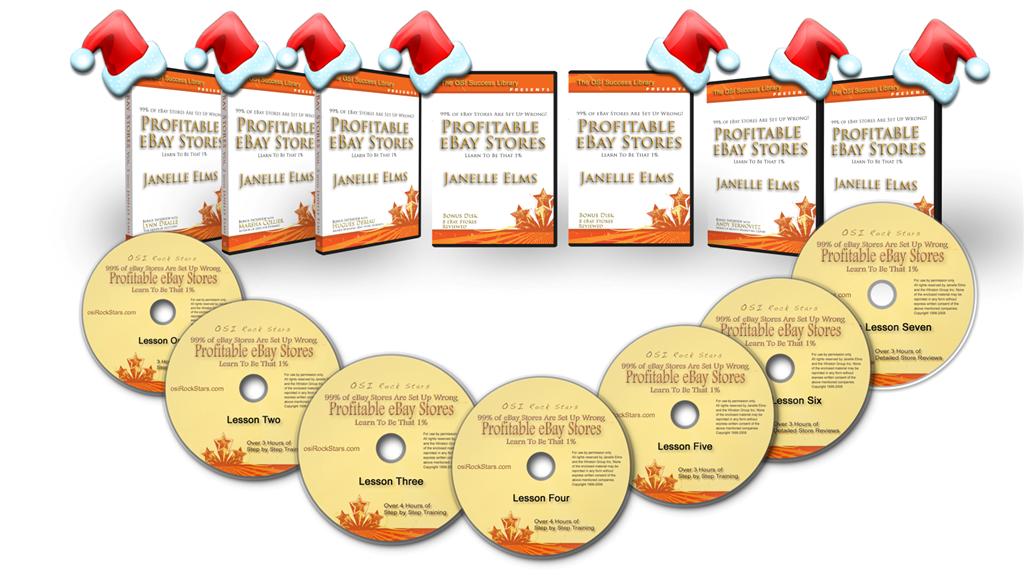 Get yours today at the One Percent Coach.
New Classes coming up…
Hey…get registered ASAP for these classes. All OSI Live classes are fr-ee to attend and instructions are included during the registration process for both the podcasts and the webinars. When the class says, OSI RS Exclusive, only OSI Rock Stars are allowed to attend.
Remember, you can either ask a question for our special guest or simply put "I Choose Success" in the question box.
12/17/08, Wednesday at Noon pst/3pm est – OSI Rock Star Exclusive
MINI – iGoogle –
I use iGoogle as one of the main tools in my business. It provides blog/newsletter ideas, keeps me up to date on the info I need, and allows me to be organized.
You can watch this class at: http://osirockstars.com/?p=723
12/19/08/08, Friday at Noon pst/3pm est – OSI Rock Star Exclusive
MINI – Google Docs
Google Docs is a favorite of mine and I use it for online organization of some of my most important documents including excel, powerpoints and word docs.
You can watch this class at: http://osirockstars.com/?p=724
12/23/08, Tuesday at Noon pst/3pm est – OSI Rock Star Exclusive
MINI – The GoTo Products
I use many of the GoTo products in my business including GoToMeeting, GoToWebinar and GoToMyPc. I will show you an overview of how these tools fit into my business and then we can have additional classes on them if you would like.
Register for this MINI class at: http://osirockstars.com/topic.php?id=892&replies=1
12/30/08, Tuesday at Noon pst/3pm est – Sales in a Click – Marketing for your eBay Store
Greg Bala from Sales in a Click will share an overview of this new powerful tool that you should be using in your eBay business.
Check out the product (and it's free 60 day trial) at Sales in a Click
Save your seat on this audio interview at www.Ask-The-Entrepreneurs.com
1/7/09, Wednesday at Noon pst/3pm est – Success With Cindy – Promote Your Online Business and Build SEO Using Press Releases
This month's topic on Success With Cindy is press releases. You don't need to be a 'techie' to get maximum effectiveness from a press release. Anyone who can email or cut and paste can improve their business using a press release.
Get registered for your spot at www.SuccessWithCindy.com
Blessings,
j
Tagged with: