I upgraded you for free (17 Dec 08)
In this newsletter:
Profitable eBay Store 7-CD set

-

Free Priority Shipping Upgrade
· New cool tool from Terapeak – beta testers get 2 free months!
· Holiday Magic – Elise has gone old-school on us today
· Upcoming OSI Classes – MINI's on iGoogle, Google Docs and the 'GoTo' product line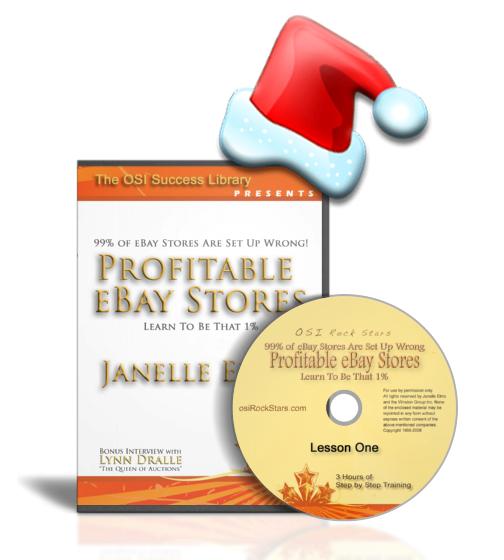 The Profitable eBay Store CD's just arrived and I am SO excited! They turned out awesome and I am thrilled with how they look too (thanks Dany – you rock!). For those of you who are giving this powerful CD set as a gift for Christmas, this is going to look pretty impressive when they open it up! And just wait for their profits to start increasing once they use it – you will be their favorite gift giver ever.
So, since I know many of you DID order this as a holiday gift, I decided to give you an early Christmas gift…you were upgraded to Priority Shipping!! AND, if you haven't ordered your Profitable eBay Store Success CD's yet, I will upgrade your shipping to Priority for Free IF you order by this Friday (that way you have a fabulous chance of the CD's making it to you in time to put underneath the tree).
Ok, I know this picture is going to ruin the illusion you have of my so called perfectly organized life…but looking around at the destruction I caused this afternoon with getting the Stores CDs out and laughing so hard, I knew I had to share it with you.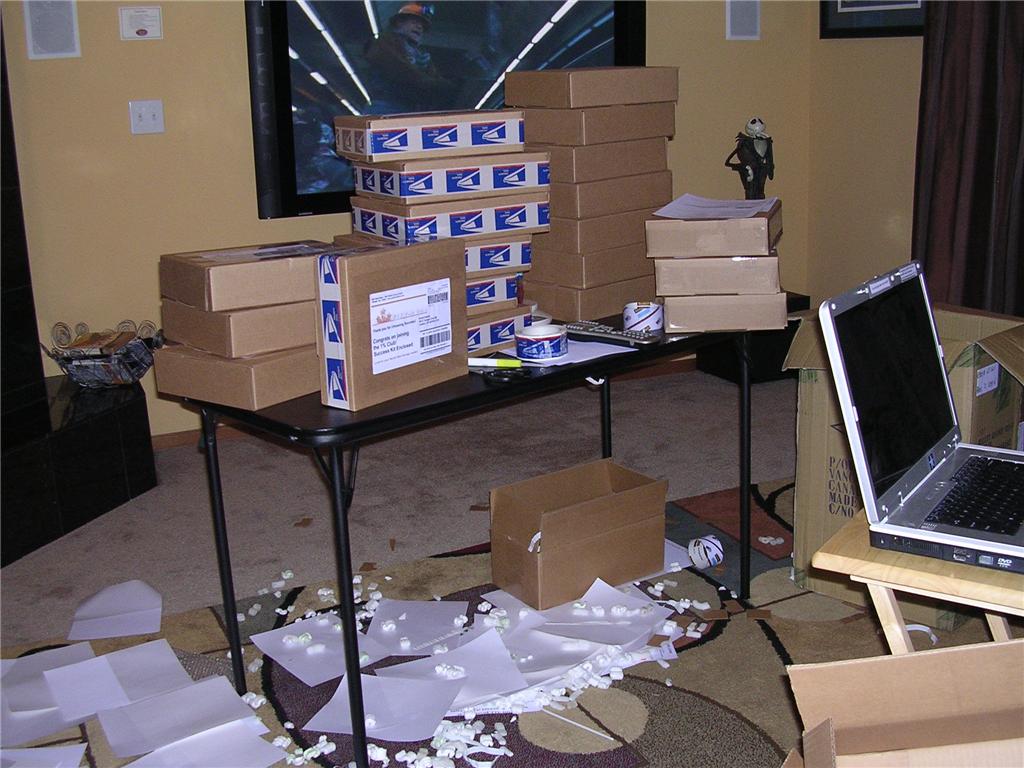 We had a wee tiny storm hit Seattle (no that isn't what the pictures of) so I don't have access to my regular helpers who assist me when I have big shipments to go out. I knew I wanted to get these packages out to you asap and not wait for a break in the weather (you'd be waiting a while). It was tooooo cold to use my wrapping station in my garage, so I drug everything into the living room and set it up there. There are peanuts, labels, boxes and who knows what else all over the place. Looks like we got a hurricane to go with the snow storm. The picture you are seeing is actually the calmer version as it is the tale end of the boxing session. Most of the boxes were already by the front door for the poor USPS guy to pick up tomorrow morning when this picture was taken.
(hhhmmm, I wonder if anyone knows what movie is on the tv in the background…hint, it's one of my favorites.)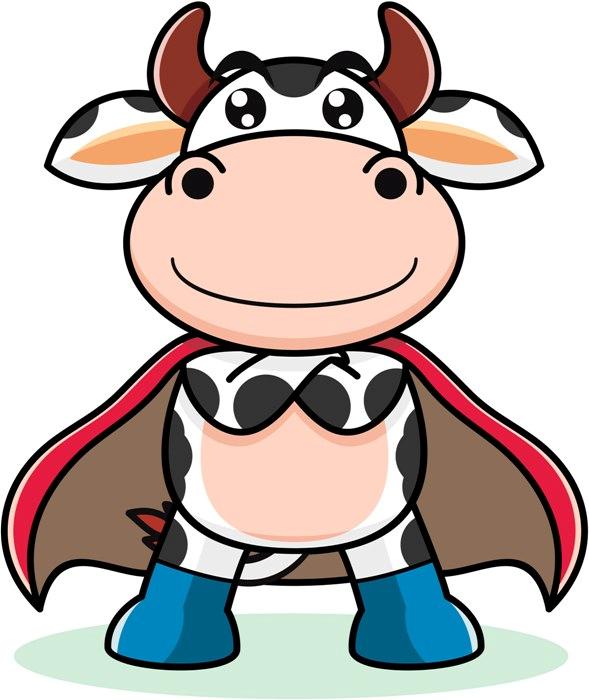 Also, just a heads up…the power shopping duo of Elise and Matty are teaming up again for some amazing bargains AND Matty just got her own Twitter page – how cool is she? Come follow her and learn the incredible deals she finds before anyone else – www.twitter.com/moremoola (She needs to get her cow behind in gear and Twitter about the 16gb jump drive she just got for $17 shipped!) You'll want to watch close those, her deals tend to go quickly.
With many blessings to you,
Janelle
Share the Success with friends – forward this newsletter onto them or let them know they can get their own copy at www.TheBusinessSuccessKit.com (includes the Free 5 page report, "99% of eBay Stores are set up wrong, Learn how to be that 1%")
Remember, you can read previous Success newsletters in the OSI Rock Star newsletter archives at http://osirockstars.com/?cat=5
For secret deals only….come TaTango with us!! Register your phone HERE
For spur of the moment info, ideas, reminders or anything else I feel like Twittering about, follow us at http://twitter.com/osirockstars

Profitable eBay Store 7-CD set - Free Priority Shipping Upgrade
You want to know why so many people are ordering the Profitable eBay Store Success CD set? Because it works. Not the 'get rich overnight scheme wording' that it works…but that it works for real eBay sellers who are running a business and want to know how to make it better and increase traffic and most important skyrocket their profits. So instead of a typical 'pitch' from me…I'll let one of our 1% members (who is also a fabulous Rock Star) tell you how it has worked for her in multiple facets of her business: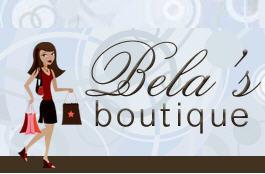 Hi Janelle,
I just wanted to let you know how much I have enjoyed the additional bonus classes for the 1% Club. I wanted to tell you a little bit about an email that I received the other day from another EBayer that also sold cosmetics just like me!
This girl had purchased some wholesale lots from me and she had emailed me with some questions. Well we got to emailing back and forth about the economy and the impact it has had both in the retail brick and mortar stores and online. Soon the conversation segued into a huge conversation about EBay, the recent changes that have been made (it is amazing how many people are still ranting and raving about the no negative feedback change) and how her business hasn't been doing so good lately because of what "EBay" has done.
"I have to say that this is the best investment that I have ever made for my business. I would recommend it to anyone, I HAVE recommended it to just about everyone that I have come across!!"
So me, being the Rockstar that I am, asked her if she had thought about choosing success? She had no idea what I meant of course! So I sat down and wrote this HUGE long email explaining to her about how about a year ago I purchased the 1% Club CDs and became a Rockstar. I told her how in the first six months my sales had increased 170% compared to the previous year and my newsletter subscription had increased from 67 subscribers to up over 250 subscribers!!! I explained to her that the 1% Club CDs helped me to set up my store correctly and by becoming a member of the OSI Rockstars I learned how to think like my buyers, use the correct keywords, and just how to make my store a success!! I told her that one of my most favorite things about being a Rockstar was the EBay changes classes. That I really liked that all the information was presented at one time. That not only does it help me to be on top of the changes but to know what I need to do to fit these changes into my business plan instead of getting stuck on what "EBay" is doing to ME. To be honest, I don't think that she believed me that there was such a program out there. So I loaded her up with all the information that she needs to become a member of the Rockstars and the 1% club and I hope that she will jump right in and become a believer!! But that is all I can do! It is up to her to decide if she chooses success!
I guess I am such a believer in not only being a Rockstar, a 1% Club member but in you too Janelle!! Since starting out with all of this, not only has my store become such a success that I have opened two additional stores, I also have three blogs, am working on becoming a Giant Squid and am even starting to sell on Amazon! I feel that I have changed personally with this experience. I used to be one of those "Oh why does EBAY do this to ME" but now when something happens or a change comes about, my first thoughts are "what does this mean to my buyer and how can I change my business to be successful and fit into the new rules and if I DON'T know then I can be pretty sure you will have a class about it at some point!
"I told her how in the first six months my sales had increased 170% compared to the previous year and my newsletter subscription had increased from 67 subscribers to up over 250 subscribers!!!"
I have to thank you for those additional 1% Club classes. There isn't another business person out there that would do all those hours of teaching and counseling without charging an additional fee. This shows your commitment to not only your product but also in us, your 1% Club. I thought that the original CDs were packed full of information but these classes were even more enlightening because we were able to interact with you and ask for specific information. I am on my second round of listening to these classes and I pick out something different every time I listen. Things I missed the first time around or things that I didn't quite understand that I get on the second listening! Your 1% Club has been a tremendous tool for my business. I look forward to getting my two new stores completely set up correctly so that it can basically run itself like my Bela's Boutique store does!!
I have to say that this is the best investment that I have ever made for my business. I would recommend it to anyone, I HAVE recommended it to just about everyone that I have come across!! Now whether or not they decide to choose success is up to them but in my opinion they are crazy not too!!!
So again, thank you Janelle for being so invested in our success, taking the time to respond to us personally and for being our cheerleader in all that we do!!! I wouldn't trade my membership as a Rockstar or the 1% Club for anything!!!
Christina Riostirado
Profitable eBay Stores CD series



7 CD's




Over 25 hours of step-by-step Success training




'Make it Happen' Success Steps after each Lesson




And information to not only make your eBay Store profitable, but the skills you need to make your online business a Success too.
I really worked hard with my financial team to make this CD set affordable considering the current economic situation. This includes an easy 3-payment option. Ask anyone who has taken this training and they will tell you this is easily worth way more than it is priced – not to mention you will make back the amount of the videos in no time with the increase in your sales and profits. But there is a bit of a twist…the price goes UP each week it is for sale in December!! So, I would recommend acting quickly to save the most money.
Order now at www.OnePercentCoach.com
And you will receive…
The 5-part CD set which includes:



Almost 20 hours of step-by-step video instructions on correctly setting up your eBay Store for profit




Lessons that take you from 'what to do BEFORE you set up your eBay Store' all the way to 'marketing outside of eBay'…and everything in between




5 exclusive Interviews with leading experts in the online success field – learn even more about online selling from: Lynn Dralle, Marsha Collier, Hugues Deriau, Andy Sernovitz and Jay Berkowitz




"Success Steps" offered at the end of each 'week' – these checklists will help you stay on track and achieve success.



Clickable links that are included with each lesson so you can easily locate the products, stores, and companies that we refer to during the training.

No scrambling for a piece of paper to catch the URL website that was mentioned.
Order now and receive a BONUS – 2 additional CD's


Over 7 hours of eBay Store reviews – learn how to apply these processes to your own Store by watching these powerful reviews


16 eBay Store reviews – see the fine tuning Janelle does with these eBay Stores to fully-optimize them for profit
Place your order by Friday, the 19th and be upgraded to Priority Shipping for free!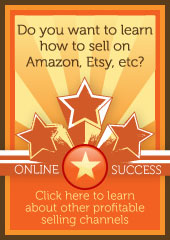 New cool tool from Terapeak – beta testers get 2 free months!
Just got a note from my one of my favorite friends up north, eh. Many of you know Denise from Terapeak. She is the Product Manager up there in Victoria, BC…and also keeps all those wiley boys in line too. I love the possibilities of this new tool launch and can't wait to hear your feedback too. Check it out and let me know what you think.
Hello!
Another new thing in Terapeak land, we've just opened a Beta of a new tool called Value Track. It's a list that you can populate with favorite searches and it updates on a weekly basis – a lot like a stock chart. Hal explains it better in a blog he just did – http://blog.terapeak.com/2008/12/16/sneak-peak-beta-testers-needed-for-new-terapeak-value-track/
might be of interest to some of the big sellers at OSI. It's free in beta now, and anyone who beta tests and gives us feedback will have it added to their account for free for 2 months after the official launch.
Next time you log into Terapeak, check it out! It's pretty fun.
denise hogue
product manager
Holiday Magic – Elise is going old-school today
Do you remember when toys used to be delightful, charming well-constructed objects that would enchant our adventurous brains for hours? (And we didn't have to consult a list daily on recalled toys from China?)
Although a bit harder to find nowadays, I did manage to track a couple of them down.
Dream Journey – The first one is a favorite of Janelle's actually. Although it has never ended up underneath her Christmas tree yet…she loves how these 3 travelers look like they are having the best adventures ever. Can imagine all of the tales your child could dream up with these bright colored fellows?
This beautiful crafted toy is from HABA of Germany. HABA continues to produce award winning products year after year. They are known for their charming style and attention to quality, safety and materials.
The second one is a beautiful first doll from France – (from the description) Baby Calin has a delicious vanilla scent that is used by the French doll makers, and is a WONDERFUL first baby doll . Open and close eyes, molded hair, just the right size for the littlest hands!
Calin is dressed in an adorable lamb's outfit that is completely an organic NATURAL clothing option for this little one, made of bamboo fiber which offers the advantages of being 100% Biodegradable & has antibacterial properties, resisting multiple washes.
What a treasure.
Both of these eBay sellers carry many beautifully made products. Definitely check out:
And
New Classes coming up…
Hey…get registered ASAP for these classes. All OSI Live classes are fr-ee to attend and instructions are included during the registration process for both the podcasts and the webinars. When the class says, OSI RS Exclusive, only OSI Rock Stars are allowed to attend.
Remember, you can either ask a question for our special guest or simply put "I Choose Success" in the question box.
12/17/08, Wednesday at Noon pst/3pm est – OSI Rock Star Exclusive
MINI – iGoogle –
I use iGoogle as one of the main tools in my business. It provides blog/newsletter ideas, keeps me up to date on the info I need, and allows me to be organized. Register for this MINI class at: http://osirockstars.com/topic.php?id=892&replies=1
12/19/08/08, Friday at Noon pst/3pm est – OSI Rock Star Exclusive
MINI – Google Docs
Google Docs is a favorite of mine and I use it for online organization of some of my most important documents including excel, powerpoints and word docs.
Register for this MINI class at: http://osirockstars.com/topic.php?id=892&replies=1
12/23/08, Tuesday at Noon pst/3pm est – OSI Rock Star Exclusive
MINI – The GoTo Products
I use many of the GoTo products in my business including GoToMeeting, GoToWebinar and GoToMyPc. I will show you an overview of how these tools fit into my business and then we can have additional classes on them if you would like.
Register for this MINI class at: http://osirockstars.com/topic.php?id=892&replies=1
Blessings,
j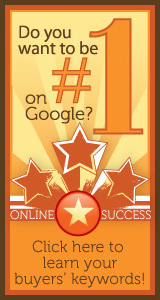 Tagged with: