We have lost a Rock Star and gained an angel (14 Dec 08)
In this newsletter:
The release of the Profitable eBay Store 7-CD set

(and your exclusive limited time pricing)

Final Day at this price
· Holiday Magic – Elise & Matty have teamed up to bring some awesome Holiday savings!!
"There are stars who's light only reaches the earth long after they have fallen apart. There are people who's remembrance gives light in this world, long after they have passed away. This light shines in our darkest nights on the road we must follow." – The Talmud quotes
Hello,

With sadness for the incredible loss from our community, and with a heart of joy that she is now in a place without pain…I wanted to let you know that our Rock Star, Pam (also known as eBay Grandma) has gone on to heaven this week. I have no doubt that she is showing God how he too could be a Giant Squid
You can read more about Pam and her inspirational mindset here: http://www.squidoo.com/beatingcancer
as well as throughout this incredible Squidoo thread here: http://www.squidu.com/forum/viewtopic.php?id=26310&p=1 For our Rock Stars who have lost an incredible inspiration, blessing, joy, mentor and friend, we have started a post on the discussion boards as well – http://osirockstars.com/topic.php?id=890&replies=9 I spoke to her daughter Megan yesterday who said that she would like to log on to Rock Stars in the future and check out this family that her Mom talked about so much.
The part of Pam that I always carry in my heart is that I would actually forget that she was sick or had cancer. Pam didn't complain or remind or fuss – she just lived. She chose Life with a passion and determination that we could all stand to remember. Her emails to me were always about just one more thing she could do to run a successful business or help out a fellow Rock Star or contribute in some other way. She was always uplifting on the RS boards and supportive to everyone who she came in contact with. What an incredible way to live a life.
During my talk with Megan about her incredible Mom, she mentioned this powerful skill Pam had of enjoying her world so fully. She said that because of her mom's desire to live BIG and to Choose Success that her eBay Store and business were getting picked up on Google and that sales were starting to really increase. Bless her heart as a family comes together to remember an incredible life, that she seeks to carry on the Success of what her mom had started. Absolutely wonderful that Pam has obviously passed on her mindset to her daughter as well. (Although Megan said that she was a bit overwhelmed as to where all her mom's inventory was…lol…I think we can ALL relate to that!)
Pam participated heavily with the LAM foundation – you can read more about that here: http://www.squidoo.com/superherolamfoundation
If you would like to make a donation in Pam's name, the family has requested that you do so at: http://www.thelamfoundation.org/donate.html Prayers for her family are always welcome.
I love this comment from one of our Rock Star teams on the boards…definitely a wonderful way of honoring Pam:
Life is precious and often WAY too short. We never know when we may be called. Feel sure Pam would want us to continue to live life to its' fullest and keep on pursuing our dreams and our entrepreneurial successes, just as she did. Her many Rockstar friends and family will so miss her. Always enjoyed her comments on the podcasts and the forums as well. She had a gift for being insightful. Am sure her light will shine brightly from above and she will continue to be an inspiration to us all.
Jim & Barbara - Grandpas Trading Company
In honor of Pam's Success mindset (and because she recently went through the eBay Stores training herself!)…
Since we expect many people today to purchase the Profitable eBay Store training at its lowest pre-order price…we will be donating 25% from all sales made in the next 24 hours to the Lam Foundation in Pam's name.
With many blessings to you,
Janelle
Share the Success with friends – forward this newsletter onto them or let them know they can get their own copy at www.TheBusinessSuccessKit.com (includes the Free 5 page report, "99% of eBay Stores are set up wrong, Learn how to be that 1%")
Remember, you can read previous Success newsletters in the OSI Rock Star newsletter archives at http://osirockstars.com/?cat=5
For secret deals only….come TaTango with us!! Register your phone HERE
For spur of the moment info, ideas, reminders or anything else I feel like Twittering about, follow us at http://twitter.com/osirockstars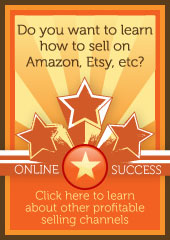 The release of the Profitable eBay Store 7-CD set (and your exclusive limited time pricing) Final Day at this price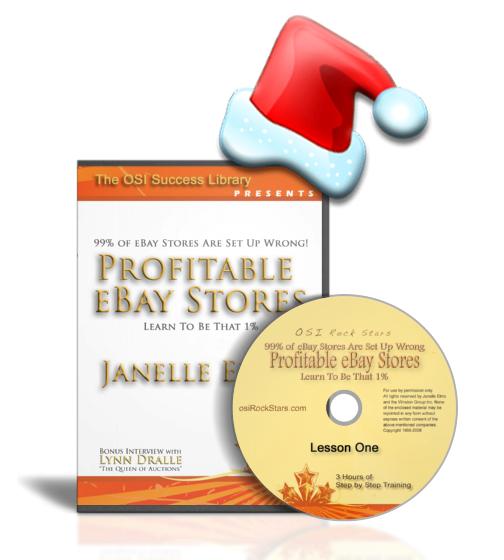 Tonight when my webmaster is back at work, we will be increasing the price of this 7-CD set…and the price will continue to go up each week in the month of December.
Purchase yours now at LOWEST PRICE it will ever be or use the easy 3-monthly payments to get in NOW and start making your Store part of that 1%. Plus, 25% of your purchase will go to the Lam Foundation in honor of Pam and her incredible desire to Choose Success!
We received SO many phenomenal stories from the seller's who took this class, it is going to take me a few weeks to share them all with you. But I want to show off what they have accomplished, and also offer you the security of knowing that you are purchasing a product that actually works.
Janelle Elms' eBay Stores Success Kit videos take you from knowing nothing about an eBay Store to knowing every virtual square foot about it! In a clear and concise manner, Janelle shows you step by step how brand your store, use the Internet to create a logo, carefully choose your store categories, set up inventory, use all the tools your store has to offer, optimize your store for Search Engine Optimization, and create links to the outside world to get 75% off your store's final value fees! After going through this nine-part video series, you'll be amazed at what you didn't know about the power of your eBay store. You may even pick up a life lesson or two! As a Certified Education Specialist trained by eBay, I would highly recommend this video series to anyone teaching eBay to others.
Wendy Siegel, Certified Education Specialist Trained by eBay
I am honored to announce the release for pre-order of the…
Profitable eBay Stores CD series
7 CD's

Over 25 hours of step-by-step Success training

'Make it Happen' Success Steps after each Lesson

And information to not only make your eBay Store profitable, but the skills you need to make your online business a Success too.
I really worked hard with my financial team to make this CD set affordable considering the current economic situation. This includes an easy 3-payment option. Ask anyone who has taken this training and they will tell you this is easily worth way more than it is priced – not to mention you will make back the amount of the videos in no time with the increase in your sales and profits. But there is a bit of a twist…the pre-order price goes UP each week it is for sale in December!! So, I would recommend acting quickly to save the most money.
Pre-Order now at www.OnePercentCoach.com
And you will receive…
The 5-part CD set which includes:
Almost 20 hours of step-by-step video instructions on correctly setting up your eBay Store for profit

Lessons that take you from 'what to do BEFORE you set up your eBay Store' all the way to 'marketing outside of eBay'…and everything in between

5 exclusive Interviews with leading experts in the online success field – learn even more about online selling from: Lynn Dralle, Marsha Collier, Hugues Deriau, Andy Sernovitz and Jay Berkowitz

"Success Steps" offered at the end of each 'week' – these checklists will help you stay on track and achieve success.

Clickable links that are included with each lesson so you can easily locate the products, stores, and companies that we refer to during the training.

No scrambling for a piece of paper to catch the URL website that was mentioned.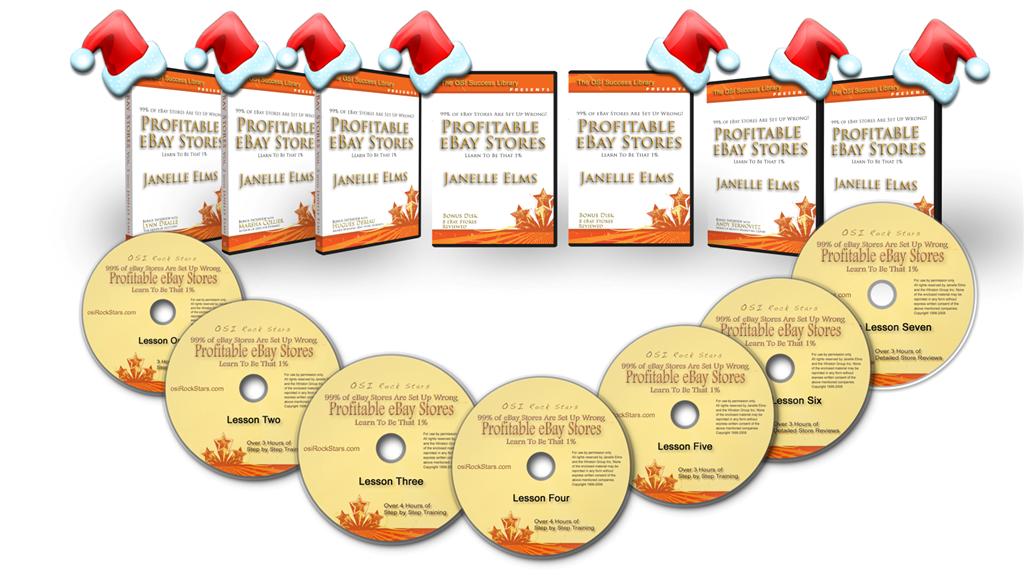 Order now and receive a BONUS – 2 additional CD's
· Over 7 hours of eBay Store reviews – learn how to apply these processes to your own Store by watching these powerful reviews
· 16 eBay Store reviews – see the fine tuning Janelle does with these eBay Stores to fully-optimize them for profit
Please place your order by December 14th if this is a gift for Christmas.
Price is going up TONIGHT!!
Holiday Magic – Elise & Matty have teamed up to bring some awesome Holiday savings!!
Gift for someone in Oregon – this has to be our best deal of the year Matty…if you have someone on your gift list and they live in Oregon, this is a no-brainer.
21 $10 gift certificates to restaurants in the Oregon area and a beautiful Chef's cookbook for….$29.99!!
Wonder why they don't have one of these gift set for Wisconsin or the North Pole.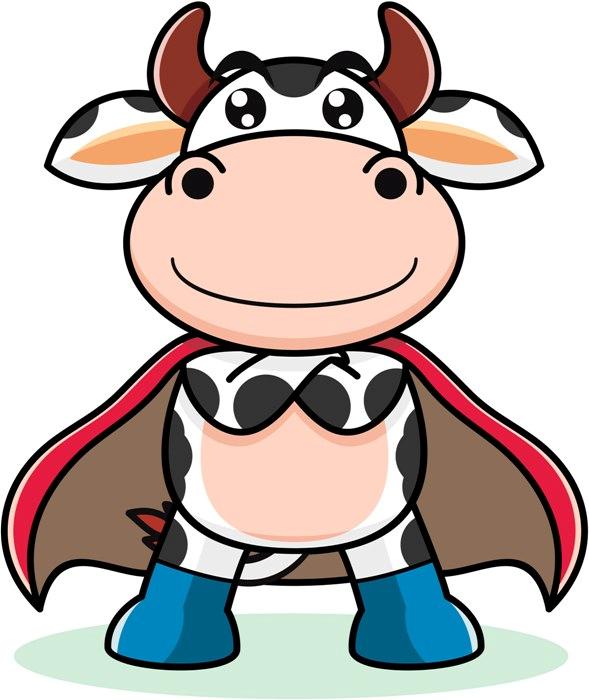 That is a great deal Elise. I snuck into Janelle's Delicious account and found all sorts of deal sites she shops at:
The 'Who Knows' gift
– these websites are super fun…new deal daily and you never know what you will find when you click here
http://www.thingfling.com/
I know Janelle has done quite a bit of her shopping there this season.
·

http://gearattack.com/ –
keeps track of the following sites (thanks Denise for sharing this one!):
o

http://sac.gearattack.com/
– amazingly cheap brand name products – one at a time
o

http://wm.gearattack.com/
– great clothes – currently up is a $19 shirt for $1.99
·
If you love these one day-thrill of the hunt sites – check out the big one here:
http://www.siteage.com/
– this includes jewelry, clothes, gadgets, cigars, wines and much more.
Giving Back
– I know Janelle's favorite gifts to receive are the ones that help others.

Here is a short list of some of these amazing sites:
· Bead For Life – http://www.beadforlife.org/ – BeadforLife eradicates extreme poverty by creating bridges of understanding between impoverished Africans and concerned world citizens. Ugandan women turn colorful recycled paper into beautiful beads, and people who care open their hearts, homes and communities to buy and sell the beads.
The beads thus become income, food, medicine, school fees — and hope. It is a small miracle that enriches us all.
All profits from BeadforLife are invested in community development projects that generate income and help people work their way out of poverty.
Free Shipping – this season it's all about the Free Shipping. I found an easy way to locate the sites with Free Shipping. Here are my two favorite links:
· http://www.freeshippingon.com/ – includes coupon codes for free shipping. This is a good one to also share with YOUR eBay buyers as it also searches eBay.
· http://www.freeshipping.org/ – Did you know December 18th is Free Shipping day? Yeah, me either…but yeah for us!!
Till the next moooovelous time!
Matty
& Till next time my darling merry makers,
Elise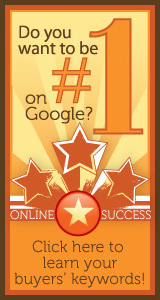 Tagged with: