Just Released – Profitable eBay Stores 7-CD set (09 Dec 08)
In this newsletter:
· The release of the Profitable eBay Store 7-CD set (and your exclusive limited time pricing)
· Holiday Magic – Elise has an unique & inspiring gift idea for you today!!
· What's in a name? Well search engine keywords for starters…by Cliff Ennico
· Classes coming up: Ask Janelle, TaTango, and DYWMMON!
It's easy to be brave from a safe distance. – Aesop
Hello,
Just a few quick links for you as I want you to get to the very exciting announcement below. We have just released for pre-order the powerful eBay Stores training class. Yep, the training you have been hearing HUGE buzz over. This 7-CD set has over 25 hours of step-by-step training just in time for Holiday gift giving (or perhaps getting a jump on your 2009 New Year's resolutions!) We are very excited to be able to offer this after the tremendous Success we have seen with those who have already completed this training. You will be hearing their Success stories over the next few weeks. (Orders were already coming in on the website before it was even finished!! I have no idea how they heard about it – wow!)
Ok, on to a few quick things:
Use your mouse and control the weather.

There really isn't any point to this, except that I think it's cool, lol – http://images.amazon.com/media/i3d/01/snow2.swf
Worldwide Brands has sent you a Holiday Greetings card (and included a gift for you too!)
Etsy Reports Highest Sales Ever for November (from Auctionbytes).

I have spent a few hundred dollars on Etsy already for my gift list.

(And I am betting Denise of Terapeak has me beat).

Buyers are flocking to the site because of the unique products, ease of use, phenomenal customer service, and great community. Aren't you glad you can take this class on 'Selling on Etsy' and increase your sales channels?: http://osirockstars.com/?p=652
With blessings,
j
Share the Success with friends – forward this newsletter onto them or let them know they can get their own copy at www.TheBusinessSuccessKit.com (includes the Free 5 page report, "99% of eBay Stores are set up wrong, Learn how to be that 1%")
Remember, you can read previous Success newsletters in the OSI Rock Star newsletter archives at http://osirockstars.com/?cat=5
For secret deals only….come TaTango with us!! Register your phone HERE
For spur of the moment info, ideas, reminders or anything else I feel like Twittering about, follow us at http://twitter.com/osirockstars

The release of the Profitable eBay Store 7-CD set (and your exclusive limited time pricing)
It feels like the morning of Christmas Eve for me. You know…when you are all giddy at the electricity in the air from people buzzing around in your world. I have been working so hard on this project, and today I get to send it out to the world! I know how this training has dramatically changed the lives of SO many people who have already gone through the 25+hours, and I am thrilled that it will now be able to change SO many more businesses and lives!
I am honored to announce the release for pre-order of the…
Profitable eBay Stores CD series
7 CD's

Over 25 hours of step-by-step Success training

'Make it Happen' Success Steps after each Lesson

And information to not only make your eBay Store profitable, but the skills you need to make your online business a Success too.
I really worked hard with my financial team to make this CD set affordable considering the current economic situation. Ask anyone who has taken this training and they will tell you this is easily worth way more than it is priced – not to mention you will make back the amount of the videos in no time with the increase in your sales and profits. But there is a bit of a twist…the pre-order price goes UP each week it is for sale in December!! So, I would recommend acting quickly to save the most money.
Order now at www.OnePercentCoach.com
And you will receive…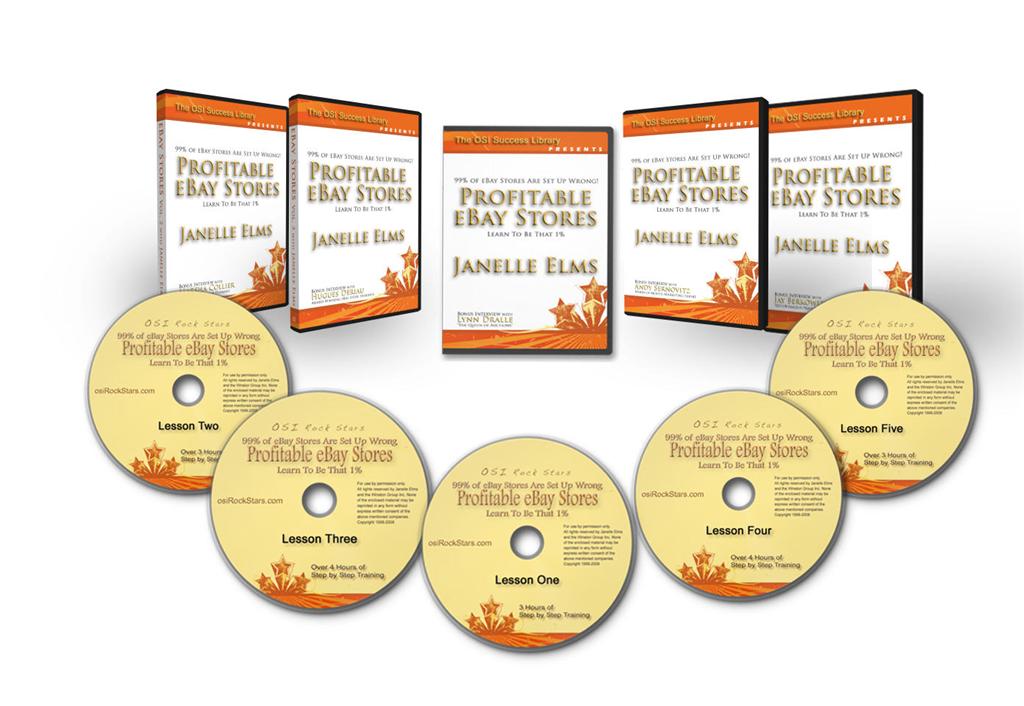 The 5-part CD set which includes:
Almost 20 hours of step-by-step video instructions on correctly setting up your eBay Store for profit

Lessons that take you from 'what to do BEFORE you set up your eBay Store' all the way to 'marketing outside of eBay'…and everything in between

5 exclusive Interviews with leading experts in the online success field – learn even more about online selling from: Lynn Dralle, Marsha Collier, Hugues Deriau, Andy Sernovitz and Jay Berkowitz

"Success Steps" offered at the end of each 'week' – these checklists will help you stay on track and achieve success.

Clickable links that are included with each lesson so you can easily locate the products, stores, and companies that we refer to during the training.

No scrambling for a piece of paper to catch the URL website that was mentioned.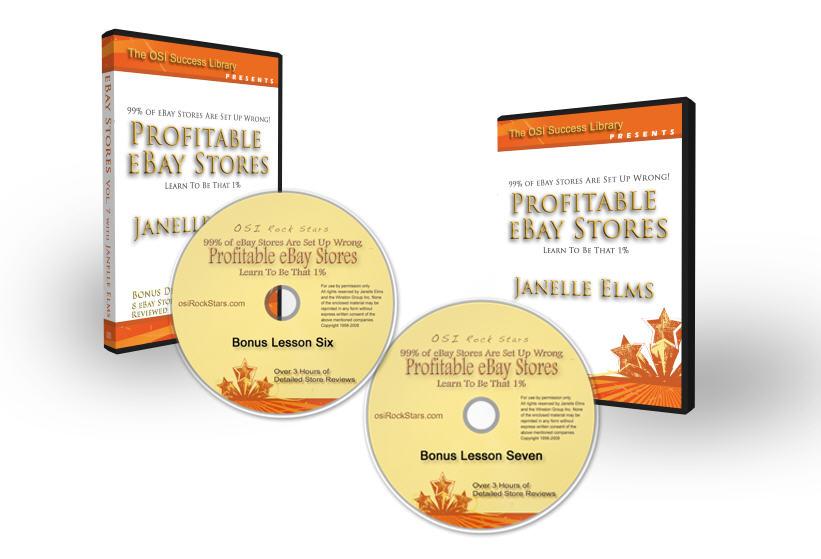 Order now and receive a BONUS – 2 additional CD's
· Over 7 hours of eBay Store reviews – learn how to apply these processes to your own Store by watching these powerful reviews
· 16 eBay Store reviews – see the fine tuning Janelle does with these eBay Stores to fully-optimize them for profit
We received SO many phenomenal testimonials from the seller's who took this class, it is going to take me a few weeks to share them all with you. But I want to show off what they have accomplished, and also offer you the security of knowing that you are purchasing a product that actually works.
Hey Janelle,
I've been meaning to send you a BIG THANK YOU for the last several weeks. Your class was awesome! And now I know why only "1%" of eBay Stores are set up right! Thanks to you mine is in the 1%! Your class covered what the buyers see and even more importantly what they don't see but you need to drive traffic to you eBay Store and website. My head is still spinning from all the content and possibilities that opened up
"…Plus this months profits are
quadruple my profits last year at this time!"
to me from this one class. I loved that this was a Hands On class with Homework. Each step was a progression building upon the previous week's information and the change in the way I actually thought about my customers, my store, and eBay were amazing. You suggested and informed every step of the way in such a warm positive way that I left each class feeling totally inspired. Plus this months profits are quadruple my profits last year at this time!
Ellie Lipetz
mzellieb
refoundObject
Please place your order by December 13th if this is a gift for Christmas.
Price is going up this weekend!!
Holiday Magic – Elise has a unique & inspiring gift idea for you today!!
Hi it's Elise,
Boy are we getting busy at the North Pole – wow!! LOTS of good girls and boys this year (well, except for that Florida football team who beat my favorite 'elf helper' Janieruth's Alabama football team).
Another one of my 'elf helpers' sent me this great email:
Hi Elise,
I wanted to tell you about "The Slight Edge Book" and the Cd Set as well.
This is a book that will change your life and you will want everyone you know to read it!
One of my clients recently emailed me and said, "Hey…do you have more Slight Edge books? I purchased one from you and love it…I would like to send one to all my family…Please let me know"
Pretty amazing testimonial for a book. Plus I'm offering discounts and free shipping on most of the Slight Edge books and products!
Jamie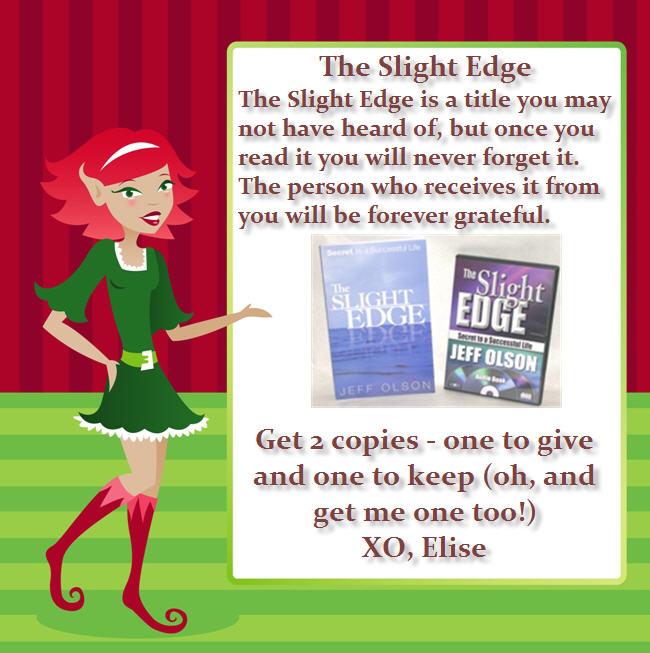 Here are just a few of the multitudes of testimonials I found online about this series:
"We have an amazing team that was introduced to the Slight Edge 10 weeks ago. We have reviewed and instilled the principles given in the book three times a week for the past 10 weeks and have seen such growth in our group! Also, I would like for him to know that he has made a difference for me personally!! I have applied the Slight Edge and I know my life will never be the same!! By applying the information success in every area of my life is inevitable!! Thank you Jeff Olson!! I love it so much that everyone on my Christmas list is getting a copy of the book. It will be the best gift I've ever given to my loved one!!" –P. Barnett
"When I got a copy of the Slight Edge and read it, my life changed. I emailed over 100 Vice Presidents who work in the same company with me and shared my personal story of success with the Slight Edge. They began to order books and do trainings with their teams so I know that the sales are up on the book from my passion with Jeff's work." –P. Jarrett
Boy do I have a lot of people on my list that this will be perfect for!! Inspiration, motivation and Success in 2009 is my motto. Now I can cross off Mike, Scott, Rene, Tim, Mary, Sharlene…
Ok, so head over to Dream Builder CD's
Check out the generous assortment of Slight Edge Products
Choose your favorites and let Jamie know where you want them sent
Easy gift shopping!!
Till next time my darling merry makers,
Elise
What's in a name? Well search engine keywords for starters…by Cliff Ennico
Cliff has published a timely article having to do with legal and seo information about the name of your eBay Store. You can read the article at http://osirockstars.com/?p=711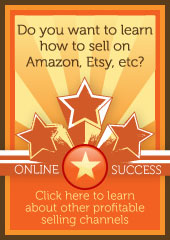 New Classes coming up…
Hey…get registered ASAP for these classes. All OSI Live classes are fr-ee to attend and instructions are included during the registration process for both the podcasts and the webinars. When the class says, OSI RS Exclusive, only OSI Rock Stars are allowed to attend.
Remember, you can either ask a question for our special guest or simply put "I Choose Success" in the question box.
12/2/08, Tuesday at 5pm pst/8pm est – OSI Rock Star Exclusive
MINI – Tools – Type Pilot – You can watch this replay at http://osirockstars.com/?p=706
12/3/08/08, Wednesday at Noon pst/3pm est
The "Success With Cindy" series is Back!!
2009: Year of the Video – Join Cindy Shebley as she shows you the opportunities that are emerging with video in your business.
Internet Video is becoming more and more important. eBay sellers have been including listings with video for about a year now, and now Amazon is going to open up Video to sellers in 2009. Meanwhile YouTube is the number two search engine on the Internet. (If you don't have a video on YouTube – your chances of be found though search is increasingly slim). And, after the first of the year there are going to be changes in Search algorithms on Google that will make video even more important.
You can watch this replay at http://osirockstars.com/?p=708
12/4/08, Thursday at 2pm pst/5pm est
Holiday Safety Tips with Michael Kaiser – Join Michael Kaiser, Executive Director for the National Cyber Security Alliance as he shares tips on being safe online this holiday season.
You can watch this replay at http://osirockstars.com/?p=709
12/9/08, Tuesday at Noon pst/3pm est – OSI Rock Star Exclusive
Ask Janelle your Success questions – December – LIVE – for 2 hours – answering all of YOUR questions.
Want me to take a look at your eBay Store?
Have a new business idea that you need advice on?
Questions about sourcing, research, marketing?
I'll be answering these Live during the show. First come, first served!! Get your questions in asap
Registration information is at http://osirockstars.com/topic.php?id=864&replies=1
12/10/08, Wednesday at Noon pst/3pm est
New cool marketing tool – TaTango - Come meet Derek Johnson, 22 year old genius, CEO and co-founder of TaTango – an easy to use free tool to connect to your community. Check it out at www.TaTango.com. You can connect with OSI on TaTango HERE.
Save your spot at www.AskAboutTools.com
12/11/08, Thursday at Noon pst/3pm est– OSI Rock Star Exclusive
DYWMMON – First 3 people who register will be showcased on the show. Join us as we check out eBay listings, websites, and blogs through the eyes of the buyers. Find out why they may be leaving your site and not spending their money!
Registration information is at http://osirockstars.com/topic.php?id=864&replies=1
Blessings,
j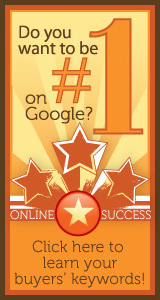 Tagged with: