It's not eBay that lost it's Mojo (01 Oct 08)
In this newsletter:
It's not eBay that has lost it's Mojo…

response to Ina's article
Don't Forget: If you haven't watched the fee classes yet, I highly recommend you do so TODAY so you can take advantage of the Free Shipping promotion that eBay just launched. This promotion will continue through the holiday season until 12/31/08.
Watch: For our latest training – Getting Your Olympic Gold – to arrive later this week at www.osiSuccessLibrary.com/download We teach you how to acquire Olympic game tickets, products and other hot profitable items – where to sell them and how to do the marketing. (and as a BONUS, we include information on how to acquire the much in demand Super Bowl tickets!)
Check Out: The incredible Rock Stars that are Choosing Success (SO very proud of them! And this is only a small part of what they accomplished in September…part 2 will need to be in the next newsletter! Wait till you hear the other fabulous tales of Success.):
Cathy of Help I Have Twins has gone from a 5% eBay refund to 20%!! Received their first affiliate commissions for new websites. And has been working on blogging and squidooing!
Cindy of Bombay Bongo (she also owns Twirl Planet) went from a 5% refund up to a 15%!! Excellent job on those eBay Store custom pages Cindy!
Dawn of Cape Cod Treasure Chest has ALL 5's on her DSR's and says she can't believe it!…I can, she works really hard at phenomonal customer satisfaction. And I love her quote, "Thanks to all the great information I've learned this became a reality and not just a dream!!"
Jen, Greg and their amazing family own 1 Pets Palace and achieved a 20% eBay refund this month! Their international sales have also gone crazy, especially to Germany.
Our amazing pirate, real estate tycoon and main Rock Star motivator, Jamie of Dream Builder CD's is up to 100% positive feedback!
Anita is doing the 'raised search' dance after her status was elevated in eBay's new best match search. Plus her international sales have increased to 50%!
Kelli & Jim of Dream Adventures eBay Store are rockin' a 15% eBay refund (don't you love it when eBay pays YOU!). PLUS, you have to check out their fabulous new eBay Store design – nice job guys!
and I love this recent Rock Star post by Judy:
I got my 20% discount this month! Doing the Happy Dance!

And, I totally agree with Kelli and Jim. This is such a Positive Place! I am a total believe in Positive Mental Attitudes. I don't even look at the boards on eBay anymore – besides a waste of time, it seems they are all so negative. I used to belong to another group (no names) and they seemed to be getting a little negative.

I am SOOOO happy to be here. Rock on everyone!
Judy
Fabulous blessings to you,
Janelle
Share the Success with friends – forward this newsletter onto them or let them know they can get their own copy at www.TheBusinessSuccessKit.com (includes the free 5–part report "99% of eBay Stores are set up wrong – Learn how to be that 1%)
Remember, you can read previous Success newsletters in the OSI Rock Star newsletter archives at http://osirockstars.com/?cat=5
For spur of the moment info, ideas, reminders or anything else I feel like Twittering about, follow us at http://twitter.com/osirockstars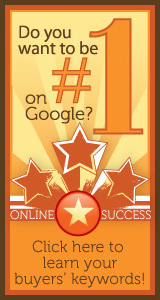 It's not eBay that has lost it's Mojo…response to Ina's article
Recently Ina Steiner of Auctionbytes wrote an article entitled, "eBay Loses Mojo on Google Search". The article sought out the reasons why eBay wasn't apparently ranking high on Google for major search words. Hypothesis and reasons given were many, but lacked the most vital one – the participation & responsibility of the eBay business owner.
After reading it, I made a call to her…Ina is a great friend and journalist…and a phone call letting her know I was about to 'respond' to her article was the least I could do. After discussing the different concerns I had, she encouraged me to not only publish my response, but to let her know when I did so she could point her readers to it. So with my utmost respect for Ina's initial reaction, I would like to offer the 'rest of the story'. (Plus I haven't been raked over the coals in a while, so this should help…lol).
First, there are many points she makes that I completely agree with:
· There shouldn't be any eBay beanie baby listings on the first page of Google – and I am glad she didn't find any. I would be worried about the sourcing/business skills of the eBay sellers if there were. With an average selling price of $7.01 and a mere 25% sell-through rate, there are many more profitable items you could pursue.
· Yes, due to basic SEO rules (see below), eBay should, and did rank higher for 'vintage toys' and 'forestry equipment'
· The low ranking of eBay Stores in the Google results should have surprised Ina – but only insofar as acknowledging that most eBay Store owners have no idea how to optimize their Stores to rank well on the search engines, specifically Google.
· I agree that you can't make sweeping statements about eBay's exposure on Google…but I can definitely make the factual statement that most eBay sellers DO NOT know how to utilize the power of the tool they pay at least $16 a month for. (or in the example given in her article – $300 a month)
· Sellers should definitely consider multi-channel selling strategies to increase their seo and sem (search engine marketing) opportunities as well as their customer base.
· And sellers MUST use the tools available to them so they don't run their business like 'cooking spaghetti'…throwing their products out to the world and hoping they stick to a buyer.
With that said…there are many points that were missing to round out the true results of what she saw on Google.
Of course eBay could be changing it's code – egads, eBay does this all the time and doesn't make announcements about it. Heck, I just found out from one of the eBay Store execs that if you put 5 or more items into one of your custom eBay Store categories, eBay will push the keywords of that category out to the search engines. Pretty important to know, but no one told US.
Could Google possibly be manipulating their algorithm in favor of other sites (as mentioned by a certain male writer/blogger who should definitely know better)? Are you joking? Google is one company that realizes that possible petty differences between sites aren't as important as their continuing quest for global domination. They aren't going to risk that for anything.
· When eBay Stores don't show up on Google, you cannot jump to the conclusion that eBay, eBay Stores and/or Google is to blame. eBay Store owners who don't know how to optimize this powerful SEO tool could easily be causing this. PLUS, online 'non-eBay' sellers are becoming more savvy about SEO, (especially with the powerful launch of the Wordpress platform and it's saturated seo tools). In order to run a profitable business they have HAD to learn these skills and don't have the luxury of relying on/blaming a company like eBay. They are dominating the search engines over sellers who play a passive role in their businesses online optimization. Heck, a lone guy in Renton, WA with a Wordpress site and the right keywords and content can blow away any major static website out there as far as ranking on Google is concerned.
· Just because someone has an Anchor Store (or any other level for that matter) does not automatically make them an expert on running a business, an eBay Store or getting ranked on Google…it simply means they pay $299.95 a month to have an eBay Store…that is the only 'fact' you can deduce.
· Putting together a list of arbitrary keywords and seeing who ranks for them on Google doesn't prove anything – except it shows the sites who have followed the SEO guidelines and gotten their web pages ranked well.
· eBay Store owners actually have great opportunities, if they utilize them, of ranking extremely well on Google for their products. This allows them to not rely on eBay for their customers, but to seek a bigger marketing picture with a search engine strategy.
So there are a few main areas that we should discuss:
· How does Google rank sites (basic seo)
· SEO details on the Aero Tech Designs business (comparing apples to apples)
· And the great question that Ina asked me
How does Google rank sites (basic seo)
Although there is an extensive amount of information we could provide about SEO (search engine optimization), we won't have that much time. We would need months to just skim the surface. But here are a few key points to keep in mind when talking about getting ranked on Google:
(I am going to keep this super basic so that everyone understands what we mean when we are talking about seo – for you SEO experts out there, your patience is appreciated as we talk in generalities):
1. Google has customers that they MUST keep happy just like any business. When a 'customer' does a search on Google, if the search engine cannot provide the best match for what that customer wants, the customer may use another search engine. This would cause Google to lose their other customer – the one who pays for that traffic. But no fear, Google does this matching part REALLY well…amazingly better than anyone else if the 65 million searches an hour are to be used as a guidepost. Plus, Google definitely wants to make those 'customers' happy considering their current $2.2 million dollar revenue that they generate EACH HOUR. Basically, if I type in to the search box on Google 'Star Wars costumes for Halloween', they are going to return the websites that have the MOST complete information/content that matches those keywords. Google doesn't care who these sites are, only that they are making their customers happy with matching content.
2. In order to find this great content, Google sends out 'spiders' (world wide web…spiders…get it?) which are basically computer programs that go to a site looking for what Google has programmed them to find – I call it 'spider food'. Spider Food consists of the right keywords, placed in the correct areas of your website, and utilized in content, linking, alt tags, and meta tags to name a few. You'll hear me refer to 'starving your spider', 'feeding your spider junk food' or 'giving your spider 3-course meals' a lot in reference to an eBay Store, website or blog. This information/food is taken back to Google, they run it through a fancy schmancy ever changing algorithm that then determines if your site is moving up or down on the search engine. The closer your keywords match the Google customers search, and the more content you have around those keywords will move you up on the ranking.
3. Google continues this process constantly…just because you are ranked high on Google one day, does not mean you get to stay there. If you set up your eBay Store correctly for a #1 position on Google for your products and then never change another thing I can guarantee that you are going to fall in the rankings and FAST. The spiders need 'fresh food' to continually feed them and their hungry customers on Google. If another site offers that fresh food, then they will outrank you on the Google searches.
4. Then of course there are a few other factors…in/outbound links to your site, rankings of other sites that link to you, ease of movement on your site for your spider to feed, etc (and that etc is pretty lengthy)
As you can see, just because you are a large site like eBay or Amazon does not guarantee you top rankings…especially if the users of those sites don't know how to choose profitable keywords and place them correctly for optimal rankings. eBay's hands are a bit tied if their users don't fill up the site with the correct keywords. If eBay was smarter about this, they would have everyone go through my eBay Stores training so ALL eBay Stores were full-optimized correctly for the search engines AND they would require everyone to write at least 10 guides on the niche they are selling in (utilizing this same keyword/placement information). This would make many spiders very happy and would push the keywords (AND thus eBay) Ina researched UP on Google.
SEO details on the Aero Tech Designs business (comparing apples to apples)
Let's talk about the business Ina mentioned in the original article – Aero Tech Designs. Now, let's be fair here – they haven't done anything to be included in either of our articles except have a $300 a month store that was promoted on the homepage of the eBay Stores portal page (where Ina originally found them). I don't want them to think we are picking on them – lol. They actually have an eBay Store with amazing products in it – they manufacture bike shorts right here in the USA and they are avid cyclists themselves!
Hopefully they can take can take the information provided by myself and Ina and use it to their benefit…plus I am sure that our articles have sent more than a few potential buyers to their eBay Store and website. (And, being ranked on Ina and my site should help too!)
Ina said that their Store, for the keywords Men's Pro Bike Shorts, didn't rank high on Google. That doesn't surprise me in the slightest…their Store isn't set up to be ranked high on the search engines. Their Store is only set up to sell products via eBay at this time.
Their Store isn't set up correctly for SEO. They are only using about 15% of the tools provided in their expensive Store. Perhaps they don't know how to do this yet (they are relatively new to eBay), or perhaps they don't want to utilize these tools to get ranked high on Google…maybe they are trying to drive all the traffic from Google to their website. Which is fine – it's their business model. BUT…if they do want to use their eBay Store to get additional traffic from Google, they might want to consider:
· Investigating and creating a profitable keyword sheet – most online successful businesses have one and utilize it with ALL pages created online where the spiders could get to. Aero Tech Designs , if they have a keyword sheet, isn't using it on eBay. They are missing keywords in 2 of the 3 major areas of 'spider food' in their basic store set-up – their title, description and categories. (Excellent job, btw, on naming your eBay Store though!) They also haven't placed these keywords into the major areas of their Store that the spiders would go to for 'food' and content to take back to Google.
· Manipulate the information in your eBay Store that is sent to the search engines – rarely do I find an eBay Store owner who even knows this opportunity exists, much less how to do it correctly. Unfortunately Aero Tech Designs is one of those businesses. After a quick glance at what eBay is sending to the search engines on their behalf (they can only send what YOU provide), it is very clear why this site isn't ranking high for the keywords Ina searched on. The data that eBay is sending to the search engines is only about 20% of what a fully optimized Store would have sent out.
· Creating content to support/surround those keywords – not only does this help raise your ranking on the search engines, but it also provides the all important 'security and confidence' information that your buyers are seeking. Amazon gets this with their customer reviews…they are providing valuable information for you to consider in your purchase, but they are also giving the spiders additional 'food' to munch on for that page. eBay provides numerous opportunities in your eBay Store to develop this content. Of the initial 15 Store pages that Aero Tech Designs has available to them for more keywords and more content, they are only using two of them. I am not even counting the amazing seo opportunity the eBay Guides provide – I am strictly talking about their Store.
Now, it's very obvious why their website – http://www.aerotechdesigns.com IS ranking well on the search engine for those keywords. They utilize the keywords THEIR buyers use to find them in the search engines and fill their site with great content. What spider isn't going to be in heaven chowing down on that type of buffet?
And, btw, the spiders don't care how your site looks (that is non-food to them). They only care that you will provide the best content for the buyer's keyword search.
So the only way we would be able to unequivocally compare the two sites (the eBay Store and the website) would be if they had the exact same keywords in the same spot with the same links, inbound and outbound for starters. Then you would be able to add another notch on the 'it's eBay's fault' banner if the eBay Store ranked lower than the website.
Oh…and here's a shocker…eBay Stores aren't responsible for running your business for you (neither is eBay, but that's another newsletter) – it is YOUR business and your responsibility. If you want to be ranked on Google, YOU will need to utilize all of the tools and opportunities that are provided in your eBay Store…just like you would with a website, blog or any other online endeavor that relies on Google for online traffic.
And the great question that Ina asked me…
Being the true journalist that Ina is, she questioned me how eBay Store owners could learn this information. Well, of course I teach this information – LOL…you can find details at www.OnePercentCoach.com
But, she wanted to know if you could find out how to do this on eBay. Yes, definitely you can find, with a bit of reading and searching and detective work between the lines, many of the areas that need your SEO focus. In fact a great place to start is here But as I clearly explained to Ina, you are not going to learn how to run a successful internet business on eBay…it's not eBay's responsibility to teach you how to do that…nor do it for you. eBay isn't going to teach you how to locate profitable keywords and create a keyword sheet for your business…they aren't going to teach you how to do 'fabulous spider food' linking on your pages…they aren't going to teach you about Google ranking or outside marketing or SEM. But they have given you a tool…a very powerful tool…already set up to take advantage of those opportunities if you know how. It's the same as setting up your own website, or a Wordpress site – they aren't going to do the work for you, you'll need to either hire someone to do it for you, or take the time to learn how to use those powerful tools on your own.
It actually makes me sad when I say my trademark quote, "99% of eBay Stores are set-up wrong." But as members of our 1% club continue to utilize the powerful tools that eBay Stores provides, my hope is that you will see an increase of eBay Store links rise to the top of Google.
Hhhmmm…now why do I get the feeling that there will be another article coming out when that happens called 'eBay Stores saturating Google – creates no opportunity for other sellers to get ahead.' LOL (sorry Ina…had to…forgive me.)
With blessings for your profitable keyword Success,
j

Tagged with: