Amazon is kicking eBay's behind (15 Aug 08)
In this newsletter:
Meet the Rock Star – Janieruth –

transcribed podcast now available

$8.88 digital downloads –

new ones just added

Amazon is kicking eBay's butt

eBay Announcements –

eBay Live presentations now available
Your biggest break can come from never quitting. Being at the right place at the right time can only happen when you keep moving toward the next opportunity.
- Arthur Pine
Hi
I am bouncing off the walls – the Profitable Blogging CD set's just arrived! I am VERY excited for you as I know just how powerful & profitable this information is that you are about to receive. After taking our Blogging class here is what one of our Rock Stars had to say about the information:
"If you are serious about growing your business and increasing your website traffic along with increasing your sales,
Blogging 1,2,3, is the class series you need to be listening to. Flightline Fabrications sales have grown over 400%
since starting our blog and our website traffic is up 27%! Show me something else that gives you the same results as
quickly and easily.
Bryan Heim
Co-Owner
www.FlightlineFabrications.com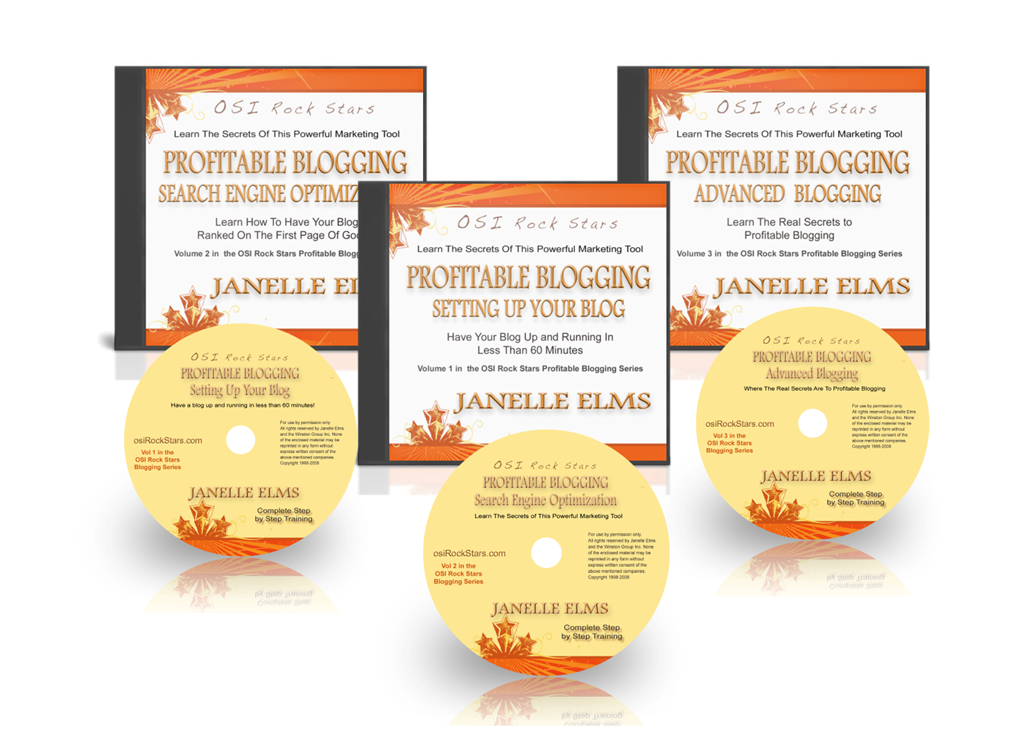 For those of you who have already ordered this amazing CD set, watch for your CD's to arrive in your mailbox soon. For those of you who haven't yet the 'secret' link is still live – http://www.osisuccesslibrary.com/secret/
"Thanks Janelle for another great jam packed podcast on profitable blogging for your business, just like blogging parts 1 and 2 the information in part 3 is over the top and will have to be reviewed several times. Thank you for the insight on how powerful blogging can be as a marketing tool when coupled with keywords and content but more so thanks for the coaching and guidance on blogging from start to finish."
Scott,
Fox Music Company

Fox Music at eBay
http://www.osisuccesslibrary.com/secret/ – check out how easy we make it for you on this 3-CD step-by-step how to set:
"Great class to get your blog up and going in the least amount of time possible. I actually set up my blog from scratch DURING this class. Now I'm going to spend another hour or so fiddling with layout, themes and other settings and I'll be good to go.
Janelle touches on the basic that are apparently often forgotten so that you don't have to go back later and re-do the setup. Thanks, Janelle, on to the second installment of this class!"
Richard Kuipers
blog.windmilltrading.com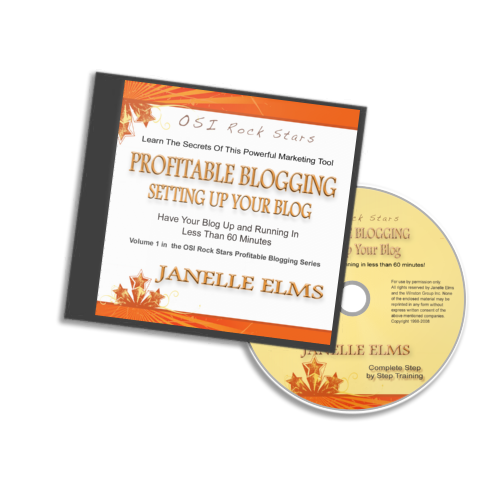 Learn the Secrets to this powerful marketing tool
Profitable Blogging – 3 CD set for one low price!!
Includes:
Profitable Blogging – Part 1 – Setting up your Blog
This CD contains:
Signing up for your blog

Updating your profile

Adding a link to your blogroll

Picking a theme

Adding categories

Editing your sample post

Writing your first post
Have a blog up and running in less than 60 minutes!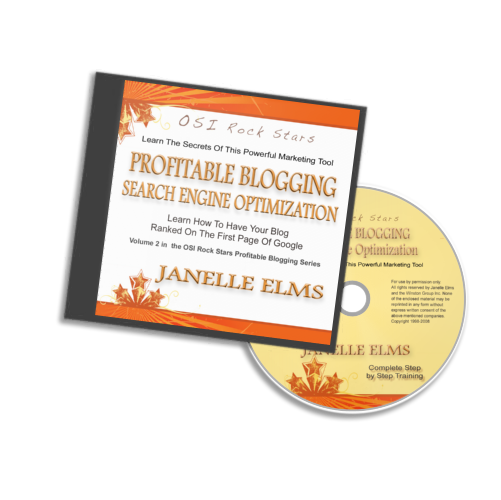 Profitable Blogging – Part 2 – SEO
This CD contains:
During this Rock Star exclusive class series on blogging we review wordpress sites, commonly overlooked profitable areas, and marketing opportunities including:
What is happening behind the scenes when you blog

Pingbacks

Getting ranked on Google with your blog

Common areas of your blog that get overlooked

Comments – unlocking, adding

Branding your blog

Widgets – adding and placement

Review of 9 various Rock Star blogs
Get ranked on the 1st page of Google with your blog!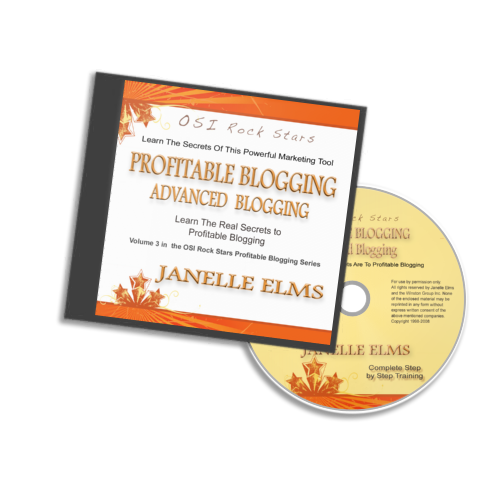 Profitable Blogging – Part 3 – Advanced Blogging
This CD contains:
In part 3 of this 3 part powerful series on profitable blogging, we covered:
The 3 C's – content, consistency and community

How to find ideas

Want someone else to do the posting?

How I learned – The Basics

Plug-Ins

Promotions

Homework
Learn what the REAL secrets are to profitable blogging
"Janelle is an amazing teacher. No matter how long (or short) a time you've been blogging, you are guaranteed to learn something from these classes. Her focus on promoting your business stays laser sharp, so you won't find yourself buried under technical trivia. But you will learn the right words to use as links in your posts (as always – think like a customer!), the right destination for your links, and the secret way to keep eBay links fresh even after auctions close and listings expire. Like her previous series on Profitable Keywords, this blogging series is a gold mine for anyone who owns an online business."
Dany Byrne – owner of Ghost Leg Media
Also, blogging expert Dany Byrne has generously offered to extend the exclusive BONUS training class that goes with the initial blogging orders to:
BONUS: Order your Profitable Blogging CD before midnight Monday,
8/18/2008 AND get an exclusive pass to a 2-hour blog training course –
"Profitable Blogging Extreme" – with blogging expert Dany Byrne and Janelle Elms
Share the Success with friends – forward this newsletter onto them or let them know they can get their own copy at www.TheBusinessSuccessKit.com
Remember, you can read previous Success newsletters in the OSI Rock Star newsletter archives at http://osirockstars.com/?cat=5
For spur of the moment info, ideas, reminders or anything else I feel like Twittering about, follow us at http://twitter.com/osirockstars
And of course if you are part of the Triiibe – you can find me at http://www.triiibes.com/friends/JanelleElms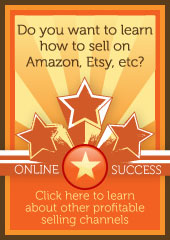 Meet the Rock Star – Janieruth
We recently had on the show our walking miracle Janieruth (who had a near fatal fall at eBay Live) who blew us away with her incredible motivation and inspiration. One of our Rock Stars, Brenda, is deaf and requested that we transcribe it so she could 'hear' it. Dorothy, another of our amazing Rock Stars did just that (over 30 pages!!). We wanted to share this motivating and inspiring story with all of you.
Dorothy, thank you so much for very generously giving of your time (and even working on your birthday) to transcribe this 30 page podcast for our Rock Stars as well as others who will benefit from being able to read Janieruth's powerful words. You are a blessing in our lives.
Here is the link to the podcast transcript – http://osirockstars.com/JanieRuthPodcast.pdf
Remember, the live podcast is up for all to hear at – http://osirockstars.com/?p=622
Thank you again Dorothy – you SO rock!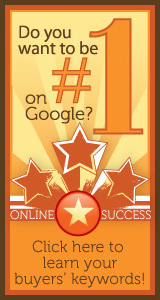 8-8-08 limited time Olympics promotion $8.88
Wow – ok, so I guess we are on the right track…you definitely want Digital Downloads. And what our readers want, they get! You replied that you were thrilled at, not only how easy they were to purchase and download, but the incredible amount of information we pack into each class. WooHoo!
So in keeping with the Olympics theme, my friend Bob suggested that I continue the $8.88 promotion until the end of the Olympics (of course he did, he wants to buy some more of the podcasts at this great price – lol). Ok – done…we will run this promotion until 8/24/08. These prices will go back up after 8/24/08 – grab them while you can at this price and watch them as many times as you want.)
In honor of Tina Thompson from our girls' basketball team…we now have 17 classes available…
USA WOMEN'S HOOPS TEAM POUNDS SPAIN
Beijing, China (Sports Network) – Four games and four Olympic routs.
Tina Thompson scored 17 points to lead a balanced attack as the United States women's basketball team pulled away in the second half to smash Spain, 93-55, on Friday.
In case you missed the original announcement about the downloads, here are the details (below are the classes including the new ones):
Many of you have asked if you could purchase OSI classes 'ala carte'. Perhaps you are ready to use the automation power of Turbo Lister and just want to see that class, or you are a garage saler and want to know the latest tips/tricks our Home Run Expert Tim 'Mr Customer Service' has, or are very curious about our insanely popular (even surprised me how popular) class the other day on Google's new Knol tool or perhaps you need some inspiration and motivation from a top guru in the field. Okie…we are listening. Although we would of course love to have you join us Backstage at OSI Rock Stars where you get ALL of it…we know that not everyone wants that – well, not yet – lol. So with Andrew of Easy E-Junkie's guidance, we have set up a special Store where we have put 17 of our powerful classes each at an amazing price of $8.88 each (I SO guarantee that this price will not last long. In fact if the light-up dudes during opening ceremonies hadn't distracted me the cut-off would have been for just that day).
These 17 classes (listed below) are either video (wmv) or audio (mp3) digital downloads – which we chose because it's super easy to deliver them to your computers that way. You simply go to www.osiSuccessLibrary.com/download and:
Add the classes you want to download

Pay through PayPal

Click on the download link

Save them to your computer – and listen at your convenience!

Easy! (thanks Andrew for how easy this is for your customers)
Here are the 17 classes:
Please, since this is a test for us, let us know if there are different classes you want, different formats (especially for our Mac users), or anything else that you would like to tell us.
You can go to www.osiSuccessLibrary.com/download to purchase these 16 classes.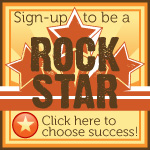 Amazon is kicking eBay's butt
Came across a few articles recently about the obvious comparison between eBay becoming like Amazon and visa versa. But the one that stuck out most, because I am a numbers girl, is a recent one by Michael Brush at Money Central. Here are a few of the powerful numbers from the most recent quarter that he compares:
Amazon's sales jumped 35%, and that's after the impact of currency changes was stripped out. In contrast, eBay's revenue was up just 13%.
In North America, Amazon's revenue was up 35%, or nearly three times the growth in overall Internet retail sales tallied by comScore. In contrast, eBay's North American revenue grew 12%, simply in line with the market.
Amazon finished the quarter with more than 81 million active customers, up 18% from a year ago. The number of outside merchants on its site also grew 18%, to 1.42 million. In contrast, active registered users at eBay crept up only 0.7%, to 84.5 million. For the past five quarters, the number of active users at eBay has shrunk or grown by less than 1%.
Does this mean you ditch eBay and head over to the Amazon world? No…You would be hard-pressed to find a successful business person who doesn't realize the power lies with understanding both of these powerful sales channels. But it does mean that if you are going to take full advantage of the over $30 billion dollars that the holiday buyers will be spending, you will need to be utilizing both sales channels. I have no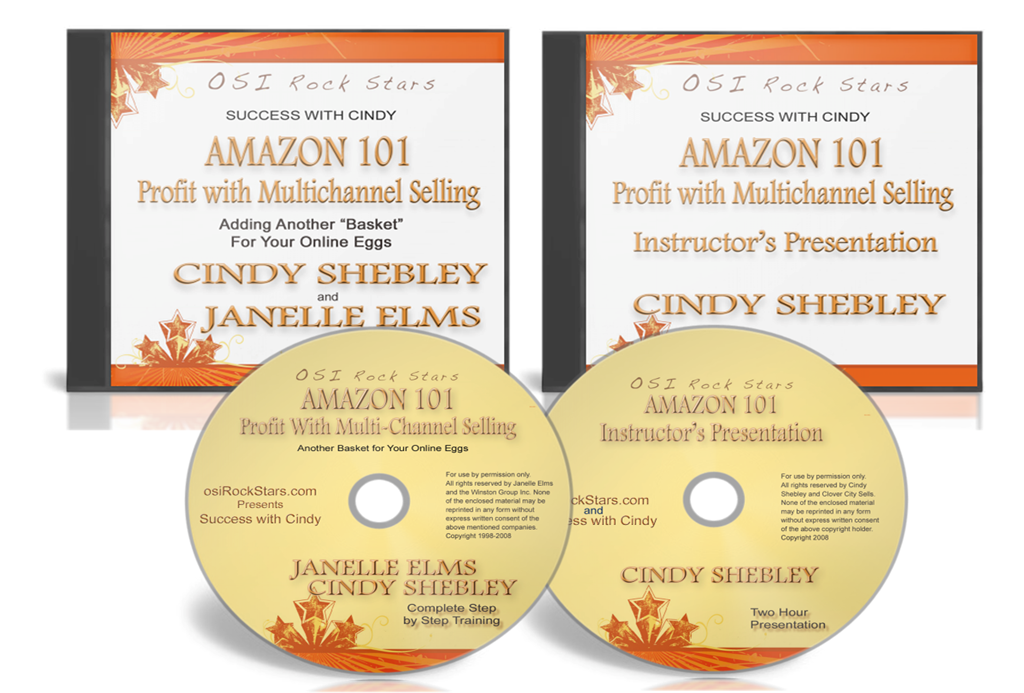 doubt that that is why our Amazon 101 class was overflowing and that the pre-orders for our powerful CD were frantic – people now realize the profitability of selling in multiple channels – selling where your buyers are at.
If you haven't bought your Amazon 101 CD yet, you still have time - The first order of CD's is coming in soon – I would jump on getting in on the first order ASAP – Amazon 101 2+ hour CD…otherwise you will have to wait for our second order to come in.
Don't let the sellers on Amazon kick your butt this holiday season – lol!

eBay Announcements
With huge blessings to your Success,
j
Tagged with: