Spot the Rock Star Winners from eBay Live (01 Jul 08)
In this Success Newsletter:
Update on our Rock Star Janieruth

Final 24 hours of the Worldwide Brands Complete Sourcing package –

www.JanelleElms.com/wwb to see the free videos and get your dropshipping packet

Spot the Rock Star Winners from eBay Live

Independent Online Sellers' Conference 2008! –

selling on Amazon

Financial/Accounting help for your eBay business

New Classes – Facebook 101 and 'Success Answers with Janelle'

Some Really Cool Things I learned at eBay Live –

by Cliff Ennico
Here are just a few of the amazing Rock Stars at eBay Live: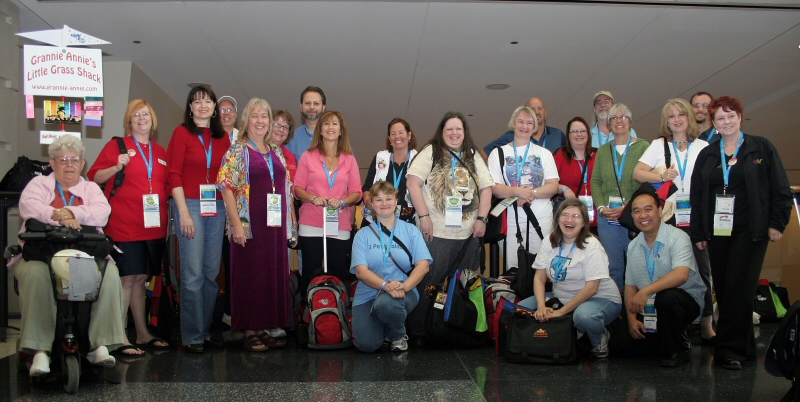 So I'm at eBay Live last week in the big hallway in front of the solutions center – standing against the wall, watching my Rock Stars network & promote their business (and get attacked by paparazzi) – beaming like a very proud den mother at their desire to Choose Success and go after their dreams to make them a reality, when a well known eBay 'guru' (he and his other peers who were at eBay Live call themselves 'creative marketers') slides up next to me and says…'so what are you going to do now Janelle?' I was a bit confused – was he referring to my lunch plans, life in general, after eBay Live? He went on to say…'you know…now that everything we teach is illegal according to eBay, how are you going to make your money?' He then mentioned how the members on his site were leaving in droves because he no longer had information to offer/sell (interesting what people will offer up if you just don't say anything). I paused, glanced over at my amazing Rock Stars who have come from ALL different backgrounds, sell all different types of items, and have completely different business situations, but who are ALL very success-minded, and are rockin' the online business world and said…"Gosh, I am a little bit baffled as to what you mean. Because of what we teach at OSI Rock Stars, my 'members' are doing business at a level where they can 'roll' easily with the eBay changes, most are getting the 5-15% refunds from eBay, they know how to get eBay to pay them to have an eBay Store, they have multiple sales channels outside of eBay, and they have increased their businesses an average of 132% (some as high as 400%!). Also, most of them are ranked on the first page of Google for the products they sell.' He was truly stunned and asked me how that could be possible. I told him we simply teach them what they need to run a real & legitimate pt/full time scalable business – eBay Stores, search engine optimization, blogging, social networking, sourcing, legal/taxes, and more. No hype, no bait and switch, no putting the information on the bookshelf and 'getting to it one day'. We bring together a powerful group of experts to coach them on what they need and then we hold them accountable to getting it done. Our Rock Stars do the work in achieving Success in their business – they simply use OSI Rock Stars to get the legitimate information they need all in one place to make their dreams a reality.
Then, because I am a red-head…I had to add…'perhaps you should try teaching information that has to do with how people really succeed in business, not this 'grey marketing – pushing the envelope to see what you can get away with' stuff.' I guess I was a bit frustrated as I know SO many people who had sent this person (and his peers) $100's, even $1000's of dollars over the years, and yet amazingly no one had gotten rich overnight. They had one or two testimonials they could point at of Success stories, but that's it. (check out www.SpotTheRockStar.com to see praise and testimonials that go on and on about how well OSI Rock Stars works in our seller's businesses – we have a whole stack that we haven't even gotten up on the site yet.) I also felt a little sad for him – he is truly out of a job now unless he can come up with the next 'get rich scheme' or start teaching from a legitimate level.
But it got me thinking (and the full thought process will probably have to wait for another newsletter as this one is long enough already) as to WHY he had been able to stay in business that long – that it took eBay tightening their policies for him to stop taking people's money. Why were people SO willing to 'buy into' that false dream of overnight success? And why did they do it over and over again hoping for different results – believing that THIS time maybe the 'guru' knew what they were talking about…and heck it's only $97. I used to throw money away on those types of ideas when I started out too – have a whole box full of them in fact. I could work SO hard at attempting to NOT work – lol. They didn't care about my success, they only cared about how many 'programs' they could sell this time. And someone definitely got rich off of those ideas – it just wasn't me. In fact our Rock Star Christina (who won the eBay/Squidoo 10-day eBay Live challenge – woohoo) has also had her share of 'buying into the get rich overnight scheme' and had this to say about OSI Rock Stars:
"When I first subscribed to being a Rockstar and bought Janelle's 1% program I have to say I was a total skeptic. I figured I was throwing away, again, my hard earned money. There are so many people out there that have their get rich quick schemes, their "wholesale lists" and their super duper guide to making money on Ebay. Of course we ALL know that none of them work!!!
I was giving myself SIX months as a Rockstar. I've been following directions to everything that I have been taught in the past five months. Couldn't wait any longer to share the results!!!
Ok here is what I have determined. Since purchasing the 1% club and becoming a Rockstar my sales compared to the first 5 months in 2007. My sales are UP 170% …..yup you read that right ONE HUNDRED AND SEVENTY PERCENT HIGHER than last years sales!!! Right now at 5 months I have made what I made the FIRST entire year I was in business!!! Last year I tripled the sales compared to my first year….so now I am really excited to see where my sales will be at the end of the year!!! My next goal is to hit Gold Power Seller, I have a ways to go for that one but hey, I hit silver and I have come this far!!
I just want to say thanks to Janelle for being out there and putting all of this together. I doubt I would have come this far without her or the Rockstars!!!"
Christina
www.Belasboutique.com
You can definitely be wildly successful on eBay and other online sales channels – but it will require you to quit making other people rich and start working at making YOU rich! At OSI Rock Stars we make every effort to make the education part as easy and understandable as possible…so you can get to the making money part much faster. Our online education is available 24/7 and contains over 200 hours of training on ALL of these subjects. In fact, this week we have a great class on Facebook and then coming up, we have an exclusive OSI Rock Star class on how to Profit from the 'no linking' policy that eBay is putting into effect. On the 15th, we have a 2-hour exclusive Live coaching session where our Rock Stars get to ask me anything about their business to make them even MORE successful.
Are you ready to start making YOU rich instead of others?

Are you ready to quit playing at this and really be Successful?

Is TODAY the day you start making some real money at running your online business?
Then make the decision to change your path to one of Success today and come join us Backstage at OSI Rock Stars on your Tour of Success!
If you join before July 15th, you will receive:
Free Tour of Success Quick Start Video Coaching Series

eBay 101/102 Success CD set (this is a $49.99 bonus!!)
We look forward to having you join our amazing Successful family of online sellers today – www.osiRockStars.com
With blessings for your Success,
Janelle
PS – to learn more about why I am SO adamant about your Success, listen to the amazing interview Marlene Gavens just did with me (you also get to hear a bit more about the 'almost getting arrested at Live' bit): Marlene of The Savvy Seller and her online podcasts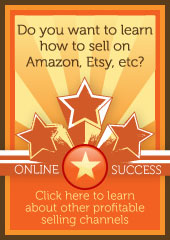 Couple quick links and then on to your Success Newsletter:
You've got to say, I think that if I keep working at this and want it badly enough I can have it. It's called perseverance.
- Lee Iacocca
Share the Success with friends – forward this onto them or tell them to get their own copy at www.TheBusinessSuccessKit.com
Remember, you can read previous Success newsletters in the OSI Rock Star newsletter archives at http://osirockstars.com/?cat=5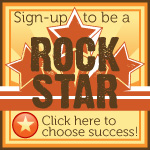 Update on Janieruth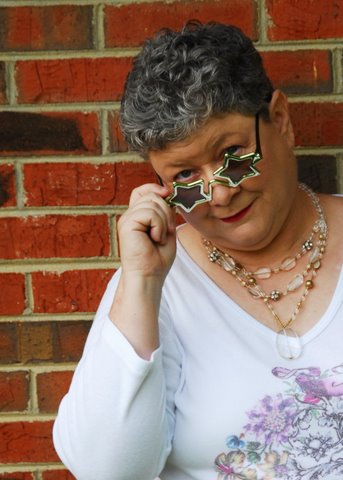 We need your help – As many of you know, our dear Rock Star Janieruth was gravely injured at eBay Live this year. You can read the story & updates here: http://janieruth.chipin.com/janieruths-fabulous-fund HUGE thanks to all of you who have already donated time, money and services to helping out Janieruth and her amazing family. What an incredible family Rock Stars is.
Because of the injury and the rehab this will involve, the family is probably looking at a bill of over 1 million dollars. If you can donate cash, please do so at http://janieruth.chipin.com/janieruths-fabulous-fund. If you can add the 'fund' widget to your MySpace, blog or anywhere else you can think of, please do so. If you can click the Digg this link, that would even help. We desperately need to get the information out about this fundraising effort. I know many of you have already included it in your newsletters and blogs this week – thank you very much. The more people we can let know about this, the less the family will need to worry about money and the more time they can spend helping Janieruth get better. Thank you. (more ways to help below)
Here are a few more ideas:
Great donation widget idea from from Chuck and Beth of http://stores.ebay.com/depression-glass-warehouse - thank you!
Go to http://janieruth.chipin.com/janieruths-fabulous-fund
from here you can:
1. Donate directly to their personal PayPal account (thanks Mike!)
2. Grab the widget and put it on your blog, facebook, MySpace, etc. – you can also go to http://www.chipin.com/mywidgets/id/9dc144b56842c981 to create your own widget version.
3. Have others who have social networking pages put the widget on their sites too.
4. Spread the word with the URL above
There are many of you on this site who have access to large groups – this is where we need to get this information – out to the eBay discussion boards, eBay meeting places, to newsletter lists, etc.
I also received this great email:
I would like to recommend a service that I have found irreplaceable in situations like this.

I have set it up to give everyone an opportunity to send a free card on me. This is real Hallmark quality greeting cards…they can choose from 1,000s of cards. Which they can personalize, choose the font, etc., and then the card will be printed up as ordered and mailed with a real stamp. http://brensmartusa.com/cards
Once at the site just click on the Tab to send a free card, then follow the simple directions.
After you look it over, I hope you will feel right about passing it on. Thanks again
Brenda Hughes
PS: There is even a feature that allows you to purchase and send Gift cards, inside with the greeting card. Starbucks in one of the choices:)
Brenda Sue
Visit my Ebay Store
http://www.brens-mart-usa.com
Thank you in advance for what you can do,
j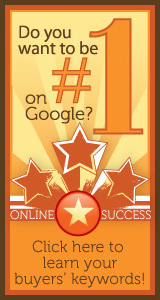 Only 24 hours left (23 now…)
If you have been following the amazing program that Worldwide Brands has released – a complete educational sourcing package – then you know that there is only 24 hours left to purchase yours AND they have added a payment plan too! Head over to www.JanelleElms.com/wwb to see what we are so excited about. You can also still watch the free videos and get your dropshipping directory if you hurry… (I know many of you have already gotten in on this deal and are raving about it – huge congrats…Chris and Rob definitely did a brilliant job with this.)

Spot the Rock Star Winners from eBay Live
We had SO much fun with our viral marketing eBay Live contest – all of the Rock Stars were given special 'spot star' cards to hand out to people. (and of course have the opportunity to tell another person ALL about their business at the same time). The receivers of these cards then entered the secret code into a website to see if they were instant winners or had the opportunity to be part of our random drawing. To see how much fun we had with the 'spot star' cards, meeting other Rock Stars, and having 'paparazzi' chase us for 3 days, check out the hysterical videos on www.SpotTheRockStar.com The contest page on Spot The Rock Stars has also been updated: http://spottherockstar.com/prizecontest-rules/ A HUGE thanks to all of our amazing sponsors – you guys SO rock! (and I know you had fun getting caught by the paparazzi too!)
I am delighted to announce the winners (who have all been contacted through email):
An OSI Rock Star Membership – Value $700+
Join us Backstage on your Tour of Success – hear top internet experts, join in with genius eBay sellers, and be surrounded by other success-minded entrepreneurs! The winner will receive 12 months access to OSI Rock Star and all the Rock Star perks that go along with it! Learn more about the Rock Stars at www.osiRockStars.com
Winner: Mary M. – stein@…
WorldWide Brands 'The Whole $ale" – Value $497 – premium education package!!
Learning is the key to success. Learning from the best is the key to huge success. Find out why Worldwide Brands Members succeed in eCommerce where so many others fail. "The Whole $ale" is our premium 19-course Education for achieving real profits online. A full year in the making, these 19 Video Courses, 19 Workbooks, fully interactive Testing Modules, Real-World Exercises, laser-targeted eBiz Resources and Free Bonuses are an absolute MUST for your eBiz. Nowhere else on the Internet can you get such an important success tool from the world's leading experts in What To Sell Online, and Where To Get it!
Learn more about the power, knowledge, and education of online sourcing at WorldWide Brands today.
Winners:
John T. – johnt008@…
Kat C. – ebay@…
Mike M. – 806mills@…
Phyllis – peachpreserves@…
Shawn P. – shawnp73@…
A Flip Video Camera – Value $149
Introducing the Flip Video Ultra Series, the world's simplest camcorder. It lets you capture the everyday moments that happen anywhere and share them with friends and family everywhere. So now, shooting video is as easy as taking a picture. And sharing is as easy as turning on your computer. Shoot Anything. Share Everything.
Want your own Flip Video and can't wait for the contest – check out our Rock Star who is selling them – THE Cindy Shebley.
Winner: katseye2768 – kathryn_27_68@…
3 months of Terapeak International Advantage – Value $130
Do you want to know when to list your auctions so that the most amount of your buyers are online? Do you want to know the keywords your buyers are using? Do you want to know how to price your item? Do you want to know if your item will sell in France, Canada, UK or other countries? Terapeak International Advantage Membership will allow you to beat your competition with powerful inside research and information!
Already know the power of eBay and are looking to expand into the International markets that are booming? Then add on the International sites to your current membership at Terapeak today.
Winner: Louise C. – loucarm@…
OSI Success Library CD – Value up to $197
Be the winner of this prize and you get your choice of any of the training CD's at the OSI Success Library (excluding the eBay Stores Success Video). You could own:
· Profiting from the eBay Fee and Site Change 3-CD set
· Additional Revenue Products for ESP's
· or….your choice!
Learn more at the OSI Success Library today!
Winners:
Susan F. – quiltpox.sue@…
Cody – cojo009@…
Peggy K. – peggykacct@…
Paul K. – plik_news@…
hopefullee1 – friendlee1too@…
Delightful Etienne Aigner designer handbag – Value $178
From the Amsterdam Collection. 100% leather in a deep rich metallic gold finish. Chain strap detailing with light gold tone hardware. The interior features 3 roomy sections, with the middle zipping closed. Signature fabric lining with leather trim inside. There are 4 sidewall interior pockets and a zipper pouch. Measurements are approx. 14&Prime x 11&Prime x 4&Prime thick with a strap drop measurement of 9.5&Prime to the top of the bag. Retail price: $178.00
This bag is sponsored by Kelli and Jim of Dream Adventures where you can find fabulous designer bags, couture clothing, yummy shoes and more. Drop by and check out this Rock Stars incredible inventory.
Winner: Gary H. – yohur56@…
Hyperflite JAWS DISC and Training DVD – Value $25.00
Truely a great flying Disc for your dog! A Puncture Resistant flying disc that is professional quality athletic equipment for your canine! Instructional DVD included. Learn from the Pros on how to train your dog to be a great disc dog!
This great combo for 'man's best friend' is sponsored by Jen and Greg of 1PetsPalace – where you can find quality toys for your furbaby. Drop by and see their great selection for dogs, cats, and then some!
Winner: Daniel – danielfoley@…
Da Bird wand and attachments (plus a few extra goodies for you feline friend!! - Value $30.00
Da Bird wand is a wonderful cat toy that will put the Vim and Vigor back into your furry couch potato!! The Da bird wand is a 36&Prime fiberglass rod that has a 50 lb test braided nylon string attached. The feather attachments are aerodynamically configured and will mimic the action of a real bird in flight! Cats LOVE the Da Bird wand!! With this Da Bird Kitty Pack, you will receive a single pole wand and 4 different attachments (turkey feather, fur, sparkler, and feather puff.) You will also receive a few extra goodies your favorite feline will go Crazy for!!
This great combo for your favorite feline is sponsored by Jen and Greg of 1PetsPalace – where you can find quality toys for your furbaby. Drop by and see their great selection for dogs, cats, and then some!
Winner: Nancy B. – nblom@…
One-hour, personalized consultation with Marlene Gavens (The Savvy Seller), a Certified Education Specialist Trained by eBay – Value $75
The focus of the consultation will be an appraisal of your eBay listings and/or your eBay store set-up. Your listings and store (if you have one) will be evaluated and you'll receive feedback on their strengths and weaknesses as well as suggestions on what you can do to improve them. Your listings and store will be assessed for proper use of keywords, consistency and branding, store policies. wording, marketing strategy, customer service, use of eBay's free tools and more.
The consultation will take place over the phone at a mutually convenient time.
Learn more abut Marlene and her eBay Education classes at www.the-savvy-seller.com
Winner: Bill – wzeigler@…
Customized Squidoo Lens – Value $75
One $75 eBay oriented lens to the lucky winner to help promote their eBay listings and/or store (although all good eBay sellers should have a store as we know).
Learn more about Stephanie's incredible Lens Making service on Squidoo.
Winner: Elaine R. – egr202@…
Cobalt Blue Glass Crystal Candle Holder Candleholder & Silver Charger Gift Set – Value $25
Glass the color of deep blue–known as cobalt blue–can be traced back to the ancient Egyptians and holds a strong fascination for glass collectors. This Glass Candle Holder Gift Set is ultra modern and very substantial. This fabulous gift package comes complete and includes: a heavy Cobalt Blue glass Candle Holder with a clear crystal teardrop in the base; a Gilt Metallic Silver Charger; a Round Ball Candle, a coordinating Decorative Match Box Cover, and a bonus Votive Candle. This set makes a great gift — one size fits all!
Donated by NicheMarketplace - your online emporium for unique products and distinctive gifts. Our fabulous finds and great values will make online shopping one of your favorite guilty pleasures. At NicheMarketplace, we have a great selection of unique and distinctive gift items. Let us be your personal shopping service for Gifts , Apparel, Accessories, and Home Decor. We offer fast shipping, 5 Gold Star Service, and a 100% customer satisfaction guarantee!
Winner: Jim G. – the.garvinco@…
Independent Online Sellers' Conference 2008! – selling on Amazon
From the site…
For the past seven years, independent online sellers have come together in Seattle to express ideas and opinions to the Amazon decision-makers and to establish relationships between and share information with other sellers. Amazon has been extremely generous about coming out to share information on their activities over the past years, so we can see what they have been doing to make Amazon.com a safe, robust and highly visible platform for third party buyers and sellers.
Details:



Helping Grow and Improve Your Media or Non-Media Online Business.



July 18-21 – Seattle WA



Seattle

Airport

Marriott and Amazon Corporate Headquarters



Early bird registration ends June 30th, 2008


Cindy Shebley will be hosting a walking photo tour of Seattle for anyone who wants to join her that weekend for the conference – http://photowalkstoday.com/

Financial/Accounting help for your eBay business
The accounting part of my business is always my Achilles heel…thank goodness we have Cathi Aiello of www.AllegroAccounting.com as part of our amazing Rock Star family. Cathi is not only generously donating 5% of their sales to Janieruth's family, but she also has donated her services to the family for Janeiruth's accounting – wow! We are blessed to have her here.
I just received this great email from her about extending her special accounting discount (of course with extra savings for you guys as Rock Stars!):
How's your Quickbooks? Accounting & bookkeeping troubles? Allegro Accounting is here for you!
Here at Allegro Accounting, we run special discounts this time of year to keep our offices busy during the off-tax season months. We are currently running a special 20% anything on our site. Use the code "EL2008″ at checkout. Offer good through 7/20/2008.
OSI Rockstars – Again we have an even bigger discount for you: http://osirockstars.com/topic.php?id=507&replies=1#post-4736
In addition, we will send 5% of all sales through 7/15 to the special fund for Janie Ruth's family.
Now's the time to get caught up on your bookkeeping or get set up and trained!
Cathi Aiello
Allegro Accounting, Inc.
eBay & E-Commerce Accounting Experts
"One of the biggest challenges my clients face when starting a business is keeping accurate books. It's not just about paying taxes it's about knowing your bottom line. When my business reached that pivotal point I knew I needed someone who understood my business. Cathi Aiello of Allegro Accounting knows her business. She's not only accomplished using QuickBooks she's an eBay seller. That combination made her a perfect fit for me. By asking me specific questions about my business and by online desktop sharing, Cathi walked me step by step through the process of integrating my online business with my QuickBooks accounting software. I recommend her to my students and anyone who's starting an online or eBay business."
-Cindy Shebley
eBay Certified Business Consultant
& Education Specialist
eBay Certified Store Designer & Best Selling Author
CloverCity.com

This week's classes
New Classes for this week…
Hey…get registered ASAP for this week's classes. All OSI Live classes are fr-ee to attend and instructions are included during the registration process for both the podcasts and the webinars. Remember, you can either ask a question for our special guest or simply put "I Choose Success" in the question box.
7/1/08, Tuesday at Noon pst/3pm est – Facebook 101
Join Kelsey of www.MySavvySpace.com as she walks through the basics of one of the most powerful social networking sites, Facebook (thank goodness…I still have no clue what I am doing on that site and why do I have gifts, and groups, and how the heck did someone 'buy' me?)
If you have a specific question about Facebook, please put it in the registration box.
Get registered to be on this call at www.AskAboutTools.com
7/15/08, Tuesday at Noon pst/3pm est – A Rock Star Exclusive Class – Success Answers with Janelle
LIVE – for 2 hours – answering all of YOUR questions.
Want me to take a look at your eBay Store?
Have a new business idea that you need advice on?
Questions about sourcing, research, marketing?
I'll be answering these Live during the show. First come, first served!! Get your questions in by July 13th in the registration box.
Get registered to be on this call at: http://osirockstars.com/topic.php?id=517&replies=1

Some Really Cool Things I learned at eBay Live – by Cliff Ennico
Our very own tax and legal guru, Cliff Ennico has published his annual eBay Live TOP list – check it out: http://osirockstars.com/?p=580
Blessings,
j
Tagged with: