They are selling $61,346 of these a week – and its NOT e-books!! (17 Mar 08)
In this Success Newsletter:
Rock Stars Rock It

Best in Stores Contest Announced

New classes are ready to go – Style, Squidoo and Social

Weekly Wealth Tip

eBay affiliate update – if you are an affiliate with eBay through CJ, this is a MUST READ
Remember, you can read previous Success newsletters in the OSI Rock Star newsletter archives at http://osirockstars.com/?cat=5
Happiest of leprechaun days to you!
So today, instead of getting some required eBay Live work done, I was procrastinating by checking into some niche areas on eBay. I always find cool areas that are making money when I play around with Terapeak and WorldWideBrands…but I have to say I was a bit floored with the one I found today. The top seller in this category sold $61, 346 in the past 7 days and has an 85.2% sell-through rate. Their ASP (average selling price) is $173.79!! I hopped over to WorldWideBrands and immediately found 4 drop-shippers/light bulk wholesalers of these same products. Yes, for a moment I truly considered going back to just being a seller on eBay – LOL…no offense. To learn what this niche is and more about the seller and their products head over to the OSI Rock Star forums at http://osirockstars.com/topic.php?id=278&replies=1
I am the oldest in my family and was always told that I was bossy – I prefer to call them leadership skills…
Boy – a lot of you sure related to our article last night about using the right words for Success. Surrounding yourself with positive affirming words is tantamount to your business's survival. But often we choose to be a bit lazy and fall into the habit of using the vocabulary that we hear on a daily basis. This may come from a spouse, websites we visit, the news, and other outside influences. I was raised in a family who definitely viewed the glass as not only 'half empty', but 'hey…who stole my glass'…so I had a bit of work to do if I was going to use the right words, to create the right pictures to convey the Success emotions I needed to get to where I was going. It's not that you aren't a positive person, you are just aren't using the right Success words yet. Let me show you what I mean…
| | | |
| --- | --- | --- |
| I have so much work to do today… | becomes | I will be accomplishing quite a bit today. |
| She sure has a poverty mindset | becomes | She does not have a wealth-mindset |
| These children are driving me crazy | becomes | My children teach me patience and I hope to have more soon! |
| I can't do this | becomes | I can do this part and I can find someone to help me with the rest. |
As you can see – you can easily change negatives into a positive affirmation – it means the same thing, but you will definitely start to see different results in your life. You'll start to become very sensitive to the words used around you – I have even walked away from conversations that were not positive just so that I didn't have those words floating throughout my head. I don't watch tv as much anymore. I spend a lot of time reading motivational books (thanks Jamie!) and am welcoming to positive, affirming friends and loved ones in my world. You truly attract people and things that are similar to you into your world – so I am conscience of those strengths in my life. (I am even cringing using some of these words for this article – lol).
It is a challenge once you are used to using a certain set of words to change your vocabulary – it's something you have to be conscience of constantly. One of the tricks I use to change my vocabulary is to give myself a new one. I take an excel spreadsheet and write some of the words, or statements like above, across the top. Then I go to http://thesaurus.reference.com and type in those words. I find other words that I can use instead of the one that isn't positive, or doesn't create a positive picture in my head. I then put this list up by my computer (or other places where I am on the phone – tends to be where I will use it the most). Then I instantly have access to a replacement word to use during the conversation without scrambling for ones during the chat. I have done this quite a few times in the past decade of my career as an entrepreneur and it helps immensely.
I was laughing today when I got the bio sheet for one of our upcoming interviews with a Rock Star, Jennifer of Precision Blueing and she had this to say…
"As I've told you in the past, both my best and worst asset remains my inability to keep my mouth shut! My husband calls it cantankerous; I call it persistent and determined! I have a hard time taking "No" for an answer~ Makes me a great entrepreneur though!"
See…it's all in the words – the pictures associated with the words and the emotions associated with the pictures!!
Speaking of words, we have two amazing entrepreneurs on the show tomorrow – Carrie and Danielle. They do Style consulting and, in a very basic nutshell, at the end of the consulting time you are delivered two words. These two words are incredibly powerful and have changed in many instances the way I do business, decorate, relate to people, buy clothes, entertain and see others. Come listen in tomorrow about how they got started in business and how just two simple words could be SO very powerful!! (details on OSI Rock Stars – scroll to the bottom)
Success Stories from our Amazing Rock Stars…(I am SO proud of all of them)
· eBay Radio
Our amazing PowerSeller and Rock Star Melissa of Infant Traveler is on with Griff tomorrow – check her out at 1:08pst on www.wsradio.com – nice job Melissa – can't wait to hear it!!
· Just opened her eBay Store (check out how fabulous this 'just out of the gate' store looks!!)
"I have been remiss in thanking you for a great site with so much information. I was at eBay Live in Boston and saw a group of people around you and was curious so I joined in and was able to attend the last class you taught. I thank my lucky stars for that class and now being able to be called a "Rock Star"!
Have a great weekend!"
Donna Nealon
A Priceless Princess
We hope to see your new Store in the 'Best in Stores' contest Donna!! It looks great!
· Making 15% back from eBay
Just received this great email from Cindy Shebley of Clover City Consulting:"I'm so proud! After months of trying, I am able to boast a shipping DSR of 4.8! That combined with my high Detailed Seller Ratings in the other three categories means I'm going to be one of the few eBay Store Owners who qualify for a 15% fee rebate – WooHOOO!
I have to tell you I was very skeptical that I could raise the shipping DSR number. But, I buckled up and listened to the eBay Fee and Site Change classes on OSI and followed your suggestions. Just a few short weeks later, I'm ready to take advantage of the lower eBay Fees."
We can't wait to see your huge 15% refund on your April 1st statement Cindy – congrats!!
· Taxes are at the Accountants!! (You Definitely rock on this one!!)
Kelli & Jim of Dream Adventures rock because…..their 2007 information has left their desk & is now with the accountant. Tax season always ruffles their feathers (Mine too!), so when the paperwork finds a happy home with the accountant it's always time for a sigh (and a Margarita!). LOVE how they think!
In the eBay PowerU Newsletter
Wow – fabulous week for our Rock Star Charlene, Purveyor of All Things Creative…today when the PowerU newsletter arrived in her mailbox she saw HER huge quote in the article about "Jump-Start Your Sales"!
Are YOU a Rock Star yet?
Join Donna, Melissa, Jennifer, Charlene, Kelli & Jim and the other Rock Stars backstage on your tour of Success. www.osiRockStars.com
Best in Stores Contest Announced
Yeah – so excited…the eBay Best in Stores contest just started today. We already have many of our amazing Rock Stars entered - Flightline Fabrications, Katiyana's Collectibles, Belas Boutique and MJ Consignments – can't wait to see the others! Here are the details from Rich:
Hi everyone, this is Rich Lee with the eBay Stores marketing team. Today we are thrilled to launch our 5th annual Best in Stores contest – this is your chance to show off your Store and get a chance to win!
Does your Store have what it takes?
Get your Store in tip-top shape and register by Monday, March 31st. A panel of judges will then select four finalists in each of these categories:
· Best Shopping Experience
· Best Store Marketing
· Best Looking Store
· Best Simple Store
Once the finalists have been chosen, the eBay Community will be invited to vote for one winner in each category. Voting will run from April 16th – April 30th, with the winners being announced on May 15th.
You could win $1,500 and a trip to eBay Live!
Each of the four winners will receive a $1,500 cash prize and a paid trip to eBay Live! in Chicago (June 19-21). They'll also receive special recognition at the Stores booth eBay Live!, as well as promotion on the eBay Stores hub page. Register your Store today!
Sincerely,
Rich Lee
eBay Stores
Classes are ready for this week:
New Classes for this week…
Hey…get registered ASAP for this week's classes (details at the bottom of this section). All OSI Live classes are fr-ee to attend and instructions are included during the registration process for both the podcasts and the webinars. Remember, you can either ask a question for our special guest or simply put "I Choose Success" in the question box.
3/18/08, Tuesday at 12:30 pst/3:30pm est – A very special treat for you this week – two of my amazing Canadian friends and entrepreneurs – Carrie and Danielle have cleared their busy schedules and will be on the show sharing how you can utilize your own personal style in growing every area of your world.
style, noun.
The way in which something is said, done, expressed, or performed.

A quality of imagination and individuality expressed in one's actions and tastes.
These two have a powerful book that is just being released called, "Style Statement: Live by Your Own Design".
Carrie and Danielle have been given a gift of seeing into people's hearts & souls and finding their true style. After consulting with them, you are given two words to then create, inspire and develop the rest of your world around. So simple, so intricate. Come find out what my two words are and a peek into what yours might be during this very exciting interview with two amazing entrepreneurs.
Reserve your spot on this inspiring phone call and ask your personal style question. (see below for details on registering)
You can pre-order the book at Amazon
And you can sign up for their free Friday Focus newsletter at http://carrieanddanielle.com/fridayfocus/
3/20/08, Thursday at Noon pm pst/3pm est – Our favoritest Giant Squid, Stephanie of Katiyana's Collectibles will be walking you through step-by-step some of the more popular individual modules in a Squidoo lens. Remember, if there is a specific module you would like help on, just post a note on this forum topic at: http://osirockstars.com/topic.php?id=224&replies=16
Save your spot with this amazing Giant Squid soon! (see below for details on registering)
3/21/08, Friday at Noon pst/3pm est – I promised you some new amazing people to help you grow your success in other venues besides eBay and boy do I have an incredible woman I want you to meet.
Kelsey meet the Rock Stars…Rock Stars meet Kelsey! You two are going to be fast friends and I am sure you will be just as wowed by her as I am.
Kelsey owns www.MySavvySpace.com and teaches people how to profitably use MySpace, Facebook and other social networking 2.0 sites. I recently met her at the Shop08 conference and immediately booked for 4 upcoming shows!! For the first class, I wanted you to meet her, find out more about her inspiring story as a single Mom with 2 kids, a day job, and a full-time new entrepreneurial business (not to mention a few juicy tidbits about using social networking in your business).
Save your place on this amazing phone interview asap. (see below for details on registering)
We will also have her on in the near future to teach about MySpace and Facebook as well. Yeah!
You can find out more about these classes, as well as register, at: www.osiRockStars.com (scroll to the bottom of that webpage for upcoming classes, details and registration information).
Weekly Wealth Tip
Just received Jamie's eBay Store's newsletter. Jamie is one of our amazing Rock Stars, Stage Manager for the Motivational forum and owner of DreamBuilderCds . Jamie's newsletters are one of the things I look forward to each week…always so inspirational, and today's was no exception. If you would like to get on his great newsletter list, sign up at: http://stores.ebay.com/Money-Maker-Business-Opportunities
Thanks Jamie!
Weekly Wealth Tip
From The Treasury of Quotes by Jim Rohn
Motivation
is a mystery. Why does one salesperson see his first prospect at seven in the morning and another salesperson is just getting out of bed at eleven? I don't know. It's part of the mysteries of life. Give a lecture to a thousand people. One walks out and says, "I'm going to change my life." Another one walks out with a yawn, muttering to himself. "I've heard all this before." Why is that? Why wouldn't both be affected the same way? Another mystery. The millionaire says to a thousand people, "I read this book and it started me on the road to wealth." Guess how many go out and get the book? Very few. Isn't that incredible? Why wouldn't everyone get the book? A mystery of life. My suggestion would be to walk away from the 90% who don't and join the 10% who do.

eBay affiliate update
eBay just announced early this morning that they are moving most of their affiliate programs from Commission Junction to their own in-house program. The transition begins April 1st - wish that was an April fool's joke as I have over 120 pages of links to change – eeks! Stephanie, our Giant Squid has over 200 lenses to update. But, eBay is giving us the month of April to transition everything over. All of your CJ links will still work until May 1st. However, any affiliate commission you make in April from the new eBay affiliate program will receive a 5% bonus!
There are some programs not affected and will remain, for the time being, on CJ:
· eBay's Tradera AB
· ProStores
· Reseller Marketplace
· Media Marketplace
· eBay Stores
· StubHub
You can find out further details and sign up on April 1st here: http://affiliates.ebay.com/NS/Blog.htm
eBay Fee and Site Change 3-CD set in pre-release
Pre-release – FINAL 24 hours
This CD will be shipping later this week!
Profiting from the
eBay Fee and Site Changes
3 CD's filled with over 9 hours of step-by-step profit training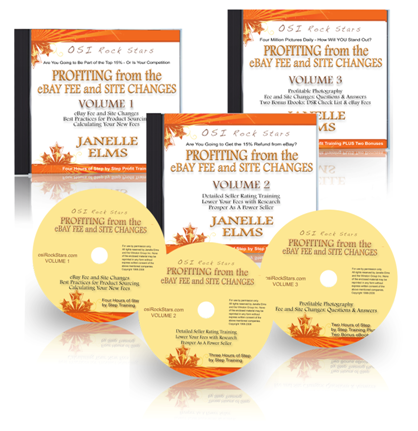 All right – eBay has spoken (as they always do this time of year) and now it's time to quit trying to beat them, but learn how to successfully join them!
Learn what the fee and other changes specifically are, how they affect you AND more importantly, how you can utilize them to your full profitable advantage.
Recently we did an extensive profit series about the eBay fee and site changes including classes on the fee breakdown, how to raise your DSR's, understanding feedback, becoming/staying a PowerSeller and much more. There was over 9 hours of Success content in that series and I know these have been some of the most popular classes on OSI Rock Stars as of late. Due to the incredible and positive response to these classes (not to mention the success people are having due to them), I have decided to release this series in a hard copy – a 3-CD set which can be viewed at www.JanelleElms.com/cd
"Once again, Janelle has done her homework (24/7) to bring us this compilation of not only what we are looking at with ebay's new changing scenario, but also she is already giving us techniques to begin to consider for dealing with the new changes and turning it around to our advantage.
Of all the knowledge and education we've received on this new OSI Rockstars site over the past few months, this fee change info might be the very most meaningful research to each of our respective businesses to date.
As always, it is timely, concise, insightful AND right on target offering ways for us to turn this around in our favor.
Can't thank you enough, Janelle, for detaching the emotion we are all feeling associated with the changing ebay landscape and fully researching it from the standpoint of turning lemons into lemonade. Not too many of us have our rose-colored glasses on this week; but at least we are feeling there may be light at the end of the tunnel when Janelle gets through with all of her classes and research! Change CAN, after all, be good, if one has the tools to fine tune to your advantage!
We are indebted to you, (as always) ; ) for your dedication to making us successful!
Save today by pre-ordering your 3CD set at www.JanelleElms.com/cd


Are YOU ready to Choose Success?
Better hurry, this price will go up to $179 on
March 17, 2008
Pre-release Price $97
(includes Free US Shipping)
The CD's contain the following classes:
CD 1
CD2
CD 3 – Bonus
"Wow! Thank you for putting this together for us!
It is jam packed with a ton of clear, concise information on each level of changes that eBay has or will be changing this year.
I have already put a few ideas and changes in place that over time will make us take off like a Rocket this year.
Thank you Janelle!"
Lisa – Tu Spirits LLC
We are releasing that new CD THIS WEEK,
Profiting from the
eBay Fee and Site Changes
3 CD's filled with over 9 hours of step-by-step profit training
And are offering it for pre-release at www.JanelleElms.com/cd Take advantage of the pre-release savings price – $97 NOW. When it arrives from the printer the price on the website will be $179.
"The eBay Fee and Site Changes for 2008 webinar was superb.
Leave it to Janelle Elms to tackle the hard facts head-on and take the time and effort to sort through all the new rules and changes taking place at eBay.
Janelle presents each new aspect of eBay that will change and then explains how it will affect Buyers and Sellers. Some changes are major, others are minor, but no change eBay sited, no matter how seemingly insignificant, went undetected.
Janelle further analyzed the issues with her unique and comprehensive understanding of eBay – and served it to us straight-up. Moreover, she then set in motion a multi-tiered plan of action to re-balance the scale and help eBay Sellers continue to choose success selling on eBay.
What a big job that must have been! I'm sure this webinar will help a lot of people who depend on eBay to clearly understand the impact and what actions to take – or not to take – to protect and grow their business in light of these changes.
huge blessings,
j
Tagged with: