eBay PowerSellers and Rock Stars – Flightline Fabrications (16 Mar 08)
In this Success Newsletter:
Rock Stars Rock It

Replay is up for "Success Answer with Janelle – two hours of coaching"

New classes are ready to go – Style, Squidoo and Social

eBay Live – updates and announcements (some very cool transportation info was just released by eBay!!)

eBay payments reminder – goes into effect tomorrow
Remember, you can read previous Success newsletters in the OSI Rock Star newsletter archives at http://osirockstars.com/?cat=5
Success Stories from our Amazing Rock Stars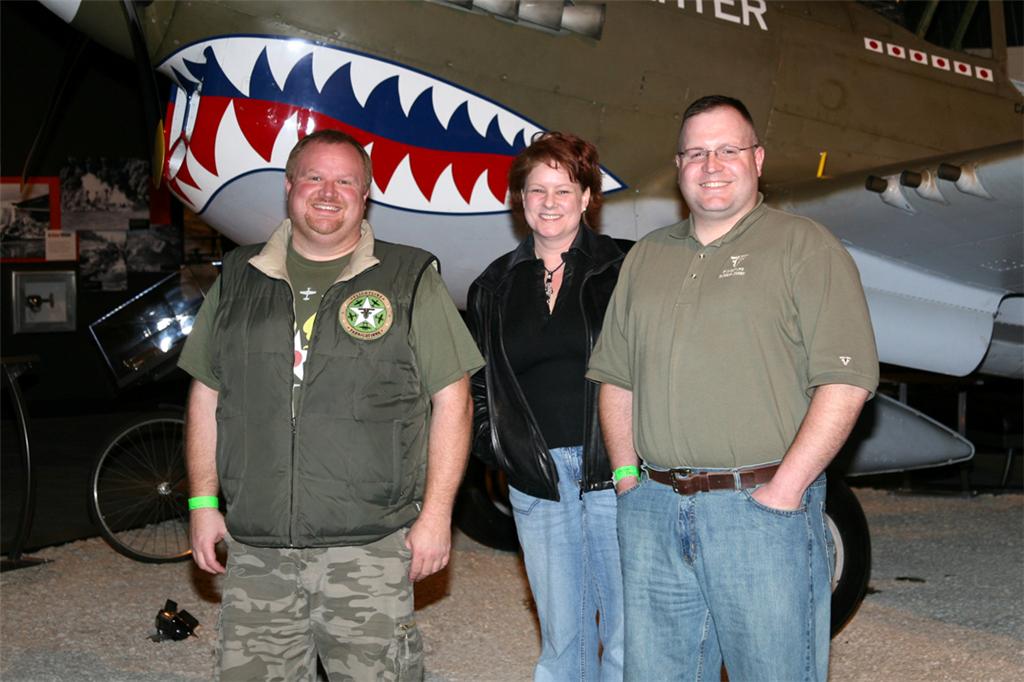 What a fabulous day I had yesterday! Two of our incredible Rock Stars, eBay PowerSeller Bryan and Nathan of Flightline Fabrications came up to Seattle and pretty much spoiled me for the day – wow!!
As many of you know from listening to our powerful Success interview with these two fast-rising superstars, I had met Bryan a couple years ago while on tour with eBay University and was very impressed with his passion for his new business. Yesterday I was honored to meet his business partner as well, Nathan. They and their charming friend Dan (the announcer for the Portland Winter Hawks) came up to Seattle yesterday for a visit.
They met me at the Museum of Flight, which unto itself is a pretty incredible place to visit…but with the 3 of them regaling me with stories and details and tidbits about anything that could fly I was in awe. We got to see inside the Concorde – so not what I thought it was going to be…tiny seats, small windows, and very low ceilings – amazing what you get for a $21,000 ticket – lol! My favorite was the WWII room filled with incredible artifacts from the war as well as these amazing and very beautiful planes that flew during that time. The same passion I had heard from Bryan that day at eBay U was in evidence in the wonder and passion that came from him and Nathan as they stood in awe of these incredible pieces of metal (and sometimes wood!). They knew everything about this period of history and these planes and the dedicated people who flew them – I truly did not want to leave when they said it was time to head out for dinner.
The 3 of them escorted me to a yummy Irish dinner and then Dan had scored us tickets to the hockey game (Bryan plays in his spare time!) where Seattle trounced Portland. (sorry guys) They had even had a special pink Flightline Fabrications shirt made especially for me and picked out stickers from their wide variety of inventory. Such very sweet and thoughtful gifts from two absolutely amazing men and entrepreneurs. Thank you.

I was sitting in Church this morning (in my cool pink Flightline shirt) listening to my Pastor (who used to be an entrepreneurial coach) talk about the power of the words you use and it hit me why these two are SO successful and will continue to be! EVEN, if you didn't know that Bryan & Nathan were in a successful business together, you would assume after meeting them & chatting about the weather or something else innocuous, that they were people who are very important – CEO's, Senators, Presidents, – someone who was very successful and powerful. And this comes from just two simple things – the words they use and the fact they believe them. I truly believe you could give these two air to sell and they would be successful – because of those two very simple principles – words and belief. Pastor/Coach Mike was talking this morning about how the words we choose in this life create images in our minds (and our hearts) – and then those images create emotions (good or bad). If you believe in a small dream, you will be able to accomplish that image – because you know nothing else. If you believe in grand, glorious, passionate dreams, then you will be able to accomplish those – because you can see it…and you create an emotion that comes from that picture in your head and heart. As I have quoted Henry Ford many times…
"If you think you can do a thing or think you can't do a thing, you're right."
I hope that all of you get a chance to spend a bit of quality time with these two incredible men at eBay Live this year (they are SO going – well, they kind of have to now that I have said this – LOL) and pay very close attention to the words they are using…they are Success words. Words of affirmation, of direction, of choice, of belief…they are strong and powerful and exciting. Bryan and Nathan will be wildly successful at anything they choose – their friendship, their marriages, their business – because they know two very simple principles of Success – the power of your words and the belief in them.
· What words are you using and what images are those words creating?
· Do you have a wealth-mindset?
· Are you believing in your Success before your ultimate goal has even happened?
· Do you know that you deserve this?
· Are those around you using a similar vocabulary? (another reason why these two will have a very successful partnership!)
Words are VERY powerful – they determine the quantity and quality of Success we choose in this life. What are YOU going to choose to say and believe in today?
We will talk more tomorrow about how these words affect you, your Success and your business, as well as how you can change them!
Rock Stars are Rockin' It!
After participating in the Live coaching class (see below), one of our amazing Rock Stars has in just the past 72 hours:
· Hired an eBay Store designer (Jennifer at www.SittingBoo.com – love her!)
· Updated her website
· Added an eBay widget
· Is working on a new product line for her Store
· And much more…all in 72 hours!!
Talk about using the right words and believing them!! I love hearing from our inspired Rock Stars who are choosing Success. Check out Charlene's eBay Store, website and blog to be inspired yourself:
You ROCK Charlene! Wow.
Class replay ready – Success Answers with Janelle – March
"This is absolutely fabulous information and will particularly beneficial for those (like me!) who are overwhelmed by the list of things we want to do with our eBay business.
If you don't know what new project to do first, how to be moving to your goals, or how to feel balanced, then this this class is a must.
You'll finish listening to it energized and finally ready to delegate."
"Well, it's now 2:35 AM, and I just finished listening to this wonderful, helpful Webinar (I drank a Dr. Pepper kind of late today, so I knew I was going to be up awhile!).
Anyway, I got some great ideas to help me improve my eBay store – definitely going to get some Custom Pages going, reevaluate what's "above the fold", and make sure I have what auctions I want to use as my "Advertising Tools".
I love this website – Continuing Education, 24/7, right at my fingertips.
Thanks again and blessings always,"
Dorothy
www.eclecticcollectit.com
Join us for two hours of coaching with Janelle. She does consulting during this show about:
Setting your goals to be Successful

Getting your Store ready to be part of that 1%

Determining what is most important to your customer

Developing Profitable Pathways on your site for your buyers to follow

What 'above the fold' is and how you can take advantage of it

Exciting new business directions for many of our Rock Stars
and one of our Rock Stars shared how she was able to get her new design done for her eBay Store for just $50! Find out how by clicking here!

Are YOU a Rock Star yet? Join Bryan, Nathan, Debbie, Dorothy, Charlene and the other Rock Stars backstage on your tour of Success. www.osiRockStars.com

PSW Social Club opens the doors at its brand new site, fresh paint on walls and TONS of room…Promote your business, upload and manage your photos, even get your own column..

.

eBay Fee and Site Change 3-CD set in pre-release
Pre-release – FINAL 24 hours
This CD will be shipping later this week!
Profiting from the
eBay Fee and Site Changes
3 CD's filled with over 9 hours of step-by-step profit training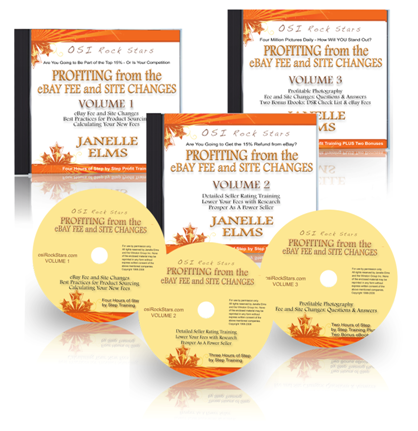 All right – eBay has spoken (as they always do this time of year) and now it's time to quit trying to beat them, but learn how to successfully join them!
Learn what the fee and other changes specifically are, how they affect you AND more importantly, how you can utilize them to your full profitable advantage.
Recently we did an extensive profit series about the eBay fee and site changes including classes on the fee breakdown, how to raise your DSR's, understanding feedback, becoming/staying a PowerSeller and much more. There was over 9 hours of Success content in that series and I know these have been some of the most popular classes on OSI Rock Stars as of late. Due to the incredible and positive response to these classes (not to mention the success people are having due to them), I have decided to release this series in a hard copy – a 3-CD set which can be viewed at www.JanelleElms.com/cd
"Once again, Janelle has done her homework (24/7) to bring us this compilation of not only what we are looking at with ebay's new changing scenario, but also she is already giving us techniques to begin to consider for dealing with the new changes and turning it around to our advantage.
Of all the knowledge and education we've received on this new OSI Rockstars site over the past few months, this fee change info might be the very most meaningful research to each of our respective businesses to date.
As always, it is timely, concise, insightful AND right on target offering ways for us to turn this around in our favor.
Can't thank you enough, Janelle, for detaching the emotion we are all feeling associated with the changing ebay landscape and fully researching it from the standpoint of turning lemons into lemonade. Not too many of us have our rose-colored glasses on this week; but at least we are feeling there may be light at the end of the tunnel when Janelle gets through with all of her classes and research! Change CAN, after all, be good, if one has the tools to fine tune to your advantage!
We are indebted to you, (as always) ; ) for your dedication to making us successful!
Save today by pre-ordering your 3CD set at www.JanelleElms.com/cd


Are YOU ready to Choose Success?
Better hurry, this price will go up to $179 on
March 17, 2008
Pre-release Price $97
(includes Free US Shipping)
The CD's contain the following classes:
CD 1
CD2
CD 3 – Bonus
"Wow! Thank you for putting this together for us!
It is jam packed with a ton of clear, concise information on each level of changes that eBay has or will be changing this year.
I have already put a few ideas and changes in place that over time will make us take off like a Rocket this year.
Thank you Janelle!"
Lisa – Tu Spirits LLC
We are releasing that new CD THIS WEEK,
Profiting from the
eBay Fee and Site Changes
3 CD's filled with over 9 hours of step-by-step profit training
And are offering it for pre-release at www.JanelleElms.com/cd Take advantage of the pre-release savings price – $97 NOW. When it arrives from the printer the price on the website will be $179.
"The eBay Fee and Site Changes for 2008 webinar was superb.
Leave it to Janelle Elms to tackle the hard facts head-on and take the time and effort to sort through all the new rules and changes taking place at eBay.
Janelle presents each new aspect of eBay that will change and then explains how it will affect Buyers and Sellers. Some changes are major, others are minor, but no change eBay sited, no matter how seemingly insignificant, went undetected.
Janelle further analyzed the issues with her unique and comprehensive understanding of eBay – and served it to us straight-up. Moreover, she then set in motion a multi-tiered plan of action to re-balance the scale and help eBay Sellers continue to choose success selling on eBay.
What a big job that must have been! I'm sure this webinar will help a lot of people who depend on eBay to clearly understand the impact and what actions to take – or not to take – to protect and grow their business in light of these changes.
Classes are ready for this week:
New Classes for this week…
Hey…get registered ASAP for this week's classes (details at the bottom of this section). All OSI Live classes are fr-ee to attend and instructions are included during the registration process for both the podcasts and the webinars. Remember, you can either ask a question for our special guest or simply put "I Choose Success" in the question box.
3/18/08, Tuesday at 12:30 pst/3:30pm est – A very special treat for you this week – two of my amazing Canadian friends and entrepreneurs – Carrie and Danielle have cleared their busy schedules and will be on the show sharing how you can utilize your own personal style in growing every area of your world.
style, noun.
The way in which something is said, done, expressed, or performed.

A quality of imagination and individuality expressed in one's actions and tastes.
These two have a powerful book that is just being released called, "Style Statement: Live by Your Own Design".
Carrie and Danielle have been given a gift of seeing into people's hearts & souls and finding their true style. After consulting with them, you are given two words to then create, inspire and develop the rest of your world around. So simple, so intricate. Come find out what my two words are and a peek into what yours might be during this very exciting interview with two amazing entrepreneurs.
Reserve your spot on this inspiring phone call and ask your personal style question. (see below for details on registering)
You can pre-order the book at Amazon
And you can sign up for their free Friday Focus newsletter at http://carrieanddanielle.com/fridayfocus/
3/20/08, Thursday at Noon pm pst/3pm est – Our favoritest Giant Squid, Stephanie of Katiyana's Collectibles will be walking you through step-by-step some of the more popular individual modules in a Squidoo lens. Remember, if there is a specific module you would like help on, just post a note on this forum topic at: http://osirockstars.com/topic.php?id=224&replies=16
Save your spot with this amazing Giant Squid soon! (see below for details on registering)
3/21/08, Friday at Noon pst/3pm est – I promised you some new amazing people to help you grow your success in other venues besides eBay and boy do I have an incredible woman I want you to meet.
Kelsey meet the Rock Stars…Rock Stars meet Kelsey! You two are going to be fast friends and I am sure you will be just as wowed by her as I am.
Kelsey owns www.MySavvySpace.com and teaches people how to profitably use MySpace, Facebook and other social networking 2.0 sites. I recently met her at the Shop08 conference and immediately booked for 4 upcoming shows!! For the first class, I wanted you to meet her, find out more about her inspiring story as a single Mom with 2 kids, a day job, and a full-time new entrepreneurial business (not to mention a few juicy tidbits about using social networking in your business).
Save your place on this amazing phone interview asap. (see below for details on registering)
We will also have her on in the near future to teach about MySpace and Facebook as well. Yeah!
You can find out more about these classes, as well as register, at: www.osiRockStars.com (scroll to the bottom of that webpage for upcoming classes, details and registration information).
Speaking of eBay Live…
eBay Live registration is now Live!! No pun intended. Here are some 'good to great must knows!'
You can register at – http://pages.ebay.com/ebaylive/
Early Bird Registration – $75.00 – March 14 – April 30

Final Discounted Registration – $100.00 – May 1 – May 31

Standard Registration – $120.00 – June 1 – June 21

Saturday 6/21 Only Pass – $75.00

Priority

Pass

– $150.00
PowerSellers are allowed one (1) guest only, per qualified PowerSeller ID, who will be allowed to access all PowerSeller areas.
One of my favorite eBay employees, Monique Svazlian just mentioned this on eBay (if you see her at Live, tell her thanks – she, and the rest of the eBay Live team, work really hard to put on this amazing show) :
eBay Live! has something to offer everyone, whether you're new to the eBay Community or a seasoned veteran:
Network with over 10,000 enthusiastic eBay Community members

Learn how to be more successful buying and selling on eBay at over 150 sessions taught by staff and other eBay experts

Hear about the future of eBay at the Keynote Address given by John Donahoe, eBay President and CEO

Have a ball at the Closing Gala, featuring world-class entertainment
This year we're including some new additions along with old favorites to provide you with innovative business resources and networking opportunities:
Sourcing Pavilion hosted by ASD/AMD – connect with sourcing companies and find the hottest deals at the lowest prices to help grow your business

The eBay Live! Book Store – relax with a good book on your favorite eBay topics, and maybe get it signed by the author!

Networking Events – meet other eBay Community members at networking breaks, lunch and dinners to build lasting friendships and profitable business connections
UPDATE – (thx to all my eagle eyed Rock Stars on this one!)
From eBay…Regarding Child Care/Teen Camp…
Q: Can I bring my children to eBay Live!?
A: To help eBay Community members focus on business, eBay Live! is limited to adults 18 years and older. (Photo ID will be checked upon Conference registration to ensure this policy is enforced.) For younger Community-members-to-be, Childcare and Teen Camp will be available every day for a reasonable fee. Pre-registration is required. Check the Activities page for more information.

Transportation
We are offering shuttle service from some of the major hotels in the Chicago area to and from the McCormick Place West for your convenience.
The shuttle routes will service the hotels that are in our housing block, as well as additional hotels that are not in our block, but are walking distance from other major hotels in Chicago. Here is a list of hotels where there will be shuttle pick up. Please note, these hotels are NOT in our hotel block. If you'd like to reserve rooms at these hotels, you'll need to contact them directly.
Please refer to the shuttle maps that indicate where the shuttle pick ups will be. Check back for more detailed shuttle schedule information.
Crowne Plaza Silversmith
Hilton Palmer House
Best Western Grant Park
Essex Inn
Congress Plaza Hotel
Hilton Hotel
Blake Hotel
Fairmont Hotel
Hotel 71
Monaco Hotel
Renaissance Hotel
Swiss Hotel
Amalfi Hotel
Marriott Hotel
James Hotel
Embassy Suites/Downtown
Hilton Garden Inn/Downtown
Homewood Suites by Hilton
Conrad Hotel
Best Western River North
Allerton Crown Plaza
Best Western Inn
Doubletree Guest Suites
Drake Hotel
Affinia Hotel
Four Seasons Hotel
Millennium Knickerbocker
Omni Hotel
Park Hyatt
Radisson Hotel
Residence Inn/Downtown
Ritz-Carlton
Seneca
Westin/Michigan Ave
Whitehall Hotel
Wyndham Chicago
Embassy Suites/Lakefront
Holiday Inn/City Centre
Inter-Continental Hotel
Sheraton Hotel
Allegro Hotel
Burnham Hotel
House of Blues
Westin/River North
Options Near Major Airports
We are not providing shuttles to/from airport hotels. Please contact the hotel directly for transportation information to and from McCormick Place West.
Holiday Inn Express Hotel & Suites-Chicago O'Hare
6600 N Mannheim Rd., Rosemont, IL 60018 | Phone: 773-693-5800 Fax: 847-827-5220
Hampton Inn Midway
6540 S. Cicero Ave., Bedford Park, IL 60638 | Phone: 708-496-1900 Fax: 708-496-1997
Courtyard Chicago Midway Airport
6610 South Cicero Ave., Chicago, IL 60638 | Phone: 708-563-0200 Fax: 708-728-2841
Marriott Midway
6520 South Cicero Ave., Chicago, IL 60638 | Phone: 708-594-5500 Fax: 708-594-5510
Parking
For printable maps of the Convention Center and parking complex, please go to the McCormick Place website.
RV Parking: Wal-Mart: 4650 W North Ave, Chicago, IL 60639 – 7.6 mi NW
Public Transportation
For complete details on Regional Transportation Authority (RTA) routes and schedules, contact the RTA via their website or call their Transit Information Hotline at 312-836-7000.
Taxi Services:
Thousands of city taxis are at your service in Chicago. Be sure to ask your driver to drop you off at Gate 40 in the West building.
Shared Taxi Program:
This transportation option allows up to four passengers to share a taxicab for a flat $5 per person fare. This program covers hotels, restaurants and other attractions within these downtown boundaries: Roosevelt Road on the south, North Avenue on the north, Halsted Street on the west and Lake Michigan on the east. Shared rides are available two hours before an exhibit closes. The taxi starter or McCormick Place Security personnel will provide assistance to event guests.
More information:
http://www.wsradio.com/internet-talk-radio.cfm/shows/eBay-Radio.html Click #4 for upcoming eBay events with Brian.
· Rock Star eBay Live forum – http://osirockstars.com/forum.php?id=28
· eBay Live Group – http://groups.ebay.com/clubforum!boards.jspa?forumID=1500030121
· eBay Live Discussion Board – http://forums.ebay.com/db1/forum.jspa?forumID=112

eBay payments reminder
(from eBay)
Since January 2007, all new sellers have been required to offer PayPal or a merchant credit card as a payment option to their buyers. On March 17, this policy will be expanded to sellers or items when they meet one or more of the following conditions:
· the seller has higher than 5% buyer dissatisfaction rates
· the seller has less than 100 feedback
· the items are listed in categories with higher rates of buyer complaints, including: Gift Certificates, Video Games, Cell Phones, Computers and Consumer Electronics.
huge blessings,
j
Tagged with: