eBay Live 2008 Chicago registration is tomorrow (13 Mar 08)
In this Success Newsletter:
eBay Fee and Site Change CD pre-release –

Final 4 days

Free Photo Lighting DVD – featuring Cindy Shebley and the antics of me

eBay Live – registration info for tomorrow!
Remember, you can read previous Success newsletters in the OSI Rock Star newsletter archives at http://osirockstars.com/?cat=5
Success Stories
Our amazing Rock Stars, Bryan and Nathan of Flightline Fabrications wowed WSRadio and eBay Radio yesterday with their Success interview. You can hear these two amazing entrepreneurs at http://www.wsradio.com/internet-talk-radio.cfm/shows/eBay-Radio-PowerSeller-Show.html
Are YOU a Rock Star yet? Join Bryan, Nathan and the other Rock Stars backstage on your tour of Success. www.osiRockStars.com
eBay Fee and Site Change 3-CD set in pre-release
4 DAYS REMAINING
Pre-release just announced
Profiting from the
eBay Fee and Site Changes
3 CD's filled with over 9 hours of step-by-step profit training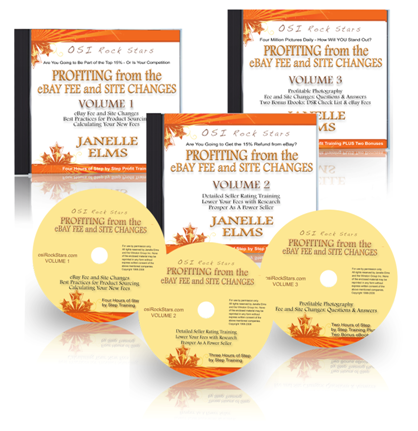 All right – eBay has spoken (as they always do this time of year) and now it's time to quit trying to beat them, but learn how to successfully join them!
Learn what the fee and other changes specifically are, how they affect you AND more importantly, how you can utilize them to your full profitable advantage.
Recently we did an extensive profit series about the eBay fee and site changes including classes on the fee breakdown, how to raise your DSR's, understanding feedback, becoming/staying a PowerSeller and much more. There was over 9 hours of Success content in that series and I know these have been some of the most popular classes on OSI Rock Stars as of late. Due to the incredible and positive response to these classes (not to mention the success people are having due to them), I have decided to release this series in a hard copy – a 3-CD set which can be viewed at www.JanelleElms.com/cd
"Once again, Janelle has done her homework (24/7) to bring us this compilation of not only what we are looking at with ebay's new changing scenario, but also she is already giving us techniques to begin to consider for dealing with the new changes and turning it around to our advantage.
Of all the knowledge and education we've received on this new OSI Rockstars site over the past few months, this fee change info might be the very most meaningful research to each of our respective businesses to date.
As always, it is timely, concise, insightful AND right on target offering ways for us to turn this around in our favor.
Can't thank you enough, Janelle, for detaching the emotion we are all feeling associated with the changing ebay landscape and fully researching it from the standpoint of turning lemons into lemonade. Not too many of us have our rose-colored glasses on this week; but at least we are feeling there may be light at the end of the tunnel when Janelle gets through with all of her classes and research! Change CAN, after all, be good, if one has the tools to fine tune to your advantage!
We are indebted to you, (as always) ; ) for your dedication to making us successful!
Save today by pre-ordering your 3CD set at www.JanelleElms.com/cd


Are YOU ready to Choose Success?
Better hurry, this price will go up to $179 on March 17, 2008
Pre-release Price $97
(includes Free US Shipping)
The CD's contain the following classes:
CD 1
CD2
CD 3 – Bonus
"Wow! Thank you for putting this together for us!
It is jam packed with a ton of clear, concise information on each level of changes that eBay has or will be changing this year.
I have already put a few ideas and changes in place that over time will make us take off like a Rocket this year.
Thank you Janelle!"
Lisa – Tu Spirits LLC
We are getting ready to release that new CD,
Profiting from the
eBay Fee and Site Changes
3 CD's filled with over 9 hours of step-by-step profit training
And are offering it for pre-release at www.JanelleElms.com/cd Take advantage of the pre-release savings price – $97 NOW. When it arrives from the printer the price on the website will be $179.
"The eBay Fee and Site Changes for 2008 webinar was superb.
Leave it to Janelle Elms to tackle the hard facts head-on and take the time and effort to sort through all the new rules and changes taking place at eBay.
Janelle presents each new aspect of eBay that will change and then explains how it will affect Buyers and Sellers. Some changes are major, others are minor, but no change eBay sited, no matter how seemingly insignificant, went undetected.
Janelle further analyzed the issues with her unique and comprehensive understanding of eBay – and served it to us straight-up. Moreover, she then set in motion a multi-tiered plan of action to re-balance the scale and help eBay Sellers continue to choose success selling on eBay.
What a big job that must have been! I'm sure this webinar will help a lot of people who depend on eBay to clearly understand the impact and what actions to take – or not to take – to protect and grow their business in light of these changes.
Free Photo Lighting DVD – featuring Cindy Shebley and the antics of me
As many of you know, I have always been bad at taking pictures. No matter what camera I used, or classes I took, the pictures were patoohey. Then our resident photography genius Cindy was telling me about a new photo light set she just got in and was raving about. I figured I had tried everything else, well why not lights too? So I ordered them.
Luckily for you, or unluckily for me, Cindy's partner Dany was there to capture this hysterical view of my world from the moment I received & opened the lights, to set up, to taking that first photo. Not sure why I am telling you about this DVD – as I have seen a copy and this could potentially be used to publicly humiliate me (I am such a dork) – LOL. BUT, you will LOVE these lights and the DVD does show you step-by-step how to easily set them up and get the best 'profit' shot. I truly was shocked at how good my photos suddenly became with these lights. Definitely a 'if I can do it, you sure as heck can' product.
When you purchase this Photo Light set, Cindy will send you the DVD for free. Not only is this a great deal for you, and will create fabulous photos – but also a brilliant marketing idea on Cindy's part. Think about it – if you have your choice of 6 of these sets on eBay…all a set msrp pricing…similar feedback…who are you going to buy from? The one with the additional 'security and confidence' – which Cindy has done with the addition of this DVD. Everyone loves getting 'more' than they are paying for.
Get your photo light set and DVD here AND if you bring it to eBay Live I bet Cindy will autograph it for you!!
PSW Social Club opens the doors at its brand new site, fresh paint on walls and TONS of room…Promote your business, upload and manage your photos, even get your own column...
Speaking of eBay Live…
I love eBay Live and have been to every single one of them. I learn SO much during those short 72 hours!!
Don't forget, early registration is tomorrow AND the Priority passes will, no doubt, go fast again this year with only 750 available.
You can register at – http://pages.ebay.com/ebaylive/
Early Bird Registration – $75.00 – March 14 – April 30

Final Discounted Registration – $100.00 – May 1 – May 31

Standard Registration – $120.00 – June 1 – June 21

Saturday 6/21 Only Pass – $75.00

Priority

Pass

– $150.00
PowerSellers are allowed one (1) guest only, per qualified PowerSeller ID, who will be allowed to access all PowerSeller areas.
From eBay…Regarding Child Care/Teen Camp…
Child Care facilities are located at the convention center. eBay will NOT be subsidizing child care costs this year, therefore anyone who wants to bring children to eBay Live! will need to pay for their child care services.
The Teen Camp program has been scraped for eBay Live! 2008. All interested people ages 13 and above are welcome to register and attend eBay Live! and will be granted access to all areas at eBay Live! unless specially designated like PowerSeller areas if you're not a PowerSeller or the guest of PowerSeller.
http://www.wsradio.com/internet-talk-radio.cfm/shows/eBay-Radio.html Click #4 for upcoming eBay events with Brian.
· Rock Star eBay Live forum – http://osirockstars.com/forum.php?id=28
· eBay Live Group – http://groups.ebay.com/clubforum!boards.jspa?forumID=1500030121
· eBay Live Discussion Board – http://forums.ebay.com/db1/forum.jspa?forumID=112
huge blessings,
j
Tagged with: