Selling illegal items on eBay? (13 Mar 08)
In this Success Newsletter:
HOT Class tomorrow – Ask Janelle (2 hours of Live Success Coaching)

eBay Fee and Site Change CD pre-release – Final 5 days

Interesting Sourcing Idea…something that used to be illegal, the Green Fairy

eBay Stores get more exposure – how you can take advantage of this

Oooh, Bling! It has a new contest! – have you entered yet?
Remember, you can read previous Success newsletters in the OSI Rock Star newsletter archives at http://osirockstars.com/?cat=5
LOL – glad you guys loved the video we sent you yesterday…BUT, you know that is being sent all over the email systems like crazy now. Viral marketing at it's best. What could YOU do in your business that could cause that kind of frenzy? (hopefully it doesn't look anything like the video from last night though!)
For those of you who pre-ordered the eBay Education Specialist – Creating Revenue Products CD…it just arrived and is already being packaged out to arrive quickly at your front door! Remember, you only have 5 days left to get in on the pre-release price of our latest Profit CD in the OSI Success Library…"How To Profit from the eBay Fee and Site Changes." www.JanelleElms.com/cd
The only thing that stands between a man and what he wants
from life is often merely the will to try it and the faith to believe
that it is possible.
- Richard M. DeVos
From Cynthia Kersey's Unstoppable Newsletter – get your daily inspiration at www.unstoppable.net
New Classes for this week…
Hey…get registered ASAP for this week's classes. All OSI Live classes are fr-ee to attend and instructions are included during the registration process for both the podcasts and the webinars. Remember, you can either ask a question for our special guest or simply put "I Choose Success" in the question box.
3/13/08, Thursday at Noon pst/3pm est – Rock Star Exclusive Training – Ask me anything! Two hours of Live Coaching with me about your eBay Store, SEO, sourcing or anything else you need to be Successful.
You can find out more about these classes, as well as register, at: www.osiRockStars.com (scroll to the bottom of that webpage for upcoming classes, details and registration information).
PSW Social Club opens the doors at its brand new site, fresh paint on walls and TONS of room…Promote your business, upload and manage your photos, even get your own column...

eBay Fee and Site Change 3-CD set in pre-release
5 DAYS REMAINING
Pre-release just announced
Profiting from the
eBay Fee and Site Changes
3 CD's filled with over 9 hours of step-by-step profit training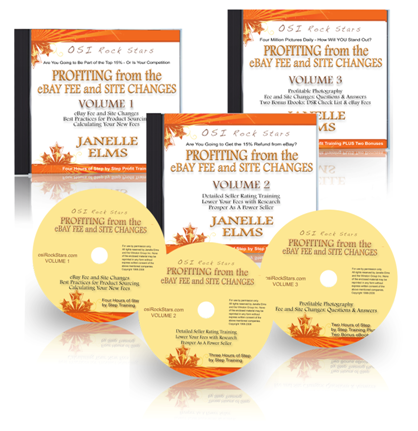 All right – eBay has spoken (as they always do this time of year) and now it's time to quit trying to beat them, but learn how to successfully join them!
Learn what the fee and other changes specifically are, how they affect you AND more importantly, how you can utilize them to your full profitable advantage.
Recently we did an extensive profit series about the eBay fee and site changes including classes on the fee breakdown, how to raise your DSR's, understanding feedback, becoming/staying a PowerSeller and much more. There was over 9 hours of Success content in that series and I know these have been some of the most popular classes on OSI Rock Stars as of late. Due to the incredible and positive response to these classes (not to mention the success people are having due to them), I have decided to release this series in a hard copy – a 3-CD set which can be viewed at www.JanelleElms.com/cd
"Once again, Janelle has done her homework (24/7) to bring us this compilation of not only what we are looking at with ebay's new changing scenario, but also she is already giving us techniques to begin to consider for dealing with the new changes and turning it around to our advantage.
Of all the knowledge and education we've received on this new OSI Rockstars site over the past few months, this fee change info might be the very most meaningful research to each of our respective businesses to date.
As always, it is timely, concise, insightful AND right on target offering ways for us to turn this around in our favor.
Can't thank you enough, Janelle, for detaching the emotion we are all feeling associated with the changing ebay landscape and fully researching it from the standpoint of turning lemons into lemonade. Not too many of us have our rose-colored glasses on this week; but at least we are feeling there may be light at the end of the tunnel when Janelle gets through with all of her classes and research! Change CAN, after all, be good, if one has the tools to fine tune to your advantage!
We are indebted to you, (as always) ; ) for your dedication to making us successful!
Save today by pre-ordering your 3CD set at www.JanelleElms.com/cd


Are YOU ready to Choose Success?
Better hurry, this price will go up to $179 on March 17, 2008
Pre-release Price $97
(includes Free US Shipping)
The CD's contain the following classes:
CD 1
CD2
CD 3 – Bonus
"Wow! Thank you for putting this together for us!
It is jam packed with a ton of clear, concise information on each level of changes that eBay has or will be changing this year.
I have already put a few ideas and changes in place that over time will make us take off like a Rocket this year.
Thank you Janelle!"
Lisa – Tu Spirits LLC
We are getting ready to release that new CD,
Profiting from the
eBay Fee and Site Changes
3 CD's filled with over 9 hours of step-by-step profit training
And are offering it for pre-release at www.JanelleElms.com/cd Take advantage of the pre-release savings price – $97 NOW. When it arrives from the printer the price on the website will be $179.
"The eBay Fee and Site Changes for 2008 webinar was superb.
Leave it to Janelle Elms to tackle the hard facts head-on and take the time and effort to sort through all the new rules and changes taking place at eBay.
Janelle presents each new aspect of eBay that will change and then explains how it will affect Buyers and Sellers. Some changes are major, others are minor, but no change eBay sited, no matter how seemingly insignificant, went undetected.
Janelle further analyzed the issues with her unique and comprehensive understanding of eBay – and served it to us straight-up. Moreover, she then set in motion a multi-tiered plan of action to re-balance the scale and help eBay Sellers continue to choose success selling on eBay.
What a big job that must have been! I'm sure this webinar will help a lot of people who depend on eBay to clearly understand the impact and what actions to take – or not to take – to protect and grow their business in light of these changes.
Interesting Sourcing Idea…something that used to be illegal (and technically still is – lol)
"Absinthe makes you crazy and criminal, provokes epilepsy and tuberculosis, and has killed thousands of French people. It makes a ferocious beast of man, a martyr of woman, and a degenerate of the infant, it disorganizes and ruins the family and menaces the future of the country."
And is the hottest new fad to hit the 'in' crowd…
Check out the latest People magazine, this banned green licorice-flavored drink is now the hottest thing to order in the clubs in New York and L.A. Distributors are importing it as fast as legally possible. Heck even Seattle has 'secret' Absinthe parties springing up. And you know where the buyers are going to buy up these 'must have' items at amazing prices? Of course you do…
In the last 90 days, eBay Seller. Absinthe on the Net, has sold over $27,000 in absinthe products!
Now, we can't sell Absinthe on eBay – check out the policy here for details – but there are quite a few other products that go along with the Green Fairy.
Your journey will start when you dance with the Green Fairy – http://www.absinthebuyersguide.com/
Ideas:
I'm thinking that some of you garage salers have already come across some of these in the glass and silverware areas – and perhaps you didn't know it. Some of the French Majolica pottery was specifically made for absinthe.
Absinthe glassware is not all together distinctive, but there are some specific clues – http://www.absintheonline.com/acatalog/Glassware.html I love the fountains – so beautiful.
The silverware for Absinthe IS specific with a slotted spoon type object that has a lip on it's handle. Like this one.
Other products to sell:
· Video on 'how to' prepare a glass of absinthe – this is almost as complicated as a Japanese tea ceremony! I love it.
· Absinthe perfume
· Absinthe bath products
· Absinthe glassware
· dark UV resistant wine bottles
· Absinthe spoons
· An Absinthe set – with sugar cubes
· No Absinthe recipes – home 'grown' absinthe can cause death – but you could do a recipe book using Absinthe in other things…jello shots, cookies, cakes, drinks, bath salts, etc…
· Poster, prints, t-shirts are all very saturated on the site already, but individual artwork is highly prized
Keywords (from Google Adwords):
Top Searched:
· Absinthe
· Absinth
· Absynth
· Absinthe drink
· Absinthe effects
· Absinthe fairy
· Absinthe for sale
· Absinthe green
· Absinthe how to
· Absinthe liquor
· Absinthe restaurant
Other Keywords:
· Wormwood
· Green fairy
· Supérieure
· Suisse
· Thujone
· Pernod
· Absente
· Erowid
From Terapeak:
· Average sell-through rate 34%
· Average price – $28
All this came from an email I received this morning from Daily Candy about a new company, LollyPhile that is making Absinthe Lollipops. Interestingly enough, they aren't selling them on eBay…yet!
eBay Stores get more exposure
Make sure you have updated your Gallery photos in your eBay Store with your 'free' one. Just saw the new search in action today and those of you without gallery photos in your Store items are missing out on us visual buyers.
ALSO, keep in mind the DSR training we did…your higher range DSR's will bump you to the top of the new search!
I know the Rock Stars already know this from going through the eBay Fee and Site Change training, but eBay just released this announcement about eBay Stores:
Hi everyone…I'm Raj Patel with the eBay Stores team. As many of our Store sellers know, last November we began testing several new ways to display Store Inventory listings in the expansion area below search results. (As a reminder, this area appears when a search returns 30 or fewer auction-style and fixed price items.) For example, some of our tests included the display of Gallery images for Store Inventory listings when available. We also experimented with different quantities of Store Inventory listings in this area.
The purpose of all these tests was to determine what presentation makes the optimal experience for buyers. Based on our results, I'm pleased to let you know we'll be making two important changes:
Store Inventory Gallery Images Will be Displayed
Gallery images (when available) will now be shown in the Store Inventory expansion area when a search returns 30 or fewer core listings (auction-style and fixed price items).
Up to 50 Listings Displayed
We will now show up to 50 Store Inventory listings in this expansion area, a significant increase from our previous maximum of 30.
Was just chatting with Steve of Bling! It and he wanted to let you guys know about the new 'before/after' Bling! It contest – and since you won most of the prizes last time it doesn't surprise me that you are being invited once again – lol!
If you already own Bling! It, you know how fabulous this tool is. If you don't yet, download the trial version and play around with it – you could win a full copy of Bling! It for just playing!
With Best Match being rolled out this week and the new snapshot view – how will YOU standout? Well, as many of you Rock Stars saw during our Fee/Site changes training, the easiest way is by taking fabulous photos and using Bling! It to help you stand out. (Don't forget to download Cindy's new free e-book that walks you through much of this step-by-step. Check it out at http://www.clovercitysells.com/great_gallery_photos.htm)
Most of the examples you will see in the testimonial area are the winners from the last contest – AND most of them are from this group of brilliant Success-minded eBayers! Make sure you do #8 for that extra marketing exposure.
1. Entrants Download a trial version of Bling! It from
http://www.blingit.us/try-bling-it.html
2. Use Bling! It to delete backgrounds of product shots and replace with new
http://www.blingit.us/support-manuals-tutorials-bling-it.html
3. Submit 'Before' and 'After' images along with a short description of how they
http://www.blingit.us/testimonials-gallery-bling-it.html
4. Submission deadline 26th March
5. We pick the best ones and notify the entrants on 28th March with their activation key
6. We will upload the winning submissions onto our gallery page
http://www.blingit.us/testimonials-gallery-bling-it.html
7. If entrants already own a copy of Bling! It they can still enter and give away the activation key to a friend
8. We will credit the winning entrants with their name and eBay store – if requested
huge blessings,
j
Tagged with: