I can't watch this video (11 Mar 08)
In this Success Newsletter:
Weekly Wealth Tip – are YOU a winner?

HOT Classes this week –Trading Assistant Training Part 2 (if you are an ESP, this should be a required class for your marketing) and Ask Janelle (2 hours of Live Coaching)

eBay Fee and Site Change CD pre-release – Final 6 days

Do You Want My Money or Not – the eBay version

Garage and Estate Sale Home Run update

Replay is up – "Meet the Rock Star – Bill Jones" – this is a MUST listen – learn how Bill uses 'paying his utility bills' in his marketing plan!!

Oooh, Bling! It has a new contest! – have you entered yet?
Remember, you can read previous Success newsletters in the OSI Rock Star newsletter archives at http://osirockstars.com/?cat=5

Super fun day today! Booked some new very cool people and companies on the show today to help with your Success…can't say who yet, but they have to do with social networking, social networking, selling, oh and social networking. AND, more importantly how they can help make you moola! Fabulous.

Our Rock Stars are rockin' it big time as you'll see in this newsletter.

First up we have the incredible Lynn of Vintage and Now who just made PowerSeller!! Woohoo! As of today, eBay is now paying LYNN to sell on eBay. Yep, if you are a PowerSeller and have high enough DSR's (detailed seller ratings) which Lynn does, eBay pays YOU. (You can learn more in the eBay Fee and Site Change CD at www.JanelleElms.com/cd) Here is the email I received from her today:

Hi Janelle, I just wanted to let you know that I made Powerseller today, and I have only been a Rockstar since October 2007! I know if I continue to be part of the OSI Rock Stars, I will make it to the next level in no time. Thanks, and keep up the good work!

HUGE congrats Lynn – I know you have worked hard and SO deserve this fabulous title (and discount from eBay!!)

Had a blast interviewing the first of many Rock Stars in our newest Success series, "Meet the Rock Star". Bill Jones of Data Probe Investigations delighted us with tales of his PI work, mesmerized us with his Success, and wowed us with great nuggets like how he uses 'paying bills' as one of his marketing tricks. (I personally loved his info about checking out potential suitors before the BIG date)

Are YOU a Rock Star yet? Join Lynn, Bill and the other Rock Stars backstage on your tour of Success. www.osiRockStars.com

PS – one last quick thing…I am always impressed when people aren't afraid to try out new technologies in their business – in fact I applaud how 'adventurous' Fred & Sharon are in their marketing idea. But something here is just SO, SO very wrong…http://www.youtube.com/watch?v=AC0sR5_NTFo

I'm just saying…
Weekly Wealth Tip
Just received Jamie's eBay Store's newsletter. Jamie is one of our amazing Rock Stars, Stage Manager for the Motivational forum and owner of DreamBuilderCds . Jamie's newsletters are one of the things I look forward to each week…always so inspirational, and today's was no exception. If you would like to get on his great newsletter list, sign up at: http://stores.ebay.com/Money-Maker-Business-Opportunities
Thanks Jamie!
Weekly Wealth Tip
I've learned that you don't have to win first place to win.
-Kim Zmeskal (World Champion and Olympic Gymnast)
The biggest winners aren't always the ones with the blue ribbons and the gold medals. The biggest winners are the ones who make a commitment to improve and follow up on that commitment with action – consistent, positive action. The real winners are the ones with heart who give their all and work their best. They are the ones who take on every challenge with determination and spirit. True winners welcome the opportunity to learn something new, and they know that there is always something new to learn, no matter how long they have been exercising. Winners are always willing to share what they know with others.
Winners know their strengths and limitations and when to take a break and win to push ahead. Winners know that there can be lessons found in losing and that losing isn't the end of the world. Winners know that a loss is the risk they take for playing and are willing to take that risk – again and again. Winners are measured by the effort they make, not by the trophies they win. Winners never give up, no matter how hard it is to keep going. Winners may not be first in the standings, but if they are first in spirit and effort, they will never be losers.
From "Get Motivated! Daily Psych-Ups" by Kara Leverte Farley and Sheila M. Curry
If you are an ESP, I highly advise you to attend tomorrow's Trading Assistant class – even Cindy Shebley was surprised at how much the new program will help promote her ESP business!
New Classes for this week…
Hey…get registered ASAP for this week's classes. All OSI Live classes are fr-ee to attend and instructions are included during the registration process for both the podcasts and the webinars. Remember, you can either ask a question for our special guest or simply put "I Choose Success" in the question box.
3/12/08, Wednesday at 2pm pst/5pm est – Join us for part 2 of this two-part series on Trading Assistants.
If you are an ESP (eBay Education Specialist) I highly recommend you attend this class even if you think you aren't going to be a TA. There are some amazing marketing benefits for you.
In Part 2, join Carol Hearn and I as we go over best practices for TA's as well as a powerful new opportunity/connection I just made for anyone who wants to sell for others on eBay.
3/13/08, Thursday at Noon pst/3pm est – Rock Star Exclusive Training – Ask me anything! Two hours of Live Coaching with me about your eBay Store, SEO, sourcing or anything else you need to be Successful.
You can find out more about these classes, as well as register, at: www.osiRockStars.com (scroll to the bottom of that webpage for upcoming classes, details and registration information).
PSW Social Club opens the doors at its brand new site, fresh paint on walls and TONS of room…Promote your business, upload and manage your photos, even get your own column...
eBay Fee and Site Change 3-CD set in pre-release
6 DAYS REMAINING
Pre-release just announced
Profiting from the
eBay Fee and Site Changes
3 CD's filled with over 9 hours of step-by-step profit training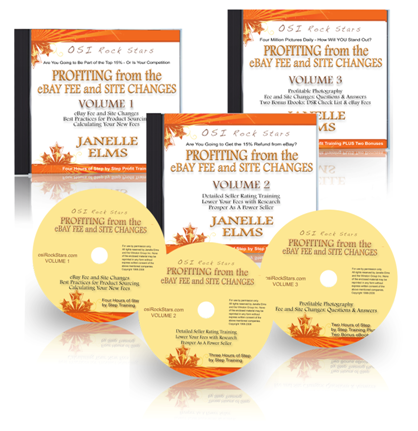 All right – eBay has spoken (as they always do this time of year) and now it's time to quit trying to beat them, but learn how to successfully join them!
Learn what the fee and other changes specifically are, how they affect you AND more importantly, how you can utilize them to your full profitable advantage.
Recently we did an extensive profit series about the eBay fee and site changes including classes on the fee breakdown, how to raise your DSR's, understanding feedback, becoming/staying a PowerSeller and much more. There was over 9 hours of Success content in that series and I know these have been some of the most popular classes on OSI Rock Stars as of late. Due to the incredible and positive response to these classes (not to mention the success people are having due to them), I have decided to release this series in a hard copy – a 3-CD set which can be viewed at www.JanelleElms.com/cd
"Once again, Janelle has done her homework (24/7) to bring us this compilation of not only what we are looking at with ebay's new changing scenario, but also she is already giving us techniques to begin to consider for dealing with the new changes and turning it around to our advantage.
Of all the knowledge and education we've received on this new OSI Rockstars site over the past few months, this fee change info might be the very most meaningful research to each of our respective businesses to date.
As always, it is timely, concise, insightful AND right on target offering ways for us to turn this around in our favor.
Can't thank you enough, Janelle, for detaching the emotion we are all feeling associated with the changing ebay landscape and fully researching it from the standpoint of turning lemons into lemonade. Not too many of us have our rose-colored glasses on this week; but at least we are feeling there may be light at the end of the tunnel when Janelle gets through with all of her classes and research! Change CAN, after all, be good, if one has the tools to fine tune to your advantage!
We are indebted to you, (as always) ; ) for your dedication to making us successful!
Save today by pre-ordering your 3CD set at www.JanelleElms.com/cd


Are YOU ready to Choose Success?
Better hurry, this price will go up to $179 on March 17, 2008
Pre-release Price $97
(includes Free US Shipping)
The CD's contain the following classes:
CD 1
CD2
CD 3 – Bonus
"Wow! Thank you for putting this together for us!
It is jam packed with a ton of clear, concise information on each level of changes that eBay has or will be changing this year.
I have already put a few ideas and changes in place that over time will make us take off like a Rocket this year.
Thank you Janelle!"
Lisa – Tu Spirits LLC
We are getting ready to release that new CD,
Profiting from the
eBay Fee and Site Changes
3 CD's filled with over 9 hours of step-by-step profit training
And are offering it for pre-release at www.JanelleElms.com/cd Take advantage of the pre-release savings price – $97 NOW. When it arrives from the printer the price on the website will be $179.
"The eBay Fee and Site Changes for 2008 webinar was superb.
Leave it to Janelle Elms to tackle the hard facts head-on and take the time and effort to sort through all the new rules and changes taking place at eBay.
Janelle presents each new aspect of eBay that will change and then explains how it will affect Buyers and Sellers. Some changes are major, others are minor, but no change eBay sited, no matter how seemingly insignificant, went undetected.
Janelle further analyzed the issues with her unique and comprehensive understanding of eBay – and served it to us straight-up. Moreover, she then set in motion a multi-tiered plan of action to re-balance the scale and help eBay Sellers continue to choose success selling on eBay.
What a big job that must have been! I'm sure this webinar will help a lot of people who depend on eBay to clearly understand the impact and what actions to take – or not to take – to protect and grow their business in light of these changes.
Do you want my money or not? The eBay version (It's like our own reality show!)
Just received this conversation from one of our Rock Stars who is very good at thinking like the buyer and making sure they provide 5 Gold Star customer service…and the person who they purchased an item from. By the way, the seller in this conversation has DSR's of:
4.6
4.6
4.6
4.4
It's no surprise that her responses are like they are here…
Rock Star (buyer) – "Hi- Thank you for the items. However, I paid $6.50 for Priority Mail and you shipped the package First Class which took longer and maybe cost a 1/3 of what you charged. I noticed this happened to other buyers that you dealt with. Please advise. Pam"
Seller – "the only reason it went 1st class is because it was under the weight specified for priority. First class is just as fast as priority and just as good. Thank You"
Rock Star – "This package was not too light to go Priority Mail. It would have been $4.60 to ship and you would have still come out overcharging on shipping. I am also a seller under a different id and I have shipped over 1400 packages (many Barbie items). I know about not overcharging the customer. If I do make a mistake, I usually refund the difference on shipping. I have DSRS of 4.8 in every category as a result. I am not bragging, but this is what makes happy buyers and puts more money in your pocket in the long run. Pam"
Seller – "If you have been an ebay seller and/or buyer for so long you should know the first rule about b uying: Do not bid on an item if you dont intend to pay the shipping. You must know before you bid whether the shipping is over-priced or not, and if it is that is up to the sellers discretion. But if you bid you agree to pay it…end of story. That doesn't mean you can lecture people, or ask them to lower their shipping fees. What about all those people who list an item for one cent and charge $25.00 for shipping? It is an understood fact that ebay charges more if an item is listed for more ,therefore many sellers charge a higher shipping rate rather than list an item for higher–in which case they would have to pay ebay more fees. If you choose to give your hard earned money to ebay that is your choice. Please do not bid on my items anymore if you are going to complain or lecture me."
Rock Star – "My point is that I know I agreed to pay for Priority Mail at the higher rate and to be shipped that way- not First Class so you can make a few extra dollars. I also start my auctions at 99 cents, but ship for actual costs and I do not make any money in that area. People are going to see right through that tactic if they know shipping rates. So much for taking care of your buyers like eBay wants the sellers to do."
I am still laughing at her reasoning. This is EXACTLY why the latest eBay changes happened was because of people like the above seller. Retaliatory feedback, excessive shipping, bad customer service. I am very proud of our Rock Stars who offer positive feedback as soon as the buyer has paid, quality shipping and fair handling charges, and 5 Gold Star Customer Service! With the new Best Match search rolling out, the PowerSeller Rock Stars will end up on the top of the search due to their high DSR's and sellers like this one will end up at the bottom. Thank goodness…I don't want my customers coming into contact with this seller.
Garage and Estate Sale Home Run update
Just received this email from our Rock Star and Auction Listing Coach Carol Hearn, one of our guests on the Home Run Secrets show. She wanted to provide an additional tip for you…
One of the things that always brings more in pieces than as a whole is Cuisinarts, which are often available in my area for $5 to $10 at garage sales. Many people have a base that's perfectly fine but have worn out the accessories. I buy Cuisinarts whenever I find them in good condition at reasonable prices and sell the pieces – bowls, lids, blades.
Depending on the model and condition, bowls usually bring about $30 – $50, lids about $20, individual blades about $10 each, and the blade (disc) sets about $80. The bases sell more slowly for about $20.
Carol
TO SEE MY NEW ITEMS, CLICK BELOW:
http://WanderingCreekAntiques.com
Thanks for doing that Carol – you Rock!

Replay is ready
Meet the Rock Star – Bill Jones
"If you think you can or you think you can't, you're right." -Henry Ford
In the first interview of our newest Success series, entrepreneur, PI & Rock Star Bill Jones wowed us with his Success tales. He shared:
The qualities that made him a successful entrepreneur

How his family played a role in his success

What to do with the 'you can't do this' voice

What made him feel like he had won the lottery

How eBay helps him get leads for his PI business

What he learned from OSI Rock Stars

The surprising tale about who motivates him

The unique way he uses 'paying bills' in his marketing plan

His 'investigation' into OSI Rock Stars and what he found

And some amazing PI stories
A great new additional to our OSI Success Library of amazing interviews – a must listen on this one.
Was just chatting with Steve of Bling! It and he wanted to let you guys know about the new 'before/after' Bling! It contest – and since you won most of the prizes last time it doesn't surprise me that you are being invited once again – lol!
If you already own Bling! It, you know how fabulous this tool is. If you don't yet, download the trial version and play around with it – you could win a full copy of Bling! It for just playing!
With Best Match being rolled out this week and the new snapshot view – how will YOU standout? Well, as many of you Rock Stars saw during our Fee/Site changes training, the easiest way is by taking fabulous photos and using Bling! It to help you stand out. (Don't forget to download Cindy's new free e-book that walks you through much of this step-by-step. Check it out at http://www.clovercitysells.com/great_gallery_photos.htm)
Most of the examples you will see in the testimonial area are the winners from the last contest – AND most of them are from this group of brilliant Success-minded eBayers! Make sure you do #8 for that extra marketing exposure.
1. Entrants Download a trial version of Bling! It from
http://www.blingit.us/try-bling-it.html
2. Use Bling! It to delete backgrounds of product shots and replace with new
http://www.blingit.us/support-manuals-tutorials-bling-it.html
3. Submit 'Before' and 'After' images along with a short description of how they
http://www.blingit.us/testimonials-gallery-bling-it.html
4. Submission deadline 26th March
5. We pick the best ones and notify the entrants on 28th March with their activation key
6. We will upload the winning submissions onto our gallery page
http://www.blingit.us/testimonials-gallery-bling-it.html
7. If entrants already own a copy of Bling! It they can still enter and give away the activation key to a friend
8. We will credit the winning entrants with their name and eBay store – if requested
huge blessings,
j
Tagged with: