Who's on First? (10 Mar 08)
In this Success Newsletter:
Who's on First – or, do you want my money or not?

Seth Godin

– Do you know who you are?

eBay Fee and Site Change CD pre-release

Replay is up – "Garage & Estate Sale – Home Run Secrets Training"

HOT Classes

this week – Meet the Rock Star, Trading Assistant Training Part 2 and Ask Janelle (2 hours of Live Coaching)

Oooh, Bling! It has a new contest! – have you entered yet?

Stephanie – our Giant Squid – needs your help
Remember, you can read previous Success newsletters in the OSI Rock Star newsletter archives at http://osirockstars.com/?cat=5
I am very blessed…I love reading my email in the morning because fabulous Success notes like the one below arrive and make my day. This is from one of our newest Rock Stars, Alex, who brings such fabulous energy to our amazing community. Thanks Alex!! We love having you here.
Good morning, Janelle!
I'm sleep-deprived … because I stayed up most of the night (excitedly) listening to you and Troy White!
NO COMPLAINTS! I loved every minute of the podcast!
I've taken to listening to podcasts that would eventually put me to sleep:
but your interview with Troy got my entrepreneurial energies surging! Forget about NoDoz!!
I'm going to listen to the interview another time today, with pen & pad ready to record some precious gems of business wisdom.
I can't wait to apply them!
I also wanted to say: THANK YOU.
Thank you… for being born in our lifetime.
Thank you… for being willing to share so freely with so many of us practical ways of being an entrepreneur, and a happy one!
Thank you… for nurturing the OSI family!
Most sincerely,
Alex Thio
Are YOU a Rock Star yet? Join Alex and the other Rock Stars backstage on your tour of Success. www.osiRockStars.com
Who's on First
Humorous day yesterday…started the night before with a poker game that ended with me falling into my bed at 4am on Sunday morning – eeks. And yes, I did remember about the time change, but my body didn't and woke up at 10am…great, Church starts at 10am. No worries, I'll get some work done for a live charity auction I have coming up and make it on time to that meeting at Noon. Barely. Then I ran from that meeting into Seattle as I had tickets to the opera (Tosca). Got there early which was great because I was starving – hadn't eaten since lunch the day before. (Why are 'chips and beer' the so-called food served at poker games? Boys are so strange.) So I go up to the counter where they serve beer, wine, champagne, nuts, candies, soft drinks, water and a few deli wrapped sandwiches. I peruse the two display sandwiches that are there wrapped in their protective saran wrap. One says, 'Thai Chicken Wrap' – which isn't going to work as I don't like Thai food. The other sounds interesting, a 'Harvest Wrap' sandwich. So as I ask the 'waiter' behind the counter what is in a 'Harvest Wrap' sandwich, I am thrown into a bad version of the famous radio show, "Who's on First" with Abbott and Costello…
"So, what is in the 'Harvest Wrap' sandwich?"
"The ingredients are on the back."
Hhhmmm, ok…could have just told me, but I'm self-sufficient. I turn the sandwich over, as have probably 100 other people, and look at the now smudged label with 6-point type used for the ingredients list. I can make out enzyme, starch, and something that looks like whea – which I think is whole wheat. So I look up at the 'waiter' again and say…
"So, what is in the 'Harvest Wrap' sandwich?"
"Walnuts. Are you allergic to walnuts? You shouldn't eat that if you are allergic to walnuts."
"So…do you know what is in this sandwich?"
"Yes…the ingredients are on the back."
(I am starting to look around for the cameras at this point.)
I pick up the saran wrapped item in question and peer through the plastic to see if I can discern what is in the sandwich. Hard to identify specific items, although I do see the dreaded walnuts that I was so gallantly warned against. But perhaps I think I see…yes, I think it is…
"Is there chicken in the 'Harvest Wrap'?
"There is chicken in the Thai Chicken Wrap."
"Yes, I understand that…but is there chicken in the 'Harvest Wrap'?
"The ingredients are on the back."
After the screaming subsided – not sure if it was in my head or not – I gave up and simply asked for a bottle of water and handed him my credit card (darn cash poker game). He looked at my credit card, then me, then the $3.00 total on the register and said…
"Can I see some id please?"
Apparently credit card crimes within the Opera Hall of Seattle, WA are rampant…especially over $3.00 bottles of water.
Take a look at your business today – better yet, have someone who isn't familiar with your business take a look. How easy are you making it for your customers to give you money? Have you empowered your customers with the knowledge they need to make you profitable? Have you put in place communication and information that makes it clear to your customers what you want them to do? Are your products clearly identified in your listings…not only with features (facts) but also with benefits (the bonuses).
Really?
Are you sure?
Cause if you aren't, I guarantee your competition is…
Seth Godin – The Long Slide to Gone
Our brilliant marketing mentor, Seth Godin, has written a poignant and, I feel, very timely short article about "who are you going to be in business?" Check it out at: http://sethgodin.typepad.com/seths_blog/2008/03/the-long-slide.html
PSW Social Club opens the doors at its brand new site, fresh paint on walls and TONS of room…Promote your business, upload and manage your photos, even get your own column..
.

eBay Fee and Site Change 3-CD set in pre-release
Pre-release just announced
Profiting from the
eBay Fee and Site Changes
3 CD's filled with over 9 hours of step-by-step profit training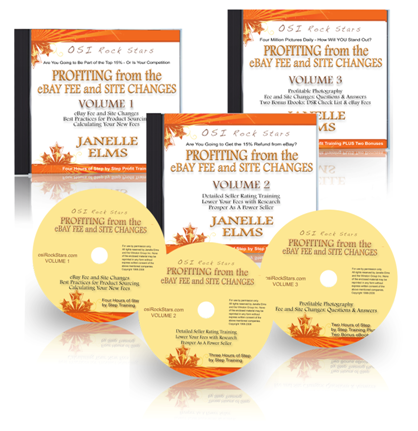 All right – eBay has spoken (as they always do this time of year) and now it's time to quit trying to beat them, but learn how to successfully join them!
Learn what the fee and other changes specifically are, how they affect you AND more importantly, how you can utilize them to your full profitable advantage.
Recently we did an extensive profit series about the eBay fee and site changes including classes on the fee breakdown, how to raise your DSR's, understanding feedback, becoming/staying a PowerSeller and much more. There was over 9 hours of Success content in that series and I know these have been some of the most popular classes on OSI Rock Stars as of late. Due to the incredible and positive response to these classes (not to mention the success people are having due to them), I have decided to release this series in a hard copy – a 3-CD set which can be viewed at www.JanelleElms.com/cd
"Once again, Janelle has done her homework (24/7) to bring us this compilation of not only what we are looking at with ebay's new changing scenario, but also she is already giving us techniques to begin to consider for dealing with the new changes and turning it around to our advantage.
Of all the knowledge and education we've received on this new OSI Rockstars site over the past few months, this fee change info might be the very most meaningful research to each of our respective businesses to date.
As always, it is timely, concise, insightful AND right on target offering ways for us to turn this around in our favor.
Can't thank you enough, Janelle, for detaching the emotion we are all feeling associated with the changing ebay landscape and fully researching it from the standpoint of turning lemons into lemonade. Not too many of us have our rose-colored glasses on this week; but at least we are feeling there may be light at the end of the tunnel when Janelle gets through with all of her classes and research! Change CAN, after all, be good, if one has the tools to fine tune to your advantage!
We are indebted to you, (as always) ; ) for your dedication to making us successful!
Save today by pre-ordering your 3CD set at www.JanelleElms.com/cd


Are YOU ready to Choose Success?
Better hurry, this price will go up to $179 on March 17, 2008
Pre-release Price $97
(includes Free US Shipping)
The CD's contain the following classes:
CD 1
CD2
CD 3 – Bonus
"Wow! Thank you for putting this together for us!
It is jam packed with a ton of clear, concise information on each level of changes that eBay has or will be changing this year.
I have already put a few ideas and changes in place that over time will make us take off like a Rocket this year.
Thank you Janelle!"
Lisa – Tu Spirits LLC
We are getting ready to release that new CD,
Profiting from the
eBay Fee and Site Changes
3 CD's filled with over 9 hours of step-by-step profit training
And are offering it for pre-release at www.JanelleElms.com/cd Take advantage of the pre-release savings price – $97 NOW. When it arrives from the printer the price on the website will be $179.
"The eBay Fee and Site Changes for 2008 webinar was superb.
Leave it to Janelle Elms to tackle the hard facts head-on and take the time and effort to sort through all the new rules and changes taking place at eBay.
Janelle presents each new aspect of eBay that will change and then explains how it will affect Buyers and Sellers. Some changes are major, others are minor, but no change eBay sited, no matter how seemingly insignificant, went undetected.
Janelle further analyzed the issues with her unique and comprehensive understanding of eBay – and served it to us straight-up. Moreover, she then set in motion a multi-tiered plan of action to re-balance the scale and help eBay Sellers continue to choose success selling on eBay.
What a big job that must have been! I'm sure this webinar will help a lot of people who depend on eBay to clearly understand the impact and what actions to take – or not to take – to protect and grow their business in light of these changes.
Replay is ready
Garage & Estate Sale – Home Run Secrets Training
Join Mr. Customer Service, Tim Chapman, and Auction Listing Coach Carol Hearn, as they share opposite Success view points on buying and finding the Home Run deals at garage and estate sales.
Tim and Carol shared:
3 top tips for attending garage/estate sales

Best idea for new garage sale sellers

What seasoned garage/estate sellers should keep in mind

Where to find the best garage and estate sales

Some great Home Run stories

Which pricing strategy they use for the most profit

What they do with items that aren't selling

Whether you should sell an item whole or in parts
Great class to listen to as we head into the busy garage sale season.
We have a fun new series that we are starting tomorrow on OSI called Meet the Rock Star. Come learn more about our amazing Rock Stars, hear their Success secrets, and be wowed by their Demand for Success! First up, we have the handsome and brilliant Bill Jones of Data Probe Investigations.
New Classes for this week…
Hey…get registered ASAP for this week's classes. All OSI Live classes are fr-ee to attend and instructions are included during the registration process for both the podcasts and the webinars. Remember, you can either ask a question for our special guest or simply put "I Choose Success" in the question box.
3/11/08, Tuesday at Noon pst/3pm est – Our newest Success series…'Meet the Rock Star'. Fabulous guest Bill Jones, owner of Data Probe Investigations joins us for our inaugural interview.
3/12/08, Wednesday at 2pm pst/5pm est – Join us for part 2 of this two-part series on Trading Assistants. If you are an ESP (eBay Education Specialist) I highly recommend you attend this class even if you think you aren't going to be a TA. There are some amazing marketing benefits for you.
In Part 2, join Carol Hearn and I as we go over best practices for TA's as well as a powerful new opportunity/connection I just made for anyone who wants to sell for others on eBay.
3/13/08, Thursday at Noon pst/3pm est – Rock Star Exclusive Training – Ask me anything! Two hours of Live Coaching with me about your eBay Store, SEO, sourcing or anything else you need to be Successful.
You can find out more about these classes, as well as register, at: www.osiRockStars.com (scroll to the bottom of that webpage for upcoming classes, details and registration information).

Was just chatting with Steve of Bling! It and he wanted to let you guys know about the new 'before/after' Bling! It contest – and since you won most of the prizes last time it doesn't surprise me that you are being invited once again – lol!
If you already own Bling! It, you know how fabulous this tool is. If you don't yet, download the trial version and play around with it – you could win a full copy of Bling! It for just playing!
With Best Match being rolled out this week and the new snapshot view – how will YOU standout? Well, as many of you Rock Stars saw during our Fee/Site changes training, the easiest way is by taking fabulous photos and using Bling! It to help you stand out. (Don't forget to download Cindy's new free e-book that walks you through much of this step-by-step. Check it out at http://www.clovercitysells.com/great_gallery_photos.htm)
Most of the examples you will see in the testimonial area are the winners from the last contest – AND most of them are from this group of brilliant Success-minded eBayers! Make sure you do #8 for that extra marketing exposure.
1. Entrants Download a trial version of Bling! It from
http://www.blingit.us/try-bling-it.html
2. Use Bling! It to delete backgrounds of product shots and replace with new
http://www.blingit.us/support-manuals-tutorials-bling-it.html
3. Submit 'Before' and 'After' images along with a short description of how they
http://www.blingit.us/testimonials-gallery-bling-it.html
4. Submission deadline 26th March
5. We pick the best ones and notify the entrants on 28th March with their activation key
6. We will upload the winning submissions onto our gallery page
http://www.blingit.us/testimonials-gallery-bling-it.html
7. If entrants already own a copy of Bling! It they can still enter and give away the activation key to a friend
8. We will credit the winning entrants with their name and eBay store – if requested
Stephanie
For you Peter Pan fans out here, now is the part where we clap our hands and say, "We believe and know Stephanie will get better soon…We believe and know Stephanie will get better soon."
Ok, so I took a bit of creative license there, but our dear Giant Squid Stephanie of Katiyana's Collectibles Fame just had emergency surgery for her gall bladder. She is now back home, albeit a bit 'out of commission'. This amazing brave woman is doing this as a young widowed Mom who also just found out her Dad has cancer. But our ever optimistic Stephanie said, "I keep telling myself that God doesn't give you more than you can handle – he must think an awful lot of me to throw me this on top of my father's illness." God thinks an awful lot about you definitely – as do we Stephanie!
Also, one of Stephanie's main concerns in writing me was for you guys…she wanted me to teach a class on 'Emergency Plans for your eBay business in cases of sudden illness.' This is a great point that Marjie of DOUA brings up quite a bit, and an excellent reminder. Perhaps once Stephanie is back on her feet we can have her on to share some ideas.
Please send your 'bestest wishes' to her through her bio at: http://osirockstars.com/profile.php?id=151
Or her email at: katiyana@hotmail.com
Here is the latest note I received from her (she gave me permission to share with you) – hopefully one of you can convince her to stop being a whirlwind and take it easy for a bit (Stephanie never fails to awe me):
Today has been better than yesterday. I haven't gotten sick to my stomach, managed to eat a little bit more, and stayed up for more of the day. My neck & shoulders are very sore, but that's from the air they pumped into my tummy during the surgery working its way out, so I expected that. My sleep schedule is totally out of whack, but I only took 4 pain pills today, so that's a good sign I think.
I'm going to get caught up on my eBay packing now before heading to bed, and tomorrow I'm going to try to stay up the full day, and knit in bed if I can. So far all the buyers who have responded to my email have been OK with the delay in their orders; I haven't had any cancellations on me.
Plus I made $130 on the Squidoo Payday yesterday
That always puts a smile on my face. AND I had an Affiliate Sale with one of the new companies I added to my collection of companies I'm marketing for on my lenses, so that's really exciting.
I think I'm doing pretty darn good considering I had major surgery just two days ago
I'm so grateful for the love and prayers of my friends from all over the world – it's an amazingly powerful feeling to know you have people who care about you, even when you've never met them.
Stephanie
Get better soon Stephanie – we miss you very much and are sending prayers and hugs and love to you.
huge blessings,
j
Tagged with: